In a world that has often labeled individuals with disabilities as "disabled," Voice of SAP emerges as a powerful force for change by focusing on their 'ABILITY' and dedicated to changing the narrative on disability.
We are a Global Advocacy Organization on a mission to redefine the idea of disabled persons. We firmly believe that these individuals are like anyone else with Abilities and Disabilities. Provided with the opportunity and assistive device, they are capable of leading empowered and independent lifestyles.
Established in 2017, VOSAP was co-founded by Shri Pranav and Usha Desai. Mr. Desai, who has been living with Polio since the age of 4, has resided in both India and the United States.His personal journey has served as a profound inspiration for him and his wife, motivating them to devote themselves to improving the lives of millions of persons with disabilities worldwide, utilizing their skills and resources for this cause. Their personal commitment has inspired so many volunteers around the world and 1000+ donors in USA and now it has spread across several states in US and India with actual beneficiaries (17,000+ persons with disabilities)
As an organization holding the esteemed "Special Consultative Status" with UN ECOSOC and accreditation with UN COSP, Voice of SAP is dedicated to creating an inclusive and accessible world by accelerating the implementation of the United Nations' Sustainable Development Goals (SDGs) and the goals outlined in the UN CRPD (Convention on the Rights of Persons with Disabilities) treaty.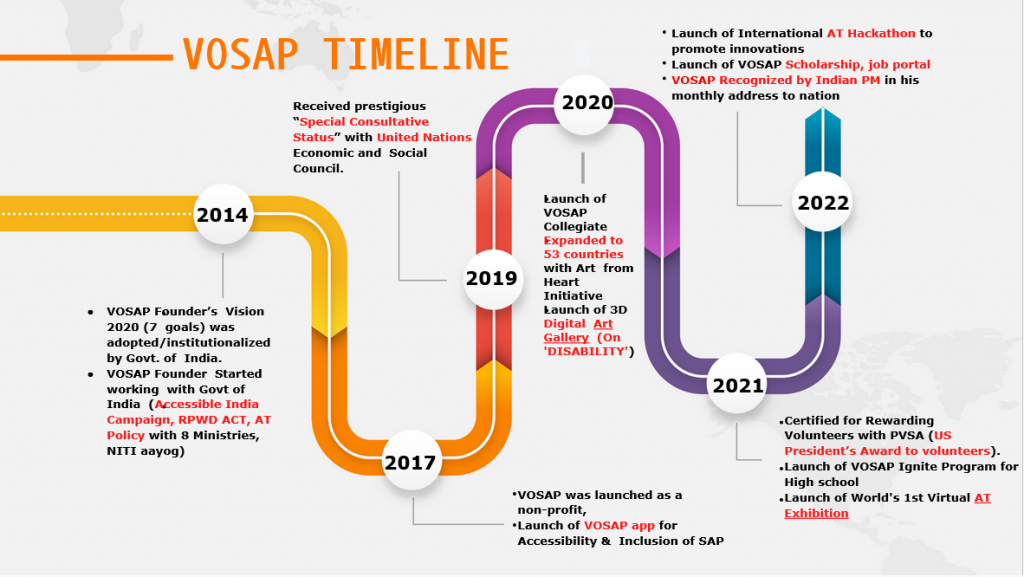 At the heart of our movement lies a global community of like-minded people who have taken a publicly visible pledge to empower Specially Abled People. With over 12,000+ registered volunteers and more than 250 inspirational leaders, we are driving positive change and enabling thousands of individuals, with a remarkable count of over 17,000 so far. Through the initiatives of assistive devices, surgical interventions, and self-employment kits, we actively promote the UN SDGs, working towards reducing inequalities, poverty, and illiteracy.
Our flagship innovation, the VOSAP mobile app is not only a tool for finding accessible places but also an empowering platform for activism, creating a demand for enhanced accessibility.
We are proud to have inspired the Government of India to embrace our vision through the Accessible India Campaign, which was launched nationwide by the Honourable Prime Minister, Shri Narendra Modi.
We were honored to be recognized by the Honourable Prime Minister himself in his monthly address to the nation, 'Mann ki Baat,' on April 24, 2022. He applauded our digital tools and tech-driven initiatives, further reinforcing our dedication to utilizing innovation for the betterment of society.
At Voice of SAP, we employ a multi-faceted approach to advocacy and enablement, driving meaningful change through advocacy, awareness campaigns, and engagement with stakeholders.
Creation of a Technology Platform: VOSAP believes in leveraging the power of technology to harness the 'ABILITIES' of Specially Abled People. Our mission revolves around creating a robust and inclusive technology platform that serves as a catalyst for empowerment and change.

Our Mobile App "VOSAP" (App Store | Play Store) is the first step towards "Actionable Advocacy through Technology". Through our VOSAP app, we have created a technology platform that connects individuals who have taken a volunteering pledge. With a growing dataset of accessible-friendly buildings across India, this platform serves as a catalyst for advancing the cause of Specially Abled People.
VOSAP has launched Digital Art Gallery showcasing 250+ Beautiful artwork and paintings on the theme of 'DISABILITY'.This creative initiative aims to sensitize people and communities to the unique experiences and challenges faced by Specially Abled Individuals.
Bridging the gap between innovators and suppliers, we have launched a 3D Virtual Assistive Technology Exhibition. This platform showcases the work of 35+ innovators who are revolutionizing the field of assistive devices, products, and solutions.
VOSAP Website is mass information hub for Online application for Assistive Devices, Beneficiary Data, Finding Accessible Places, Job Portal,Hackathon Portal,Inspirational Stories,Disability Research Reports

Inspiring Leadership for adopting Policy Recommendations: We actively engage with the leadership of government, corporate, and social organizations, promoting inclusive thinking and responsible resource allocation.

As experts in the disability sector, we have closely collaborated with the Government of India, NITI Aayog, etc to provide Policy Recommendations.
VOSAP has presented 6 statements so Far at different events at United Nations.

Mass Awareness Campaigns: Through mass awareness campaigns, we aim to socialize concepts such as "All of us are Temporarily Abled" and "Disability can happen to anyone, anytime!" These campaigns reinforce the reality that disability is a collective concern, encouraging everyone to contribute to building an inclusive and disabled-friendly world.
Creating a grassroots movementby volunteers to "Make Community Accessible." Involving volunteers as "Change Makers" for community level actions and providing them the tools such as the VOSAP mobile app to create a visible, measurable impact, creating a tide of change in their community. So far 21,000+ places are rated on VOSAP mobile app for Accessibility.
Engaging Youth at different levels. VOSAP Ignite program for high school students engaging in 9 months of rigorous volunteering, VOSAP Collegiate program engaging students of college and university in Data Driven Policy Research in the Disability sector, VOSAP AT Hackathon to engage youth for innovating assistive technology products and solutions.
Promoting Assistive Technology: VOSAP understands the vital role that technology plays in changing the life of individuals. VOSAP launched a $1 Million AT Acceleration Fund, to promote and accelerate adoption of assistive devices, promote innovations in assistive technology and scale the impact.
In addition, our volunteers are working with Universities, Colleges, Corporations and communities to inspire everyone for ISR (Individual Social Responsibility) towards Specially Abled People.
Even so, we have a lot of work ahead of us. We'd love for you to join our team of compassionate volunteers to actively engage and provide VOICE to the needs and empowerment of Specially Abled People 1.6 billion worldwide!
Register Now! Take a Volunteering Pledge and be a Changemaker!