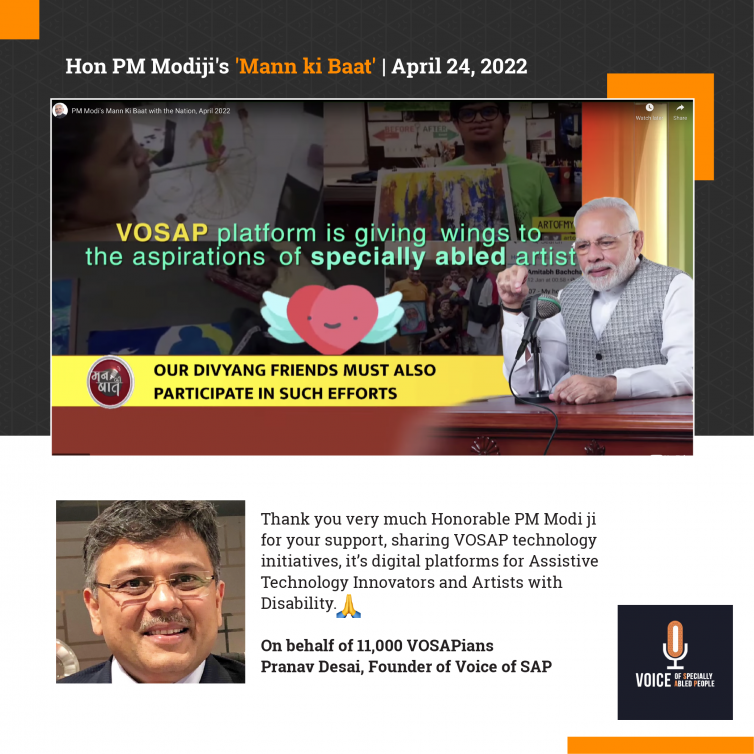 On April 24 2022, during "Mann ki Baat", monthly address to the nation by Honorable PM of India Narendra Modi ji, he recognized Voice of SAP's technology initiatives and its impact for Divyangs (Persons with Disabilities).
Modiji in his monthly address, Mann ki Baat shared "how power of technology can change the lives of common people and also how the extraordinary capabilities, skills of Divyangjan are harnessed with technology to benefit the entire nation and the world". 
Further, he stated Voice of Specially Abled People is doing inspiring work in this direction. It is promoting newer opportunities in the area of Assistive Technologies. Its innovative initiative, leveraging innovations in technology with launch of 3D VOSAP Art Gallery, (world's 1st virtual art gallery on the theme of DISABILITY).
Talking about this digital art gallery, he said that it has collection of paintings of some exceptional Artists with Disabilities and their amazing artwork. Despite of physical challenges with these talented artists, they have overcome their difficulties and have reached newer heights. One can feel this with many such topics covered in world's 1st such collection of 250 artwork in this digital art gallery. These inspiring artwork depict how Specially Abled People have overcome their challenges. This platform has given wings to the aspirations of artists with global outreach of VOSAP art platform.
The Honorable PM encouraged everyone to help Divyang (Specially Abled Person) to use digital technologies to excel int heir life. He also appealed Divyang community to join such initiatives.
VOSAP is honored, feels more responsible and very thankful for this recognition, appreciation.
VOSAP vision is to leverage technology solutions for large scale impact, empowerment and mainstreaming of millions of Specially Abled People to achieve economic expansion. VOSAP is working with policy makers at NITI Aayog, UN and innovators to accelerate adoption of technologies, making them affordable and potentially putting India on a path to emerging as an export hub for a better world for the 1 B+ global population of Persons with Disabilities in next 2-3 decades.
VOSAP is very thankful to its generous donors, compassionate volunteers, technology partners, NGO partners, research interns, innovators and AT exhibitors for joining VOSAP mission for creating collective and far reaching impact in the disability sector.
On behalf of 11,000 VOSAPians, Pranav Desai, Founder of Voice of SAP
Visit World's 1st virtual Exhibition of Assistive Technology by VOSAP and 
World's 1st Virtual Art Gallery on DISABILITY theme by VOSAP