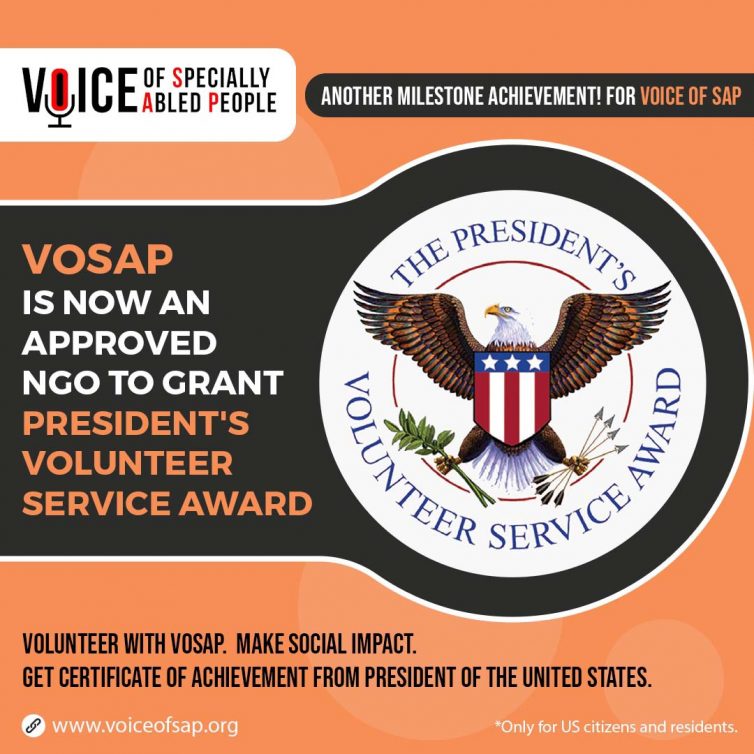 Good news VOSAPians! Volunteering at VOSAP can now help you get the prestigious high tier Volunteering Certificate: President's Volunteer Service Award from The US President.
The US "President's Volunteer Service Award" is a prestigious and national award in the US, given for a high tier volunteering service. It is a civil award bestowed by the President of the United States. Established by executive order by George W. Bush, the award was established in 2003 to honor volunteers that give time, hours per year helping others through the President's Council on Service and Civic Participation. The award can be granted to individuals, families and organizations located throughout the United States, depending on the amount of service hours completed.
It is an opportunity to honor most outstanding volunteers and recognize the impact they make. Only Certifying Organizations can certify volunteers' eligibility for the PVSA and order awards.
VOSAP has been recognized as one such approved organization to give out the PVSA recommendation for its volunteers. With this approval, Volunteers of Voice of SAP in the USA are now eligible to receive PVSA.
The Eligibility:
United States citizen or lawful permanent resident of the United States.
Must be at least five years old.
Completes eligible service within a 12-month period.
Hours of volunteering service:
| | | | | |
| --- | --- | --- | --- | --- |
| Age Group | Bronze | Silver | Gold | Lifetime Achievement Award |
| Kids (5–10 years old) | 26–49 hours | 50–74 hours | 75+ hours | 4,000+ hours |
| Teens (11–15) | 50–74 hours | 75–99 hours | 100+ hours | 4,000+ hours |
| Young Adults (16–25) | 100–174 hours | 175–249 hours | 250+ hours | 4,000+ hours |
| Adults (26+) | 100–249 hours | 250–499 hours | 500+ hours | 4,000+ hours |
Guidelines for Volunteering with VOSAP under PVSA Program
VOSAP is a certified organization to reward volunteers with PVSA for their volunteering activities with VOSAP. At VOSAP, you can volunteer by doing various activities. Here are indicative Guidelines for volunteers. Final decision for recommendation for PVSA will be taken by the VOSAP Committee.
PLEDGE
Credit For Volunteering Hours
Maximum Hours (%)
Taking Pledge to Volunteer using VOSAP Mobile app
1 hour
30%
Inspiring Family and friend to take a pledge to volunteer using VOSAP App
For every 5 Volunteering Pledge
1 Hour
For every 10 Volunteering Pledge
2 Hour
For every 25 Volunteering Pledge
6 Hour(1 bonus hour)
For every 50 Volunteering Pledge
15 Hour(5 bonus hour)
RATING BUILDING FOR ACCESSIBILITY
Credit For Volunteering Hours
Rating of Accessibility of public place/building using VOSAP Mobile app
35%
For Rating of 3 Places
1 Hour
For Rating of 10 Places
3 Hours
For Rating of 25 Places
8 Hours (1 bonus hour)
For Rating of 50 Places
16 Hours (5 bonus hours)
REFER A FRIEND
Credit For Volunteering Hours
Refer a Friend on www.voiceofsap.org VOSAP Website by Email – only if logged into
20%
For every 10 Referral
1 Hour
For every 20 Referral
2 Hour
For every 50 Referral
6 Hours (1 bonus hour)
For every 100 Referral
15 Hours (5 bonus hours)
REFER ART GALLERY
Credit For Volunteering Hours
Refer VOSAP Art Gallery on www.voiceofsap.org
20%
For every 5 Referral
1 Hour
For every 10 Referral
2 Hour
For every 25 Referral
6 Hours (1 bonus hour)
For every 50 Referral
15 Hours (5 bonus hours)
RESEARCH WORK
Credit For Volunteering Hours
Policy related Research work in Disability Sector (Part Time)
50%
Completing survey responses from NGOs, PwD
1 Complete response= 30 mins
Approved VOSAP Post on Inspiring Stories of Person with Disabilities, Article, Solutions, News etc.
Credit For Volunteering Hours
20%
Writing about VOSAP in school's newsletter
10 Hours
Article on NGO Facility (no visit required)
4 Hours
Approved VOSAP Article for your experience of Visit to facility, etc
10 Hours
Serving at VOSAP Booth/ Events
Credit For Volunteering Hours
Fundraising
$100 = 1 hr
50%
Organizing and attending an event
4-12 hrs upon event completion
Participating in Debate, Art contest etc.
4-12 hrs per level of participation
Starting a club at school/social level
10 hrs if approved by school
Creating a school book (club activity)
Based on approved project
Social Media post, sharing posts to promote VOSAP events
5 posts = 1 hr
Youtube Videos
Credit For Volunteering Hours
Receive 1 hour for watching 3 videos (duration less than or equal to 3 minutes video) and write 150 words for each video.
1 hour
20%
Receive 1 hour for watching 2 videos( duration more than 3 minutes video) and write 300 words for each video.
1 hour
Understanding VOSAP Digital Tools
Credit For Volunteering Hours
Article on any painting in VOSAP Digital Art Gallery (Minimum 200 words which painting attracted you the most and why) Link: (www.voiceofsap.org/artgallery/ )
5 hours
20 %
Article on any Exhibitor in VOSAP AT Exhibition (Minimum 200 words which AT Solution attracted you the most and why) Link : events.voiceofsap.org
5 Hours
Take a Quiz about VOSAP

Link : www.voiceofsap.org

4 Hours for score above 25
Presenting to Fellow Igniters
Credit For Volunteering Hours
Each member presents an innovative idea, initiative, or a summary of their learning/volunteering experiences.
5-10 hours based on depth of content
10%