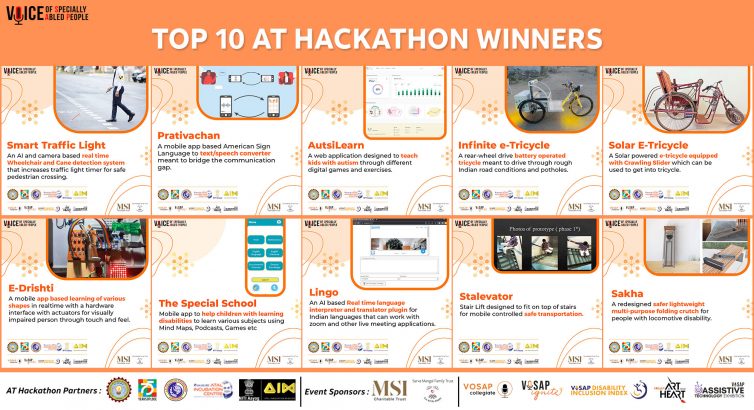 Watch the Live Event at https://www.youtube.com/watch?v=fqp-oDStrjw
Voice of Specially Abled People, a US based leading not-for-profit organization in the disability sector observed its Annual Event on the 3rd of December, 2022 to celebrate UN's International Day of Persons with Disabilities.
Dr. Chintan Vaishnav, Mission Director of NITI Aayog's Atal Innovation Mission (AIM), joined the annual event as the Chief Guest.
VOSAP announced the Top 10 Winners of the International Assistive Technology Hackathon. The Winners showcased their innovations for improving the lives of people with different limitations including visual impairment, hearing impairment, locomotor and learning disabilities.
Below are the Top 10 Winners of International AT Hackathon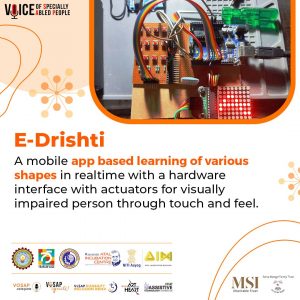 E-Drishti: A mobile app based learning of various shapes in real time with a hardware interface with actuators for visually impaired person through touch and feel.
The project consists of two parts:
1) A mobile app where anyone can draw any shape.
2) A tactile output where a visually impaired person can touch and feel the same, this project can be useful for blind student to learn to draw various concepts of geometry, science that needs shape recognition.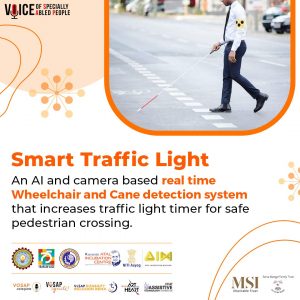 Smart Traffic Light: An AI and camera based real time Wheelchair and Cane detection system that increases traffic light timer for safe pedestrian crossing.
The idea is of smart AI based camera systems installed at traffic signals that can increase timing of the signals if a person with cane or wheelchair is crossing the road.
The idea proposed is that the model being linked to a traffic control center, where it will receive a constant flow of images, process them, and determine a crosswalk time depending on if pedestrians are using assistive.
Lingo: An AI based Real time language interpreter and translator plugin for Indian languages that can work with zoom and other live meeting applications.
A platform which provides Real Time transcription and translation, Making the content more accessible to hearing impaired people in multiple Indian languages. The idea is to consume content real time through real time multilingual transcription as well translation. The current prototype is based on Zoom meetings.
LINGO takes zoom call Audio as an Input, asks the user to select the speaker's language and the language the user wants the transcription to be in.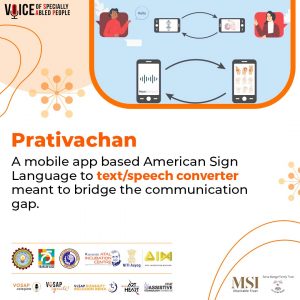 Prativachan: A mobile app based American Sign Language to text/speech converter meant to bridge the communication gap.
The idea is of a system in which we can translate the sign language used by hearing impaired people in simple english language which will make the communication between HI and others easier. For the the prototype, the team used Sign Language Processing (SLP) for converting the text into sign language and similarly sign language to text/speech.
The accuracy can be improved as per the availability of bigger and suitable dataset.
Stalevator: Stair Lift designed to fit on top of stairs for mobile controlled safe transportation.
The team has developed a stair lift prototype that takes support from the stairs unlike traditional stairlifts. The design currently uses a gear system, motors and two rods as a track for the chair to go up and down. It also has mobile app to manage stairlift movements, structure that is hinged on floor and not the wall.The overall idea is for safe transportation of locomotive disabled and elderly people between the floors in the building, making stairlifts a common tool for lacs of existing buildings like temples, apartments, offices etc.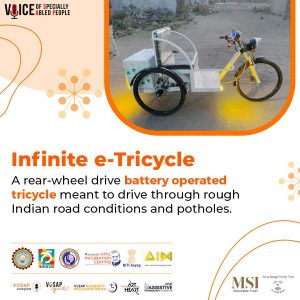 Infinite Electric Tricycle: A rear-wheel drive battery operated tricycle meant to drive through rough Indian road conditions and potholes.
The team has designed and developed a rear-wheel drive e-tricycle as per the indian road conditions with LED lights in front and back for safety.
The E-tricycle could be suitable for the load to carry and there is enough capacity to carry 50 kilograms load with indigenous designed battery that provides 45 km range per charge, and wheel system is  designed to manage through potholes etc. A battery with 0.8kwh capacity is installed that only takes 3 hours to charge.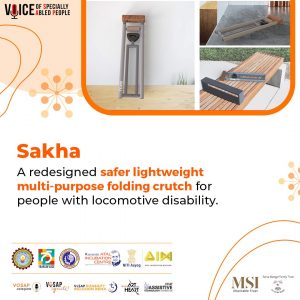 Sakha: A redesigned safer lightweight multi-purpose folding crutch for people with locomotive disability.
The project made changes in Existing crutch design to make them lightweight, more handy to carry.
SAKHA could play a vital role to ensure smooth flow of activity by virtue of its modified design.
The crutch has a Foldable design with two clip buttons, top one for a telescopic movement and bottom one to rotate bottom part. Its large Adjustable base for safety and support when a person needs to go the washroom.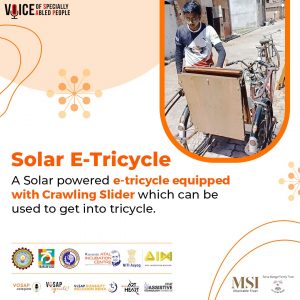 Solar e-Tricycle with Slider: A Solar powered e-tricycle equipped with Crawling Slider which can be used to get into tricycle.
The team has created a full functional prototype of a solar e-tricycle, to help 20 million people in  India with Mobility Impairment.
It is equipped with a motor in front of the tricycle,  and the back portion has an manually self-adjustable crawling slider which can be brought up and down using a rotating lever and can be used by a mobility impaired person to get on and off the seat without any assistance. In the current prototype four 12V batteries are used that takes 2.5 hours to charge and has an approximate range of 29 Kms on complete charging.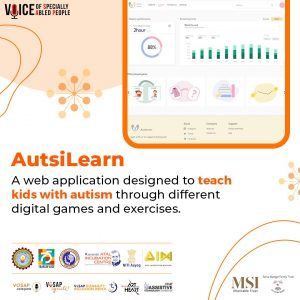 Autsilearn: A web application designed to teach kids with autism through different digital games and exercises.
Idea is of a webapp that provides visual learning for children who have autism. It has more than 10 games and learning activities that support autism therapy methods used in real life.
Here, the system will be supported on the web, so there will be no need to download space-consuming apps. Another thing that makes the system different than others is multi-language support.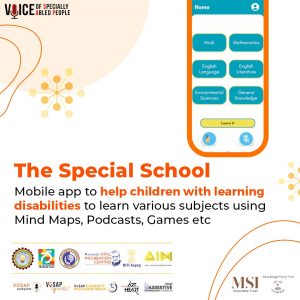 The Special School : Mobile app to help children with disabilities to learn various subjects using Mind Maps, Podcasts, Games etc.
The project consists of two parts –
1.) A mobile app that contains NCERT based lessons in the form of games, mind maps and podcasts for better understanding.
2.)  A web app for designed for parents to track their children's progress, score and recommendation.
The web-app interface is very responsive, it can be handled with any device.
!!! Congratulations to All the Winners  !!!