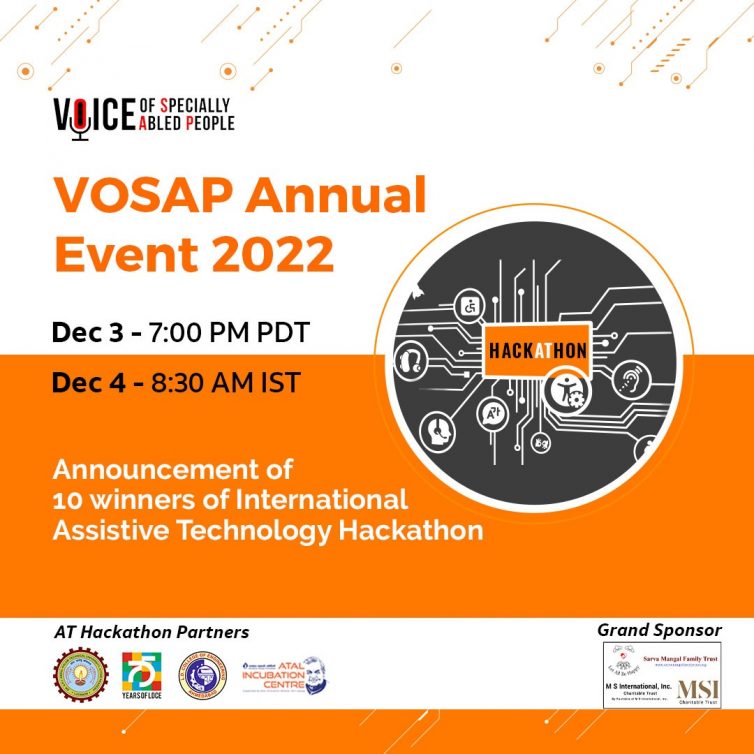 Every year VOSAP commemorates and celebrates International Day of Persons with Disabilities in a very Unique way by engaging youth from across the world as VOSAP Annual Gala and Announcing Winners of Essay Competition in 2018, Announcing winners of Art from Heart Competition and Launch of Digital Art Gallery in 2020, Launch of Virtual 3D Assistive Technology Exhibition in 2021 to bridge the gap between innovators and community for access to Assistive Technology. In 2022, the Theme is innovations in Assistive Technology supported by Voice of SAP and its Partners like L.D College of Engineering, Dr.Abdul Kalam Technical University and Atal Incubation Centre-Rambhau Mhalgi Prabodhini.
On Dec 3, VOSAP will host its Annual Event to announce Top 10 winners of the International Assistive Technology Hackathon. Chief Guest for the event is Dr.Chintan Vaishnav, Head of Atal Innovation Mission, NITI Aayog, Govt. of India.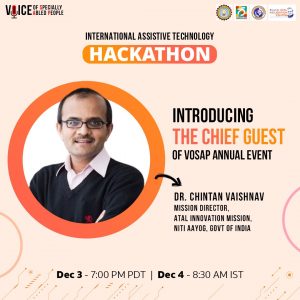 It has been a humbling experience seeing our youth having understanding of the needs of Specially Abled People and coming up with ideas in Mobility, Communication and Learning.
With over 114 entries from 10 states in India and CA, USA, we identified the top 20 projects with help of esteemed jury members from AT industry, academia and incubators. These top 20 projects have solutions for hearing impaired (3), visually impaired (6), locomotive disbaled (6), Persons with Learning Disabilities (1) people and general purpose for SAP (4). After several rounds of evaluation we will find Top 10 Winners of International Assistive Technology.and announce.
2022 has been an impactful year for Voice of SAP wherein we engaged Youth from UC Berkeley, Nigeria, Bahrain and US in research program in Rehabilitation to Creating models using NLP, Presenting multiple times at United Nations, engaging students from Grade 9-12 for 9 months structured volunteering and 8 of them received Prestigious US President's certificate for volunteering out of which 4 students also received gold medal. VOSAP also started Scholarship program for college going Specially Abled students in the US.
VOSAP has also started promoting its view points for ADA 2.0 (Achieving next level of goals for Americans with Disabilities for better income, education and employment) with the US Congressman Brad Sherman and others.
With several events across India in 10 states, VOSAP has changed the lives of 14,000+ Specially Abled People DIRECTLY, and put a smile on 70,000+ faces so far…
We invite you to Join us at VOSAP Annual Event 2022 – online event to Celebrate International Day of Persons with Disabilities and learn amazing innovations of Top 10 Winners of International Assistive Technology Hackathon, Learn about our 360 degree impact in Disability Sector with help of our partners like BPA, highly compassionate team and generous donors in the US.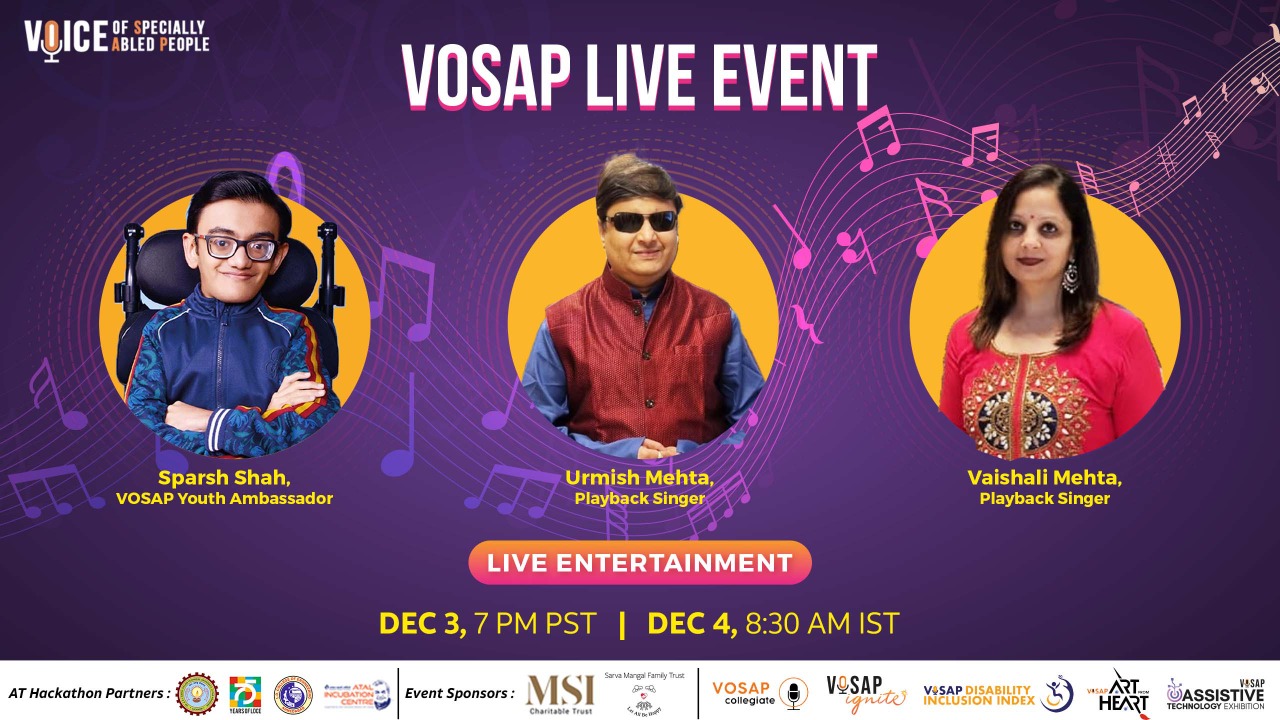 You can join the live events on our social media platform: Linkedin, Youtube, Facebook.