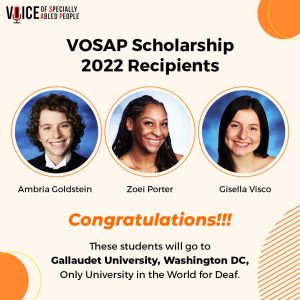 Voice of SAP Scholarship Program is an initiative to provide financial assistance for post higher secondary education to Specially Abled students in the USA.
The goal is to assist such students in creating a better future for themselves through higher education, enabling and empowering them with knowledge and skills.
The scholarship provides college financial assistance to a graduating senior from High School who is pursuing a higher education at an accredited community college, state college, vocational college or university. Scholarship award is for tuition, books and education fees.
VOSAP Founder Mr. Pranav Desai and volunteers from USA Mr. Raj Rana and Jayana Shah, along with ASL interpreter, interviewed the candidates who were shortlisted for the Scholarship.
These students had applied and were accepted for their further studies at Gallaudet University, Washington DC, which is the only university in the World where students live and learn using ASL and English.
Gisella is a very motivated student with Hearing Impairment and Dyslexia. Her 3 Siblings, Parents and Dog are also hearing impaired. She is inspired to pursue higher studies. She is also an athlete and has represented her college at the Football team. She said she would like to help students who are hard of hearing and deaf students in order to guide them to be successful in life.
Ambria is a hearing impaired student who loves sports and intends to pursue a degree in PE and become a PE teacher. She wants to help students who have disabilities and guide them. She is also a child of both parents with hearing impairment.
Zoei is hard of hearing and is daughter of a single mother. She loves to play Volleyball, Basketball and also tracks. She is the first person in her family to go to college for studies and pursue a degree.
It was very inspiring to see the aspirations of these high energy students and their motivation to do better, give back to the community and be the changemaker in society.