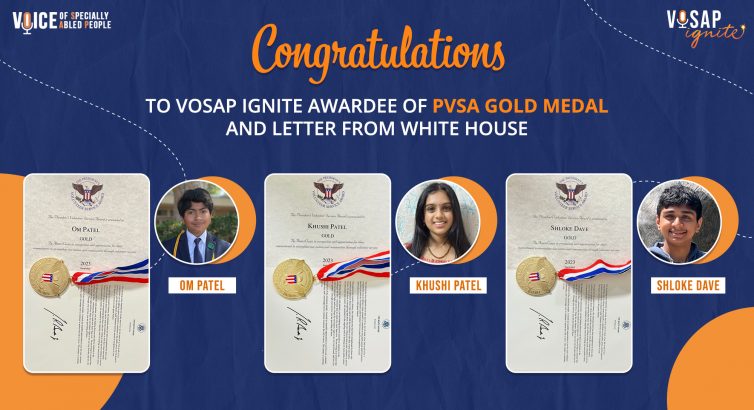 In a world filled with challenges and obstacles, it's heartening to witness the extraordinary dedication and compassion of young individuals who are determined to make a difference. The Voice of Specially Abled People (VOSAP), a US-based nonprofit organization, has been at the forefront of empowering the specially abled community. Their Ignite Program, which provides volunteering opportunities for high school students across the USA, has yielded remarkable results, with over 60 exceptional students dedicating more than 2,500 hours to the cause.
These high school students have proven that age is no barrier to making a substantial impact on society. In the year 2023, three outstanding students from the Ignite Program were honored with the prestigious President's Volunteer Service Award (PVSA) Gold Medal and Certificate signed by US President Joe Biden, for their exceptional contributions to volunteering. What sets their achievements apart is their commitment to rating buildings for accessibility, a crucial aspect of ensuring inclusivity for specially abled individuals.
Let's meet these exceptional young volunteers:
Shloke Dave (Sugarland, Texas):
Shloke Dave took his commitment to VOSAP's mission to the next level. He successfully organized July 4 and Independence Day India celebrations, demonstrating his leadership skills. Shloke also organized an art contest and a debate contest, spreading awareness about the cause. Moreover, he brought VOSAP's mission to his school and initiated the VOSAP Club with fellow Ignite students. Shloke's compassion extended to visiting local facilities and spending time with children on the autism spectrum, sharing his enriching experiences.
Khushi Patel (Sugarland, Texas):
Khushi Patel's dedication knows no bounds. She actively contributed to VOSAP by working on a children's book, presenting on "The Role of Assistive Technology in Improving Global Health" at the 2023 Global Health Leaders Conference held at Johns Hopkins University, and assisting at various booth events and debate competitions. Khushi also took the initiative to write newsletters and co-founded the VOSAP Club at her school alongside Shloke Dave and other Ignite students.
Om Patel (Los Angeles, California):
Om Patel showcased his leadership and organizational skills by organizing the VOSAP Debate Competition. He went above and beyond by researching and writing various articles on topics such as NGO facilities and war veterans. Om also raised donations for the cause and actively participated at VOSAP booths during events like Holi, spreading awareness and garnering support.
These young volunteers have displayed an exemplary level of commitment and empathy towards empowering specially abled people. Their dedication has not only made an impact on the lives of those they've touched but also serves as an inspiration to others.
Here's what these remarkable young individuals have to say about their experiences:
Khushi Patel: "I am immensely grateful for the opportunity to volunteer alongside VOSAP. Through the Ignite program, I was able to collaborate with like-minded peers who were similarly passionate about advocating for specially abled people. Through community outreach, online media content, and written articles, I was able to play a part in furthering the advancement of specially abled people. I truly enjoyed my time volunteering with VOSAP this past year and I can't wait to see what we will accomplish together in the future!"
Om Patel: "Volunteering with the Voice of Specially Abled People has been an incredibly rewarding journey. It's a privilege to contribute to such a noble cause and witness the positive impact we make in the lives of individuals with disabilities. I'm grateful for this opportunity to make a difference."
Shloke Dave: "I appreciate VOSAP team for providing me this valuable volunteer opportunity. I had lots of fun with other Igniters in many booths that we had at different events. I rated buildings, raised donations and brought awareness in the community for VOSAP during various events. VOSAP taught me how to be a collaborative team member and had a humble life experience serving SAPs during my interactions in events. I am looking forward to staying connected with VOSAP for many more years to come."
These stories of young changemakers are a testament to the power of youth-driven initiatives and the potential for positive change when we come together for a common cause. VOSAP's Ignite Program not only empowers specially abled people but also empowers the youth to become compassionate, dedicated leaders of tomorrow. With their unwavering commitment, these students have shown that they are not just the future; they are the present, making a real and meaningful impact in the world today.