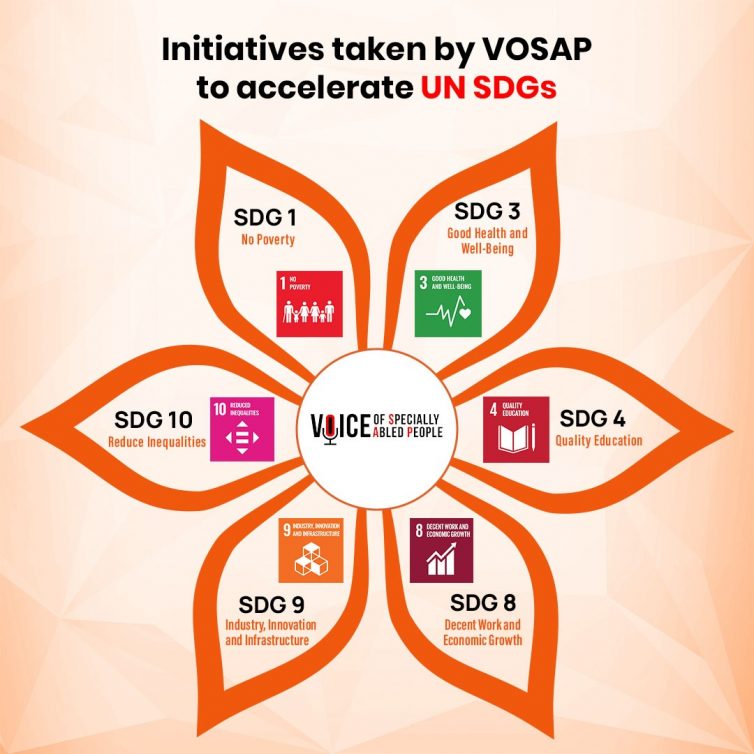 In "Special Consultative Status" with United Nations Economic and Social Council (ECOSOC) and accreditation with UN COSP, Voice of SAP is working to create an Inclusive and Accessible world by accelerating implementation of Sustainable Development Goals (SDGs) of the UN and goals of UN CRPD (Convention on the Rights of Persons with Disabilities).
Voice of SAP has undertaken various Initiatives in achieving the following UN SDGs:
No Poverty (SDG 1).
Good Health and Well-Being (SDG 3)
Quality Education (SDG 4)
Decent Work and Economic Growth (SDG 8)
Industry, Innovation and infrastructure (SDG 9)
Reduce inequalities (SDG 10)
With 'Special Consultative Status',  VOSAP became one of the very few organizations to receive several privileges and access to the United Nations. This status has also provided an opportunity to Voice of SAP to present itself at various UN Events.
Voice of SAP has presented 6 statements at
UN
's different events.  We have submitted written, oral statements and participated at events in person.  Here is the list of  VOSAP's statements at the United Nations over the years.
YEAR
EVENT
TOPIC
2023
2023 ECOSOC HLS
Accelerating the recovery from the coronavirus disease (COVID-19) and the full implementation of the 2030 Agenda for Sustainable Development at all levels.
2022
15th session of the Conference of States Parties to the CRPD (COSP15)
Innovation and technology advancing disability rights
2022
66th Conference on Status of Women
Achieving gender equality and the empowerment of all women and girls in the context of climate change, environmental and disaster risk reduction policies and programmes,
2020
58th annual conference of Social Development (CSocD58)
Affordable housing and social protection systems for all to address homelessness.
2019
12th session of the Conference of States Parties (COSP) to the CRPD
Technology, digitalization and ICTs for the empowerment and inclusion of persons with disabilities
2018
11th Session of the Conference of State Parties (COSP) to the CRPD
Leaving no one behind through the full implementation of the CRPD
Voice of SAP's mobile app 'VOSAP' was also included as a USEFUL TOOL in UN's Newsletter on Disability in Feb-March 2018.