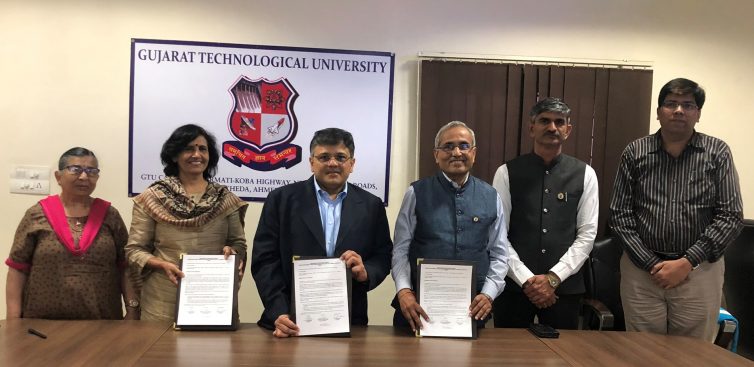 After starting the mass movement on accessibility (supported with VOSAP mobile app, Govt of India's "Accessible India Campaign", Harmonized Guidelines on accessibility etc.), VOSAP has stepped up its efforts to enable Persons with Disabilities with Assistive Devices. During Dec 2019 trip to India by Founder of Voice of SAP, following key developments took place to accelerate Enablement of Divyangjan with Assisitve Devices.
Advocacy with Govt of India on policy initiative and demand generation: Meetings with NITI Aayog to work out policy framework to promote Assistive Technology in India. We worked on details of strategies as what we need to generate domestic demand, how every ministry, state can help generate demand for assistive devices, how CSR funds can be diverted for individual enablement and how tax, fiscal incentives can be given for wide spread adoption of Assistive Devices in India to mainstream 100 MN Persons with Disabilities to contribute towards goal of US$ 5 TN Indian Economy by 2024. We thank Dr Muniraju and team to give shape to the idea that VOSAP presented in Sep 2019.
Innovation in AT sector: To innovate, reverse engineer products for low cost production, VOSAP and LDCE launched InCA Tech – Innovation Challenge in Assistive Technologies with SSIP and L D College of Engineering (LDCE), Gujarat Technology University (GTU). Govt of Gujarat may fund upto Rs 15 lac per innovation in AT sector. The launch was inaugurated in presence of Director of Technical Education, Govt of Gujarat, Registrar of GTU, Head of SSIP along with Principal of LDCE and Founder of VOSAP. We look forward to work closely with task force for InCA Tech as subject matter expert – SME of AT sector
Capacity Building with University: To create capacity, supply of skilled manpower in AT area, VOSAP entered into MoU with GTU to promote courses related to disability in 450 colleges affiliated with GTU in Gujarat. Voice of SAP is extremely encouraged and looking forward to work closely with task force team of GTU and LDCE. we thank Dr Navin Sheth and Dr R K Gajjar, Principal of LDCE for signing this MoU with Voice of SAP
Commercialization of Innovation: All innovations must reach to people with its commercialization and investments by business community. To close the loop from Policy to innovation to capacity building to commercialization of Assistive Devices, VOSAP founder presented to business community, traders, manufacturers of MSME sector at event organized by GCCI (Gujarat Chamber of Commerce and Industries) in partnership with Rotary international district 3054. As a result couple of initiative of making custom wheelchairs, bonephones etc. started immediately. Many more were discussed and key is academic (engineering students) and industry people came together in this event. Voice of SAP is very thankful to President of GCCI Shri Durgesh Buch and GCCI executive team members along with Rotary International district 3054 leader Shri Ashish Desai and team for the organizing successful event on Dec 16 2019.
Consumption – Individual Enablement with Assistive Devices: VOSAP continues to enable Persons with Disabilities in rural India (Palanpur, Dang districts). To learn the first hand as how assistive devices are helping change life, enable Specially Abled People, VOSAP conducts camps wherein poor students receive digital hearing aids, Daisy player, tricycles, Custom wheelchairs, Sewing machines etc. This not only gives immense satisfaction to VOSAPians but also actual learning in this area to help innovators with testing, product design etc.

VOSAP Founder with NITI Aayog team – Dec 4 and Dec 17 2019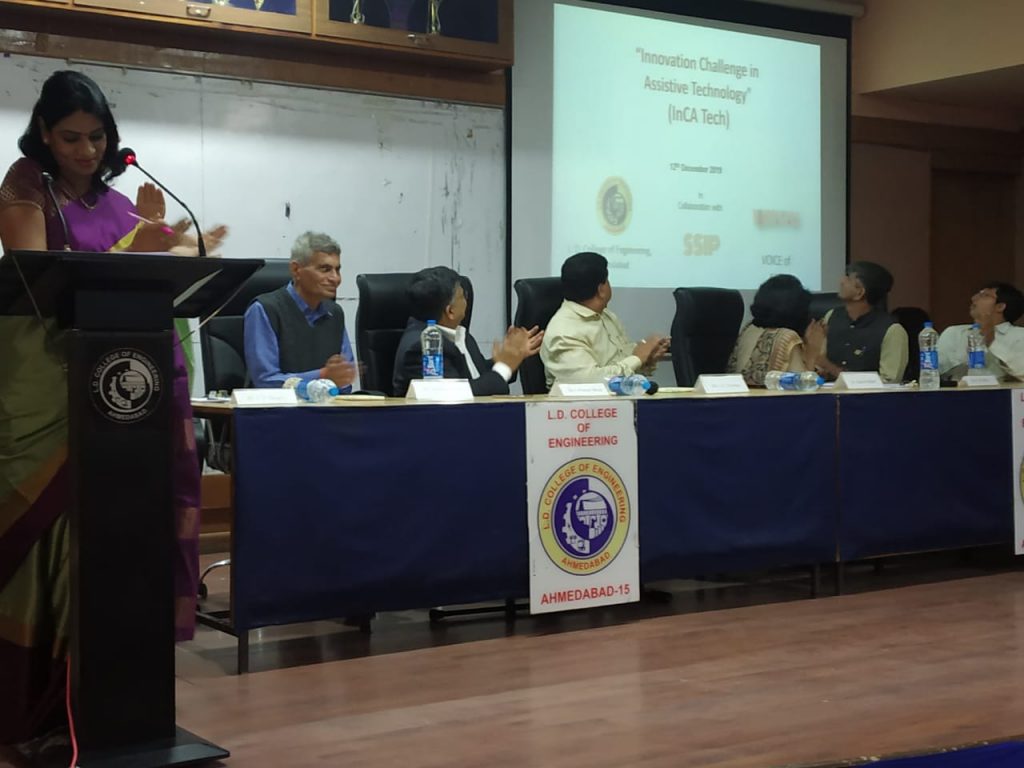 Launch of InCA Tech on Dec 13 2019 by VOSAP, LDCE and SSIP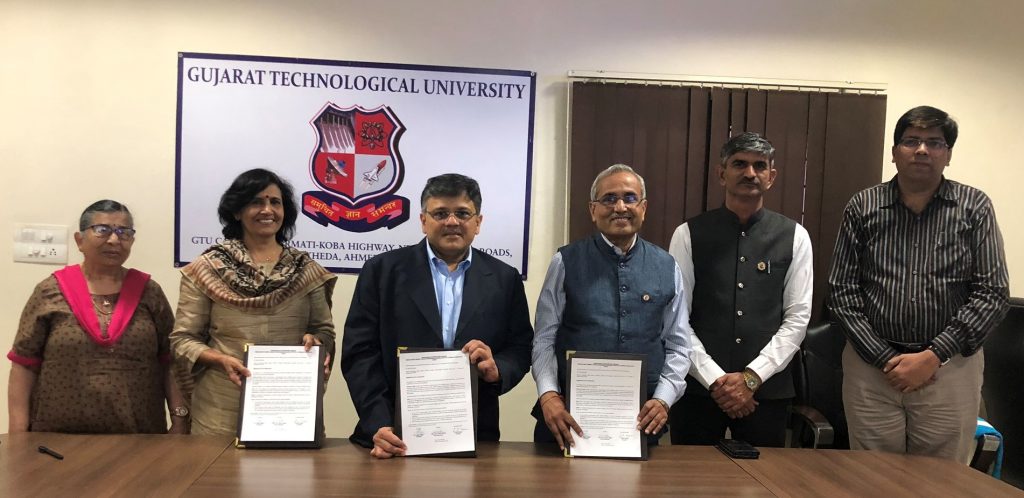 VOSAP signed Memorandum of Understanding with Gujarat Technology University (450 colleges) and LDCE – Dec 16 2019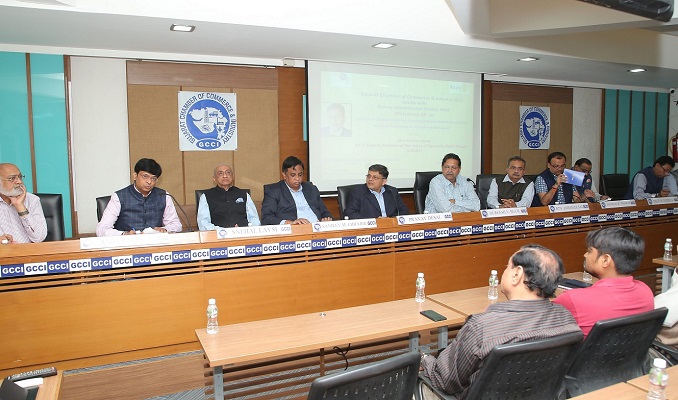 VOSAP Founder addressing at Gujarat Chamber of Commerce and Industries (GCCI) to GCCI and RI (Rotary) members on Dec 16 2019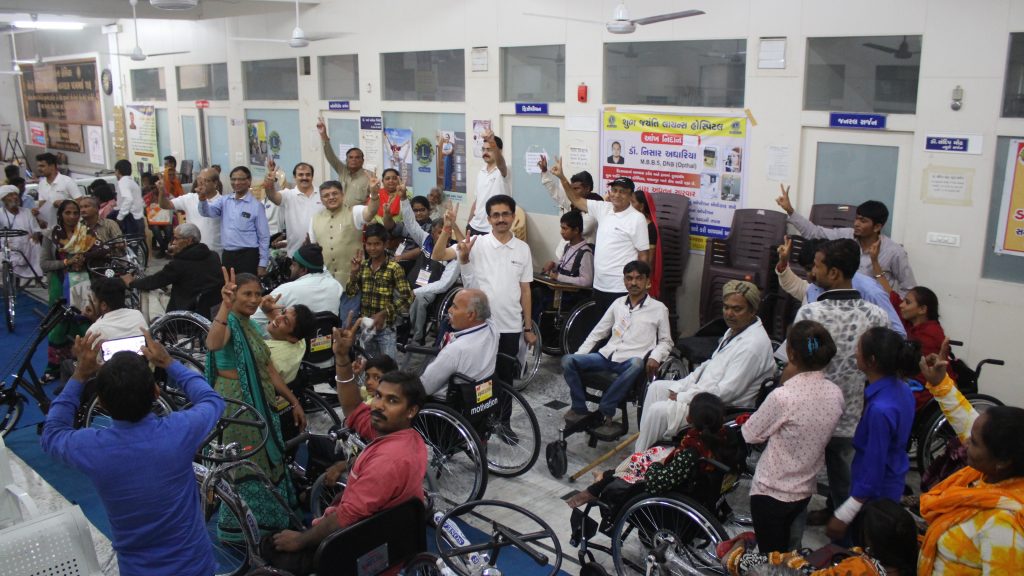 VOSAP camp in Palanpur, Gujarat, India on Dec 7 2019