Narayan Seva Sansthan
विद्या विवादाय धनं मदाय शक्ति: परेषां परिपीडनाय |
खलस्य साधोर्विपरीतमेतज्ज्ञानाय दानाय च रक्षणाय ||
A bad person uses his knowledge for (empty) argumentations, his wealth for egotistic actions, and his power for harming others. The opposite is true concerning a good person: He uses his knowledge, wealth, and power for providing to others knowledge, financial help, and protection, respectively. The same is true for the living legend, Founder Chairman of Narayan Seva Sansthan Shri Kailash Chandra Agrawal, "Manav"!
Narayan Seva Sansthan established in 1985 and head quartered in Udaipur, is rendering free of cost services in the field of treatment and rehabilitation of Specially abled persons of the society at large, without any discrimination on the ground of religion, region, caste, sex etc.
At present Sansthan have 17 Hospital buildings, with 1100 bed capacity. The Hospitals are one of the best in North India and became epicentre of more than 2,15,000 free of cost corrective surgeries whereby the limbs of the  patient through tandent transfer, paralysed muscles are given some power.
The divine welfare activities of Sansthan were appreciated by Indian Government and Founder Chairman of Sansthan 
Shri Kailash Chandra Agrawal
 has been 
honored
 with many prestigious awards including "
Padamshree Award"
.
For its activities, Sansthan is totally dependent on the help and contribution from the gentle persons from all over the world.
श्रोत्रं श्रुतेनैव न कुण्डलेन दानेन पाणिर्न तु कंकणेन |
विभाति काय: करूणापराणाम् परोपकारैर्न तु चंदनेन ||
The ears of a 'sajjan' (Honest/Good) person looks more good and pleasant hearing some knowledge ('Vidya') and not by the ear-rings ('Kundal'). Donating something more suites the hand than the bangles. Like wise the body of a 'sajjan' person more suites by doing favours on others ('paropkar') than application of sandalwood's cream to itself.
Narayan Seva Sansthan does wholesome empowerment of SAPs by:
Physical rehabilitation
Economic rehabilitation
Social rehabilitation
Social awakening
Service Camps
Caring for orphans
The activities of sansthan is 
highlighted
 as follows:
I Free of cost Corrective Surgeries
The free of cost corrective surgeries to 80 to 90 patients suffering from polio & other by birth disabilities are carried out daily.
Also free of cost stay & food facility is also provided for the patient and the attendant.

II Diagnosis and Surgical camp
 Such camps are organised across India where in initial screening of patients are done for corrective surgeries and then they are treated at our Hospital at Udaipur.
We have also started conducting surgical camps where in corrective surgeries are done during the camp itself, right now such a camp is going on at Gurgaon from

16th to 23th November, 2014

.
Also helping aids such as Crutches, Wheel chairs & tricycles are distributed during such camps to the poor & needy people.

विद्वत्वं च नॄपत्वं च नैव तुल्यं कदाचन |
स्वदेशे पूज्यते राजा विद्वान् सर्वत्र पूज्यते ||
Ruler ship and learning is not comparable any time. king gets respect from his own country where as learned person gets it from everywhere.
III Free of cost Mobile repairing, Tailoring and computer training courses.
Such courses are organised by sansthan as step towards economic self dependence for specially abled, poor & needy people.
After the course certificates are given to the trainees along with the tool kit and sewing machines.
IV Distribution of Ration, Stationary, Clothes
Sansthan distributes ration to more than 837 poor women on monthly basis as well as stationary items and clothes are also distributed among poor children in remote villages.
V Train Journey
Presently the Train journey is on from

30th Oct to 23 Nov,2014

to 3 Dhams and 11 Shivalinghas with more than 200 people, the basic motto of conducting such yatra's is to provide an opportunity to people for Purifying the soul along with the service of wretched & distressed and specially abled people.
ज्येष्ठत्वं जन्मना नैव गुणैर्ज्येष्ठत्वमुच्यते |
गुणात् गुरुत्वमायाति दुग्धं दधि घॄतं क्रमात् ||
Greatness is not by birth, greatness is decided by qualities (of a person). As it increases from milk to curd to ghee.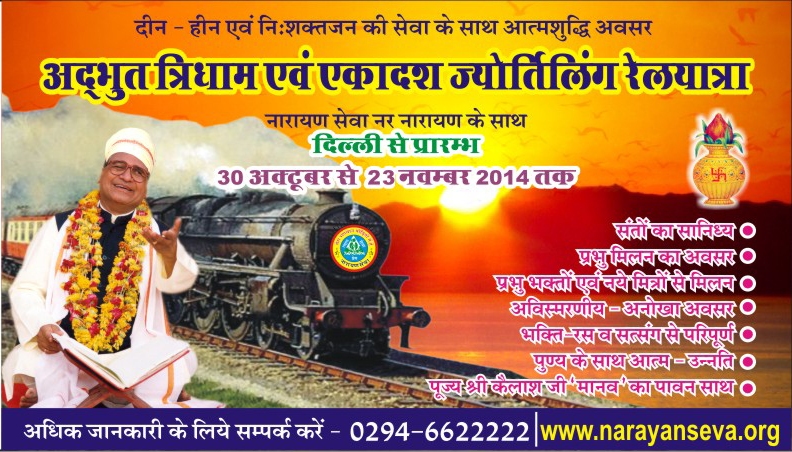 VI Residental Home
"Free of cost facility of education, food and residential accommodation for 65 mentally retarded, deaf & dumb and blind children.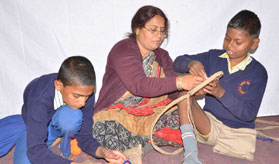 VII Helping People with peculiar health problems
Children with hole in heart and other peculiar health problems are supported by getting them operated at Specialised Hospitals.
VIII Free of cost Mass Wedding ceremony for the Specially abled, Poor & needy people.
For last 15 years we have solemnized 21 such marriages in which more than 800 specially abled, poor & needy young couples have been tied in a life long knot irrespective of cast, creed & religion.
The last wedding ceremony was organised at Ram Lila ground, Delhi  with 92 couples including one christian and one Muslim couple.
! सह नाववतु सहनौ भुनक्तु |
सह वीर्यं करवावहै |
तेजस्विनावधीतमस्तु मा विद्विषावहै |
! शान्ति: शान्ति: शान्ति: |
OM May that Brahman protect us both; May that Brahman nourish us both; May we work in harmony with great vigour; May our study be illuminating and fruitful; May we not hate each other. Om.. Peace, Peace.. Peace.