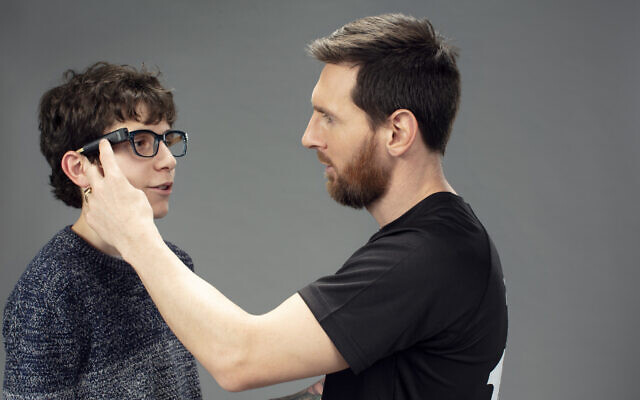 OrCam Technologies, a Jerusalem-based maker of artificial intelligence-based wearable devices to help the blind and visually impaired read texts via audio feedback, said Wednesday that soccer legend Lionel Messi has agreed to be the face of the company.
OrCam said the "partnership collaboration" with Messi is meant to increase awareness of the challenges faced by the blind and visually impaired community globally.
As part of the joint project, OrCam will arrange face-to-face meetings for visually impaired people from around the world with the soccer superstar, with Messi giving them OrCam's MyEye device as a gift.
The device is a wireless, lightweight and compact computer, the size of a finger, that fits onto a pair of glasses. The AI-driven technology can discreetly read printed and digital text from any surface out loud to the device wearer. Newspapers, books, computer and smartphone screens, restaurant menus, labels on supermarket products, and street signs become accessible, OrCam said. Additional features offer also instant face recognition and identification of consumer products, colors and money notes, and there is a Smart Reading feature, launched in the US in July, that gives users the ability to use voice commands.
Every year, Messi will give the OrCam MyEye "to people with inspiring stories who are blind or visually impaired, some of whom he will personally meet in Barcelona," OrCam said in a statement. These individuals will each become members of the "OrCam Dream Team," led by Messi, the statement said.
News Credit- The Times of Israel