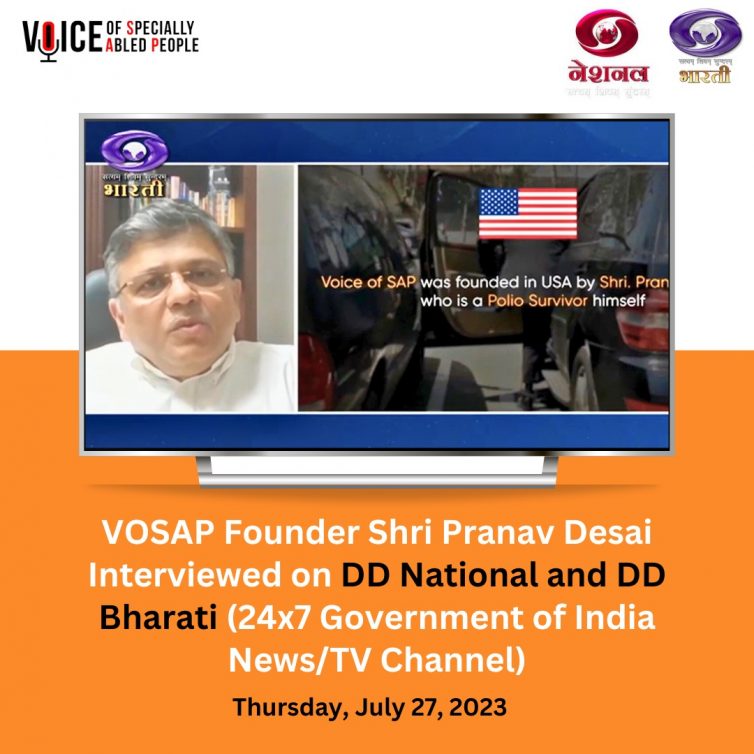 On a Thursday morning, July 27, 2023, viewers of DD National and DD Bharati were treated to an extraordinary interview with Shri Pranav Desai, the founder of Voice of Specially Abled People (VOSAP). His remarkable journey from personal challenges to becoming a driving force in promoting inclusion and empowerment for the specially-abled left viewers feeling inspired and hopeful.
Pranav Desai's life story is a testament to the power of determination, willpower, and ambition. Living in both India and the US, he has faced various experiences that shaped his perspective on disability and accessibility. As an advisor to the Government of India, he leveraged his experiences and expertise to help formulate policies that could create a positive impact on the lives of millions of specially-abled individuals.
During the 'Thoughtful Thursday' interview, Shri Pranav Desai emphasized the importance of viewing specially-abled people as assets, focusing on their 'abilities' rather than their disabilities. This simple shift in perspective can change how society perceives and treats them, allowing for their full integration into various aspects of life.
One of the key aspects of VOSAP's mission is providing assistive devices and empowerment to the specially-abled community. By doing so, they enable individuals to lead more independent lives, actively participate in the workforce, and contribute to society's growth. Shri Pranav Desai passionately shared how this approach not only improves the quality of life for the specially-abled but also drives economic expansion by tapping into the untapped potential of this capable population.
Accessibility plays a vital role in unlocking the potential of specially-abled individuals. Pranav Desai stressed that creating an inclusive environment in public spaces, education, and workplaces is crucial for ensuring that specially-abled people can fully participate and thrive in society. His advocacy for accessible infrastructure and policies has been instrumental in making strides towards a more inclusive and accepting society.
Voice of SAP has been making a significant impact by leveraging digital tools to promote inclusion and accessibility. Through their initiatives and campaigns, they have raised awareness about the challenges faced by the specially-abled community and have successfully advocated for change. Their use of technology has helped bridge the gap and ensure that specially-abled individuals can access opportunities and resources more easily.
Tune into this heartwarming conversation filled with hope and determination and get inspired to make a difference! Watch the full interview below: