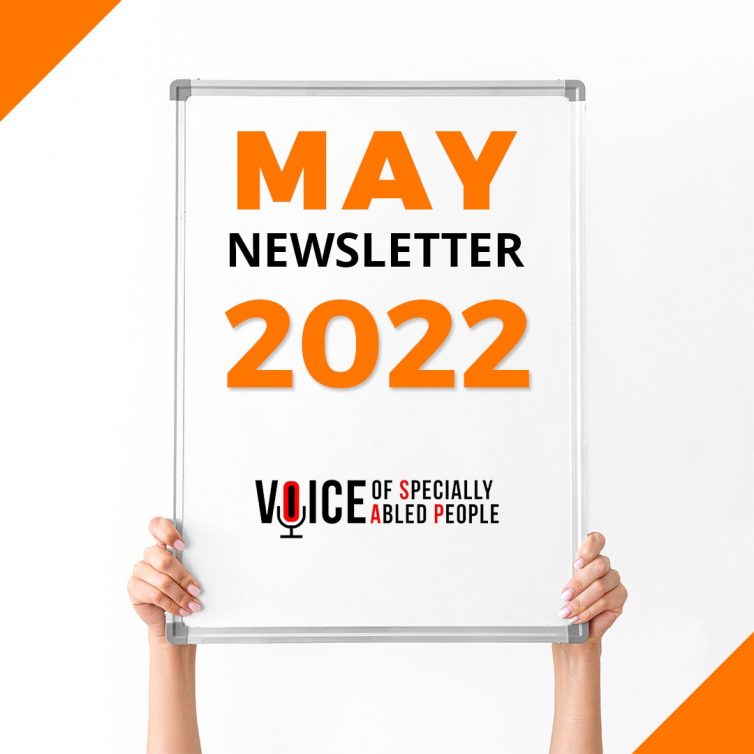 Newsletter Highlights
Accessibility Advocacy:
1- With His Excellency, Governor of Himachal Pradesh,
2- With Corporation, Leading Tech Company in Cupertino
3- With Rotary, Rotary Club of Geetanjali, Kolkata
Enablement of SAP:
1- Mobility to 40 Beneficiaries: Tricycle distribution in rural Karnataka, India
2- 1,000 Students identified to receive Smartcane for safe mobility
3- Self Employment: Sewing Machine to 35 Beneficiaries
VOSAP Scholarship: 3 Hearing Impaired Students selected for financial schoalrship to attend Gallaudet University, DC
Key Disability Dates in the month of June:
June 18: Autistic Pride Day
June 27: Helen Keller Day
Dear Friends,
May 19 is recognized as Global Accessibility Awareness Day and Mobility Awareness month. Accessibility Advocacy is one of the strategic initiatives of Voice of SAP. VOSAP undertook various initiatives to promote awareness of accessibility and provide mobility to SAPs.
1. Accessibility Advocacy with His Excellency, Governor of Himachal Pradesh.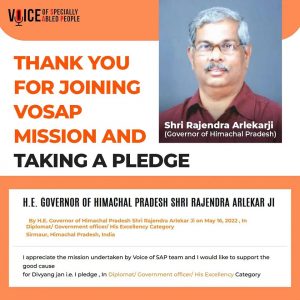 On May 16, 2021 His Excellency Governor of Himachal Pradesh, India, Shri Rajendra Arlekarji took a pledge and joined Voice of SAP Mission to promote accessibility and inclusion of Specially Abled People.
The Rajbhavan (Governor house), located in Shimla, Himachal Pradesh has been made completely accessible.
Various steps have been undertaken by His Excellency to make the universities and colleges of his state, accessible. Next focus is "Accessible Tourism" for this beautiful state in the Himalayas.
2 Accessibility Advocacy with Corporation : Leading Tech Company in Cupertino
Mr. Pranav Desai, the Founder of Voice of SAP, was invited as one of the panelist to a virtual meeting with the world's leading tech company headquartered in Cupertino, CA, to talk about "Hinduism in the 21st century".Mr. Desai took this opportunity and emphasized on progressive goals in 21st centrury, expanding the basic principles of equality and inclusion by upgrading temples for wheelchair accessibility and other universal accessibility provisions. He appealed to all employees to adopt 1 temple to redesign for univesral Accessibility (ramp, lift etc.) to allow unrestricted 'darshanam' to every devotee of God including Persons with Disabilities.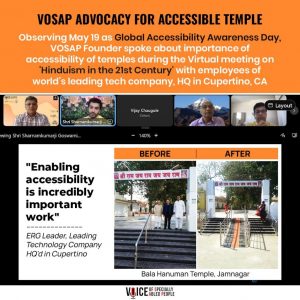 3. Accessibility Advocacy with Rotary International: Rotary Club of Geetanjali, Kolkata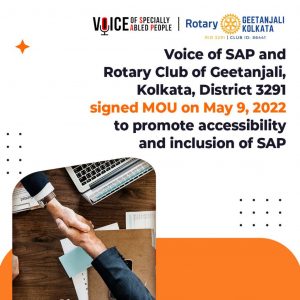 VOSAP and Rotary Club of Geetanjali Kolkata, District 3291 agreed to build cooperative and collaborative relations by signing a Memorandum of Association (MoU) for promoting the inclusion of Persons with Disabilities by promoting accessibility using VOSAP mobile app, create awareness, provide information to PwD about accessible places, take up projects to upgrade selected public places for accessibiluty.
This MoU is a mutual commitment between the organizations to leverage each other's strengths to promote inclusion for PwD, promote the UN SDGs in Kolkata, and build a model for potential adoption by other Rotary clubs. This MoU with Rotary Club Geetanjali Kolkata is the 1st milestone for building a complementary relationship for a common cause, worldwide between 2 global organizations. VOSAP is looking forward to join hands with other clubs of Rotary International in India, US and elsewhere to strengthen the goals of Accessibility and Inclusion of PwD.
4. Enablement : Mobility Device to 40 SAP in Belgaum, Sewing Machine to 35 SAP
VOSAP organized an enablement event for 75 Specially Abled People on the 15th of May 2022 at APH, Belgavi, Karnataka. Honorable Member of Parliament, Smt. Mangala S. Angadi joined the event as Chief Guest to witness the enablement of 75 Divyangjan from the rural areas of Karnataka.
40 beneficiaries received heavy-duty tricycles made by Blind People Association (BPA), Ahmedabad, to make them independent with mobility and 35 were given automatic sewing machines procured from USHA Company for self employment.
For the receivers of these enabling devices, these were not just devices but a ray of hope for a better
future. They took a public pledge to use these devices for their enablement and empowerment. Read the full Article here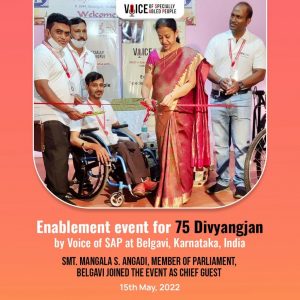 5. Enablement: 1,000 Beneficiaries identified for safe mobility with Smartcane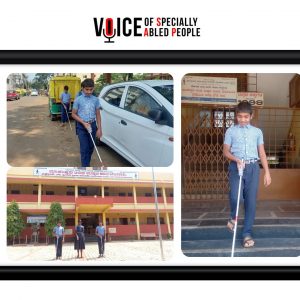 Voice of SAP alongwith its Exhibitor "Torch-it" have identified 1,000 Visually Impaired beneficiaries, students from across the country to enable them with Smartcane Saarthi.
This device will assist them with mobility and help them to be independent. Voice of SAP enabled 54 students from The Maheshwari School of Belgaum in the month of April. This device is helping the students to step out with more confidence since they used to be dependent earlier on someone to assist them to go out.
Voice of SAP has identified beneficiaries in 4 locations: Hyderabad, Vishakhapatnam, Haridwar and Pune.
6. VOSAP Scholarship: 3 Students awarded VOSAP scholarship for attending Gallaudet University
VOSAP started Scholarship Program, an initiative to provide financial assistance for Specially Abled Students in the USA. The goal is to assist students with financial aid for studies at Gallaudet University in Washington, DC, only university in the world for Deaf.
VOSAP Founder Mr. Pranav Desai and volunteers Mr. Raj Rana (donor of this schoalrship program), Jayana Shah, alongwith ASL interpreter interviewed the candidates and were very inpsired with their aspirations.
Gisella is a very motivated student with Hearing Impairment and Dyslexia. She is inspired to pursue higher studies and help deaf students to become successful. Ambria is a hearing impaired student who would like to pursue higher studies at Washington. She is determined to give back to the community, start her business after college education. Zoei has already started volunteering, writing blog on VOSAP platform to inspire fellow deaf students.
Read the full Article here.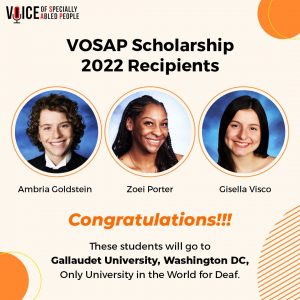 7. Important Dates in June
June 14: VOSAP invited to speak at COSP15, UN CRPD annual meeting
June 20: VOSAP launches International AT Hackaton in partnership with L D College of Engineering, India
June 26: VOSAP Enablement camp for 96 SAP in Basti, UP
June 18: Autistic Pride Day
June 27: Helen Keller Day