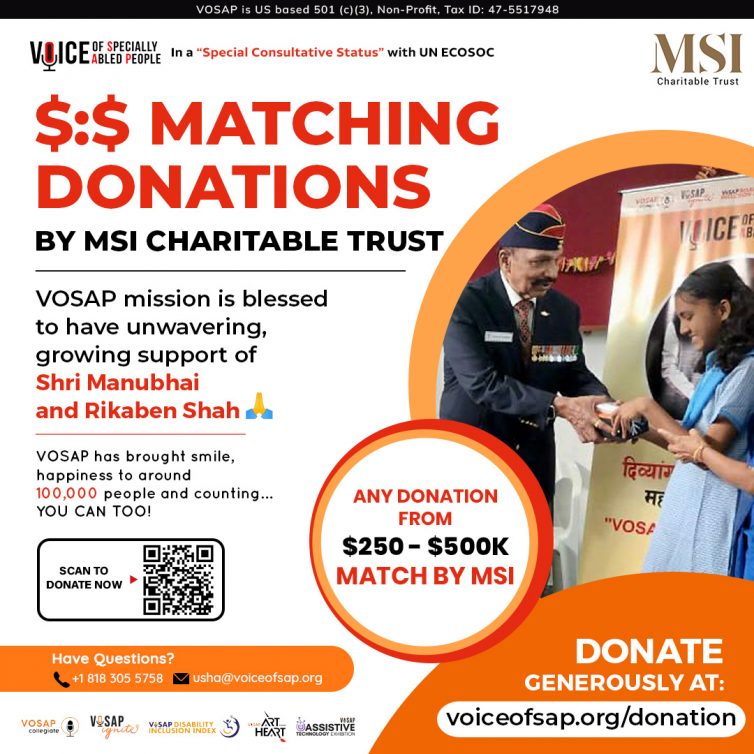 According to the (WHO), over 1.3 billion people, or 16% of the world's population, live with one or more disabilities. Shockingly, Only 1 out of 10 persons with disabilities (PwD) currently has access to assistive devices, leaving a vast majority without the necessary resources and support they need to thrive.
Voice of SAP (VOSAP) is working on inclusion, empowerment of millions of such people by providing innovative, affordable assistive devices to learn, earn, communicate and move around independently with dignity.
VOSAP believes that this is a historic opportunity in civilization where technology solutions can transform lives, mainstream them with economic activities to expand the global economy in the 21st century.
We take immense pride in supporting 40+ innovators to provide their assistive devices to VOSAP beneficiaries. So far, we have impacted over 17,000 lives of persons with disabilities across 13 states in India and the US.
The disproportionate impact with assistive tech is REAL, scalable and VOSAP has established a network of partners and tech infrastructure to execute it with less than 3% overhead costs.
Inspired by the impact seen, our Chief patrons Shri Manubhai and Rikaben Shah, have announced a $:$ matching donation with the MSI Charitable Trust to encourage all donors to join us in this historic global transformation that VOSAP has figured out successfully.
For every amount of donation made between $250 to $500,000, the MSI Charitable Trust will be matching each donation $:$ effectively doubling the contribution's impact.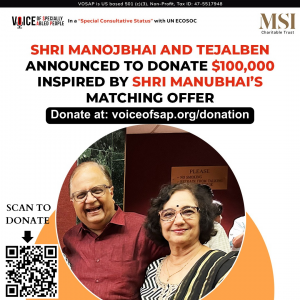 Shri Manojbhai and Tejalben announced $100,000 in response to the opportunity to double the impact. We are extremely thankful to each and every donor of VOSAP for supporting wholeheartedly, sharing and spreading our transformative vision.
A monthly gift of $30, which might have empowered 3 people before, will now support the empowerment of 7 individuals! This matching donation initiative will transform the lives of so many in need.
See the VOSAP multiplier impact.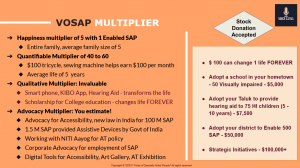 You have the power to make a meaningful impact in various ways:
For Education: Support the provision of assistive devices like smartphones, the Kibo XS Device, and the Kibo App, as well as scholarships for deserving students.
For Mobility: Help provide wheelchairs, tricycles, and other mobility devices
For Self-Employment: Contribute to the provision of sewing machines and beauty parlor kits, empowering individuals with disabilities to lead self-sustained lives.
For The 'Gift of Vision': Support eye surgeries and bring the joy of sight to those who have been living in darkness.
Your generous donation can make all the difference in the lives of the specially-abled community. Let us come together and create a world that is inclusive, compassionate, and brimming with opportunities for everyone.
Donate Today At: www.voiceofsap.org/donation
Make your contribution and double your impact today with the matching donation program.
Together, we can empower countless lives and foster a society where everyone's unique abilities are celebrated and valued.