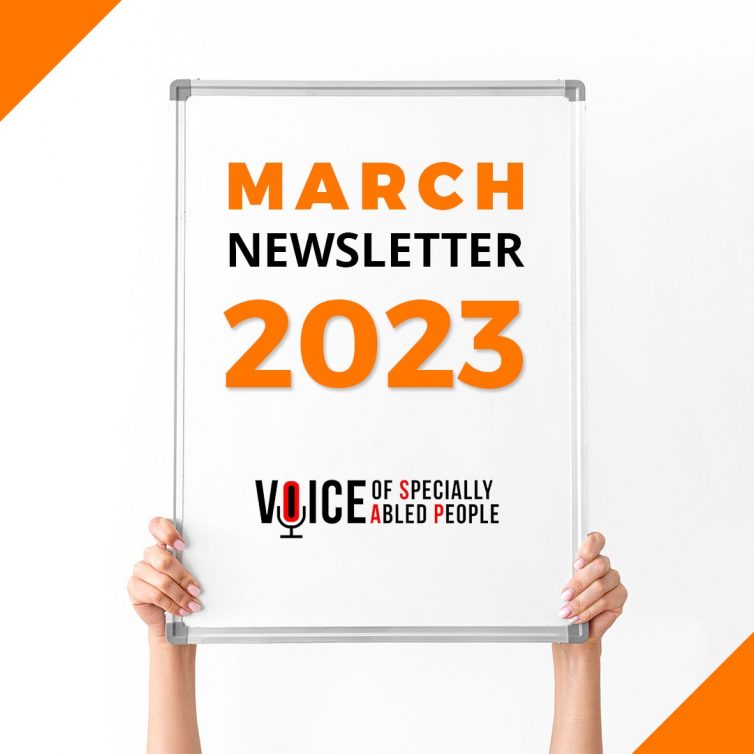 Newsletter Highlights
Advocacy:
ADA 2.0 with US Congress Members
Participation at G20, VOSAP PoV
Launch of VOSAP Ignite Winter 2023 for high schoolers in the US
H.H. Maharaja of Marwar-Jodhpur inspired, sent letter to VOSAP
Enablement Events:
Impact of Gift of Vision
VOSAP Wheelchair on Demand
VOSAP's First Beneficiary in West Bengal
Enablement Event at Morbi
Enablement Event in Godhra
Launch of VOSAP Scholarship 2023
Dear Friends,
A very Happy HOLI to you and your loved ones. We are pleased to share VOSAP impact, in the month of January-February 2023 and Enablement of 700+ Specially Abled People, putting smiles on ~3,500 faces!
1. ADA 2.0 with Congress Members:
Americans with Disabilities Act has changed the US FOREVER with amazing accessible infrastructure, making the US, probably the best nation for providing accessibility EVERYWHERE. After analyzing data, research reports by VOSAP Research Interns, VOSAP believes that it is now time to introduce ADA 2.0, achieve inclusion in higher education, corporate jobs and increase the average income levels with legislative changes to ADA 1990.
VOSAP volunteers have started reaching out to their local congress representatives to create wider awareness, advocacy for ADA 2.0 in view of opportunities with emergence of AT solutions, work from home culture and reference research data.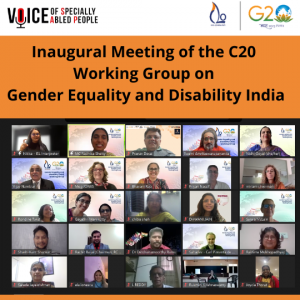 2. Participating in G20 Committees of C20 and Startup 20

On Feb 02, 2023 VOSAP Founder participated at Inaugural Meeting of the C20 Working Group on Gender Equality and Disability.
The inaugural event was a virtual gathering hosted from Amrita Vishwa Vidyapeetham with people from 26 countries taking part.
The Gender Equality and Disability (GED) Working Group is committed to provide recommendations to G20 team by holistically examining and addressing the multifaceted dimensions of inequalities and disadvantages experienced by the genders and all people with physical and/or mental disabilities.


3. Launch of VOSAP Ignite Winter 2023: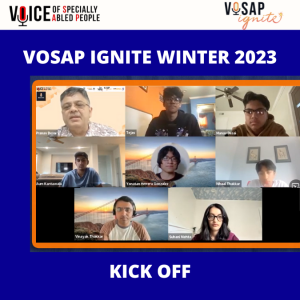 VOSAP Ignite is designed to encourage high school students to volunteer, learn about inclusion of Persons with Disabilities and expand the VOSAP mission in local communities.
After the Successful Completion of VOSAP Ignite 2021, VOSAP is running two batches Fall 2022 and now Winter 2023.
The VOSAP Ignite – winter bacth is led by Vinayak Thakkar, donor and volunteer of VOSAP for several years. Students will be involved in a rigorous structured volunteering program for 9 months and upon successful completion of Volunteering, will be eligible to receive PVSA (President's Volunteering Service Award).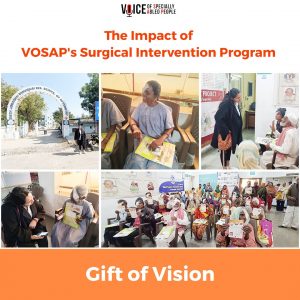 4. Impact of Gift of Vision
Voice of SAP enables 750+ people every quarter ((6000+ so far) with surgical interventions (Cataract Surgeries) at Free of Cost to Patients with success rate of 90%+ improvement in patients.
The program helps people living in rural, remote and economically backward areas of villages in Gujarat and now expanding to state of Uttar Pradesh.
On Friday, January 20, our team member visited Porecha Eye Hospital, Bareja to meet with the beneficiaries, learn and understand the impact in detail, meet with doctors, people working on ground and patients. The experience has been overwhelming, enlightening and inspiring. Learn More: https://www.voiceofsap.org/gift-of-vision/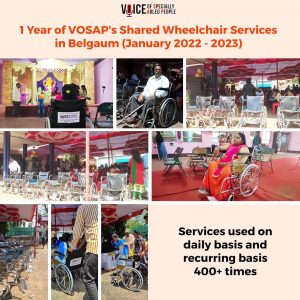 5. VOSAP's "Wheelchair on Demand" Service

VOSAP successfully completed one year of our innovative 'wheelchair on demand' service collaboration with one of our partner organization – Association of Physically Handicapped (APH), Belgaum.
Members of APH, Specially Abled People living in Belgaum City are allowed to rent these wheelchairs 'free of cost' for a day, week, or month as per their requirement. In a year, 35 Beneficiaries used the services during the events and the services were used 415 times.
VOSAP is working on providing similar services now to non-profits, helping senior citizens with disabilities and supporting sports for Specially Abled People. Learn More: https://www.voiceofsap.org/rental-wheelchair/
6. VOSAP's First Beneficiary in West Bengal State!

On 9th May 2022, VOSAP and Rotary Club of Geetanjali Kolkata, District 3291 agreed to build cooperative and collaborative relations by signing a MoU to help Specially Abled People. VOSAP is discussing larger engagement with Rotary International to collaborate, increase the reosurce pool with matching funds form RI.
Under Project Jayatu, Rotary Club of Geetanjali Kolkata held an awareness camp to sensitize people about Disability, at Masidhat B M High School where 400+ students attended. On Jan 24, 2023 the first beneficiary of this project received a customized CP wheelchair and VOSAP got its first beneficiary in West Bengal State!
Rakesh SK, a student of Class 7th has cerebral Palsy since birth. Through VOSAP, he received a wheelchair and is now attending school everyday.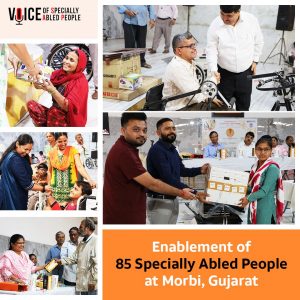 7. VOSAP Enablement Event at Morbi

On February 7 2023, VOSAP enabled 85 SAPs with Assistive Devices. The event was attended by Collector Shri  G. T. Pandya, Deputy DDO, SDO and District Child Protection Officer, representatives from our Strategic Donor MSI Surfaces, Shri Vipul Kundariya and Shri Chandra Kundariya.
VOSAP Founder suggested having a MoU with Morbi District and Collector Shri G.T Pandya immediately agreed, assigned team to work together with VOSAP for MoU to enable SAP with assistive devices, employment of SAP by local businesses, strategize together for accessibility, inclusion and issue of UDID cards for Beneficiaries in the district.
Shri Vipul Kundariya announced to hire Persons with Disabilities.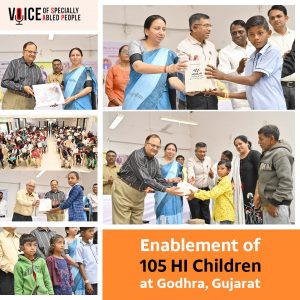 8. VOSAP Enablement Event at Godhra

On Feb 17, 2023, VOSAP enabled 105 Specially Abled Children at Godhra with Hearing Aids and witnessed around 500+ happy faces of parents, special educators, beneficiaries, volunteers and invited guests.
VOSAP's strategic Donor Shri Manoj Mehta joined the event as Chief Guest. Shri Pranav Desai, Founder of Voice of SAP joined the event virtually engaged with district representative, DPEO Shri Gayatriben Patel for issuing UDID cards in the district, upgrade schools with accessible toilets etc.
VOSAP Donor Shri Manoj Mehta shared his thoughts "I cannot express the joy in mere words how I am feeling to be here and seeing how children are being helped" He also added "The impact that the device will do in changing the lives, opening doors to new opportunities in future for this kids cannot be predicted right now. As I Believe, One day many of these children will come forward and give speech like I am doing today:"

9. New Exhibitor Added to VOSAP AT Exhibition:

We are excited to introduce our new Exhibitor at VOSAP's Assistive Technology Exhibition.
Oneceptual Technologies develops user-friendly mobility devices.
Their primary product 'Handicare' is a redesigned version of a wooden board that people locomotive disabilities use on roads.
Similarly they have 'Mobula' which is a multipurpose utility vehicle which can be used for indoor as well as outdoor mobility. VOSAP is providing subsidy for Handicare,
We believe these updates will inspire you to take ACTION. Join us as a volunteer, innovator, advocate for rights and/or donor to expand our collective impact, globally.