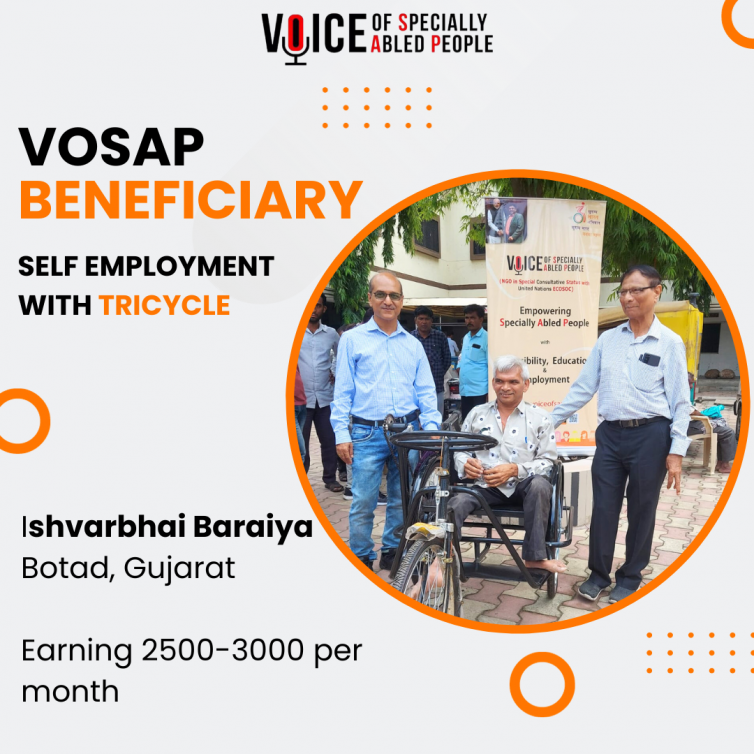 Voice of SAP (VOSAP) is an organization that is dedicated to uplifting the lives of specially-abled individuals. Through self-employment kits and assistive devices, VOSAP has made a remarkable impact on over 18,000 specially-abled people across 13 states in India and the USA. In a recent heartwarming follow-up, we delve into the inspiring journey of Ishvarbhai Baraiya, a determined man from Botad, Gujarat whose life took a transformative turn thanks to VOSAP's support.
Baraiya Ishvar Jadavbhai, at the age of 45, found a fresh start when he received a tricycle from Voice of SAP (VOSAP). Living in Botad, with a locomotor disability, his life had been limited to cutting betelnuts (supari) at home for meager earnings of 500-700 rupees per month. However, after being equipped with a tricycle by VOSAP, his life took a remarkable turn.
Before the intervention of VOSAP, Ishvarbhai relied on the occasional work he received from nearby Pan shops, which allowed him to contribute minimally to his family's income. The limitations of his mobility restricted him to this meager income, which barely met their daily needs.
With the tricycle provided by VOSAP, Ishvarbhai's world expanded. He could now venture out into the market, actively seek employment opportunities, and engage with the community in ways he couldn't before. His newfound mobility empowered him to find more work and earn a steady income.
Ishvarbhai 's transformation was not just about physical mobility; it was about regaining his self-esteem and financial independence. The tricycle enabled him to access a wider range of opportunities, and his skills in cutting betelnuts became a valuable asset in the marketplace. As a result, his income saw a substantial increase, reaching a monthly range of 2500-3000 rupees.
This transformation isn't just about the numbers; it's about the restoration of dignity and the ability to provide for his family. Ishvarbhai's story is a testament to the life-changing impact of VOSAP's initiatives. With VOSAP's support, he has transitioned from dependency to self-sufficiency, proving that with the right tools and opportunities, specially-abled individuals can overcome barriers and thrive in society.
To change a life today, Donate at www.voiceofsap.org/donation