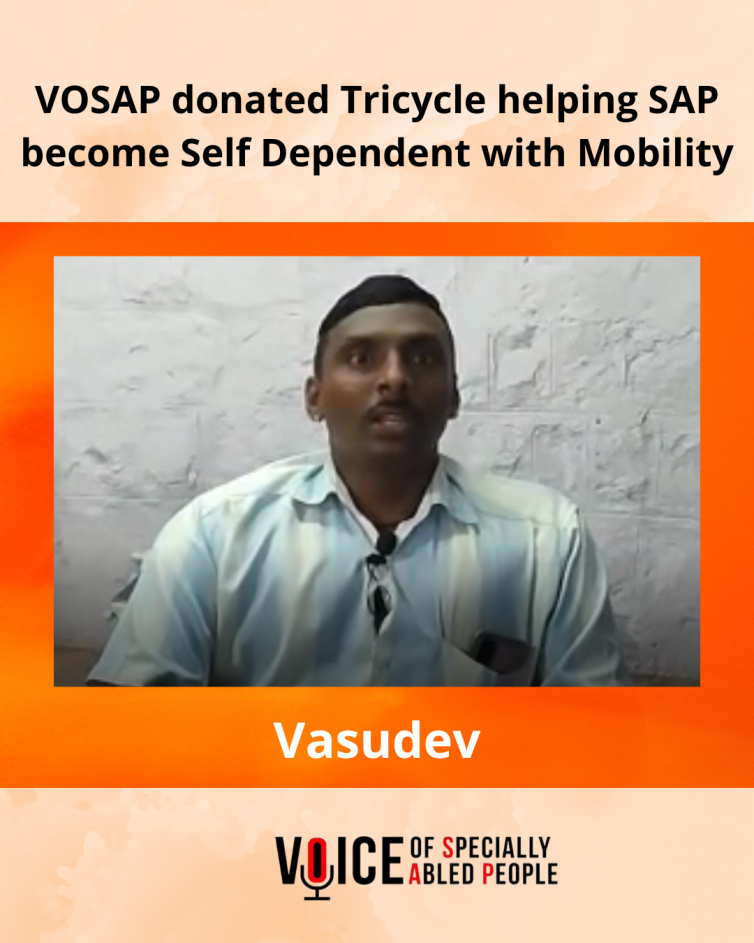 "Hats off to your spirit" is one of the most common statements specially-abled individuals are told. We, as a society, tend to feel proud of people who keep going on in their lives despite facing challenges. Vasudev, from Shahapur, Belgaum district, is one such person who will make you feel proud of himself.
This 42-year-old man is a self-dependent person despite his severe mobility impairment. He works in a Bharat gas agency as a computer operator. And, used to go to his workplace every day using public transport by bus. If you have seen any person with crutches struggling in the inaccessible and disability-unfriendly bus stops and buses you can imagine the problems faced by this person every single day.
Vasudev's grit and determination obviously made us proud but more than that it made us feel responsible. We did not say "hats off to you" and moved on. We paused for a bit and fulfilled our responsibility as a leading not-for-profit organization. As always VOSAP decided to enable and empower this man rather than saluting him for the struggles that can be avoided.
VOSAP offered the support of a tricycle which Vasudev accepted gleefully. Now, this person doesn't need to struggle every morning and evening to get on an inaccessible and crowded public bus. He sits on his tricycle at his doorsteps and reaches his workplace with dignity and ease.
We are happy that we could bring a positive change in Vasudev's life. And, we became happier after talking to him. Vasudev expressed his gratitude to VOSAP and our enthusiastic volunteers for bringing this change into his life. He told us that he could now go to market and temples too. He is no more dependent on public transport.
Success stories like this keep us inspired to do more. And, we share these stories with you so that you can see how small empathetic gestures can bring a transformative impact on someone's life.
Let us join hands to change more lives rather than feeling proud of someone's struggles. We are proud of every individual with a positive attitude towards life but we believe in removing as many obstacles as we can.