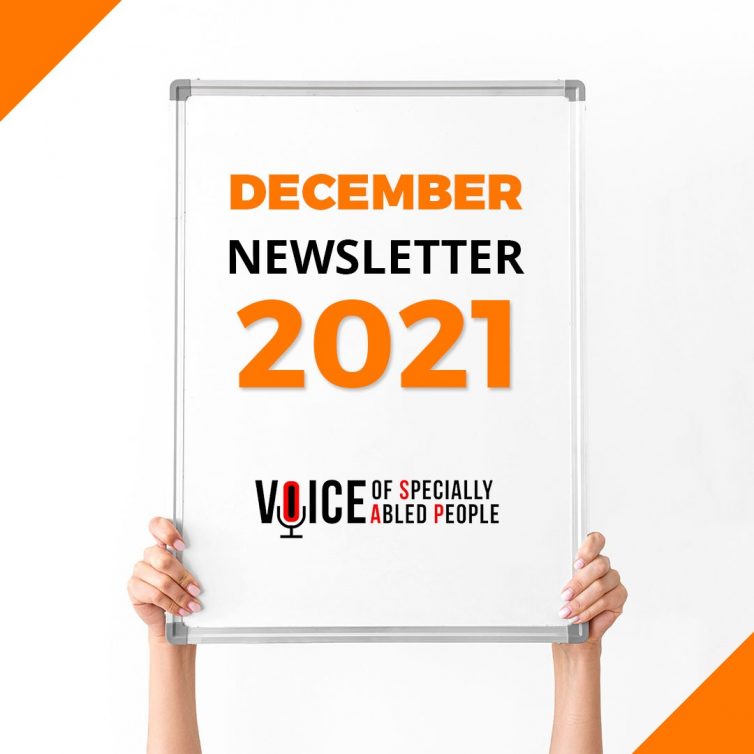 HIGHLIGHTS OF VOSAP ACTIVITIES AND IMPACT

Launch of world's 1st Virtual Exhibition of Assistive Tech Products:  

16 Exhibitors From 4 Countries

Research Project at UC Berkeley: Inequalities, trends in the US between Person with and without Disabilities
Drive-Thru COVID19 Vaccination: VOSAP volunteers, Ahmedabad, India on December 17-18
VOSAP Advocacy: Meetings, presenting to Eli Lilly, Accenture, Aspire Circle, Sarthak 8th Conference etc.
VOSAP's Art Platform: International Art Contest, powered by VOSAP, announced winners of 2021
Enablement with surgical Interventions: 500 people received a gift of vision
Dear Friends,
We, at VOSAP, would like to extend our gratitude to the generosity of our donors and immense support by each one of you have bestowed upon the VOSAP mission this year!
As we ring in 2022, we are delighted to share that we have several foundational building blocks in place and with a growing donor base, partner organizations and scalable VOSAP technology platform, 2022 will see huge upswing in terms of our impact, changing lives of Specially Abled People.
Be ready for 2022 to do what you can as proud VOSAPian! We have exciting opportunities for you!
In today' newsletter, we are sharing key activities that took place at VOSAP in the last 2 months.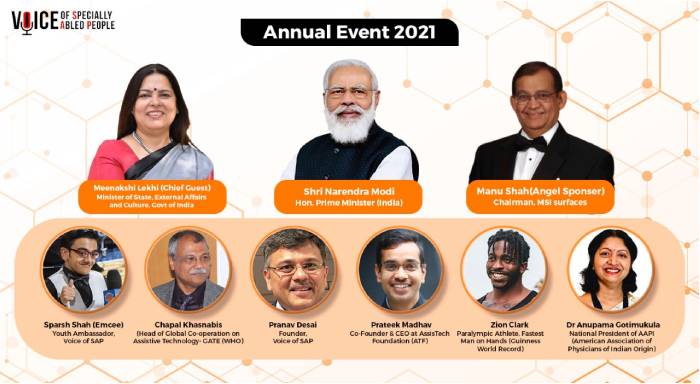 1. VOSAP launched World's 1st Virtual Exhibition Of Assistive Technology Products:
This year at VOSAP's Annual Event held on Saturday, Dec 4th, we launched the world's 1st virtual platform of Assistive Technology products that aims to help people with disabilities and their families discover more about assistive products in the market. The exhibition is open for all, worldwide to the public year round and currently has over 16 exhibitors from countries like India, Japan, Germany and USA.
The launch event had registrations from over 2,000 participants from 27 countries. Several imminent personalities including The Honorable Minister of State for External Affairs, Govt. of India, Smt. Meenakshi Lekhi, Mr. Chapal Khasnabis, Head (a.i) of Access to Assistive Technology – WHO, and Mr. Prateek Madhav, co-founder, and CEO of the AssisTech Foundation (or ATF), engaged with audiences at the event.
Mr. Chapal Khasnabis expressed tremendous satisfaction for VOSAP to launch this platform, worldwide which will create lot of new opportunities for the Assistive Technology stakeholders and help increase adoption by Persons with Disabilities.
Honorable Prime Minister of India, Narendra Modi, congratulated VOSAP for launch of this platform and wished success for the virtual exhibition through a letter to VOSAP founder Mr. Pranav Desai.
During the event, Manu Shah, Chairman, MSI Surfaces also announced that in addition to being the angel sponsor for the event, the MSI Charitable Trust will provide a matching donation upto USD 250,000 for anyone donating before December 15th.
Watch the Event Highlights here
The virtual exhibition currently hosts 16 companies from across 4 countries. These companies are providing innovative assistive technology solutions like Instalimb, a Tokyo-based company that uses 3D printing and machine learning (AI) technology to create affordable, high-quality 3D printed prosthetics. CogniAble which has developed machine learning based solutions to detect Autism at a very early stage while also providing technology based therapy.
You can discover this and so much at the exhibition!
Visit the AT Exhibition here
2. VOSAP founder speaks as panelist at Sarthak Educational Trust 8th National Conference on Disability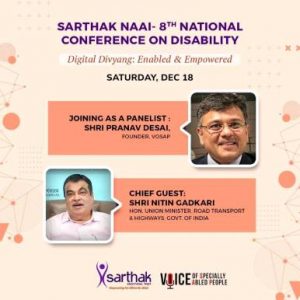 Mr.Pranav Desai was invited to speak as a panelist at Sarthak Educational Trust 8th National Conference on Disability on Saturday, December 18th. The panel explored the topic of 'Digital Divang: Enabled and Empowered'.
VOSAP founder emphasised on the Accessible India Campaign and scaling mass movement using VOSAP mobile app that is aimed to be a "Public Utility App" for accessibility information of public places.
3. VOSAP Research Project, among 4 out of 50 projects, selected at UC Berkeley Discovery Program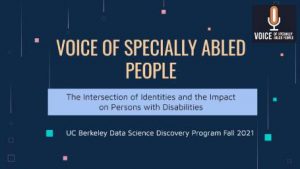 In yet another milestone for VOSAP's efforts of data driven advocacy, VOSAP Collegiate's Sophie Manoukian and team presented their research findings on Income and Education Inequalties based on race, gender, state among Persons with Disabilities and with Persons having no Disbailiteis, at the UC Berkeley Discovery Program of the Data Sciences Department.
4. Drive-Thru Vaccination by VOSAP volunteers at BPA, in Ahmedabad, India on December 17-18
While the world is dealing with another scare of Omicron, VOSAP is continuing to ensure that our divyang brothers and sisters in India are provided the necessary protection. In collaboration with the Ahmedabad Municipal Corporation, VOSAP was able to provide a second dose of vaccinations in a  two day vaccination drive.
5. VOSAP Advocacy continues with interactions with leading companies across the globe
Mr. Pranav Desai spoke with Stephane Leblois, Director of Partnerships of Valuable 500. It is an organizatioon in the disability sector, having pledges from 500 CEOs of global companies, committed for disability inclusion. Mr. Desai introduced VOSAP DII (Disability Inclusion Index) framework and VOSAP Digital Tools to strengthen Valuable 500 mission as a partner organization.
In November, Mr. Desai had one on one interactions with the CFO of Eli Lilly and Company India and leaders of Accenture India about CSR initiatives and opportunities of collaboration with VOSAP. This was followed by another amazing interaction with Accenture USA team as a panelist, where Mr. Desai spoke extensively about Accessibility, assistive technologies.
6. VOSAP's Digital Art Platform Enables International Art Contest: Compassion in Action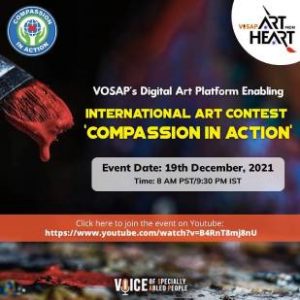 "Compassion in Action" hosted the first International Virtual Art Contest on the theme of Compassion which culminated with an award ceremony on December 19th.
The contest was powered by VOSAP's robust virtual art platform with technological advanced systems. The platform ensured participants could submit their artworks virtually and allowed judges to assess them online with rules that enabled completely unbiased ratings
The virtual art gallery is now open to all visitors! Visit the Gallery 
here
7. VOSAP Ignite: High School Volunteers raise over $ 7,000 for VOSAP
Students of VOSAP's Ignite program joined forces in December to raise donations worth $7000 for VOSAP initiatives. The enthusiastic volunteers leveraged their own networks and communities to encourage people to donate towards VOSAP's cause. We applaud the determination and dedication of these youngsters! They are also rating public places for accessibility with VOSAP app, inspiring others to take pledge to volunteer and lot more. Highly empathetic youth!!!
8. Enablement with surgical Interventions: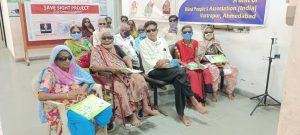 500 visually impaired people in rural Gujarat received a gift of vision. VOSAP has funded a program that allows 250 eye surgeries/ month for people to receive gift of vision at no cost. VOSAP partner BPA executes this program with state of the art facilities.