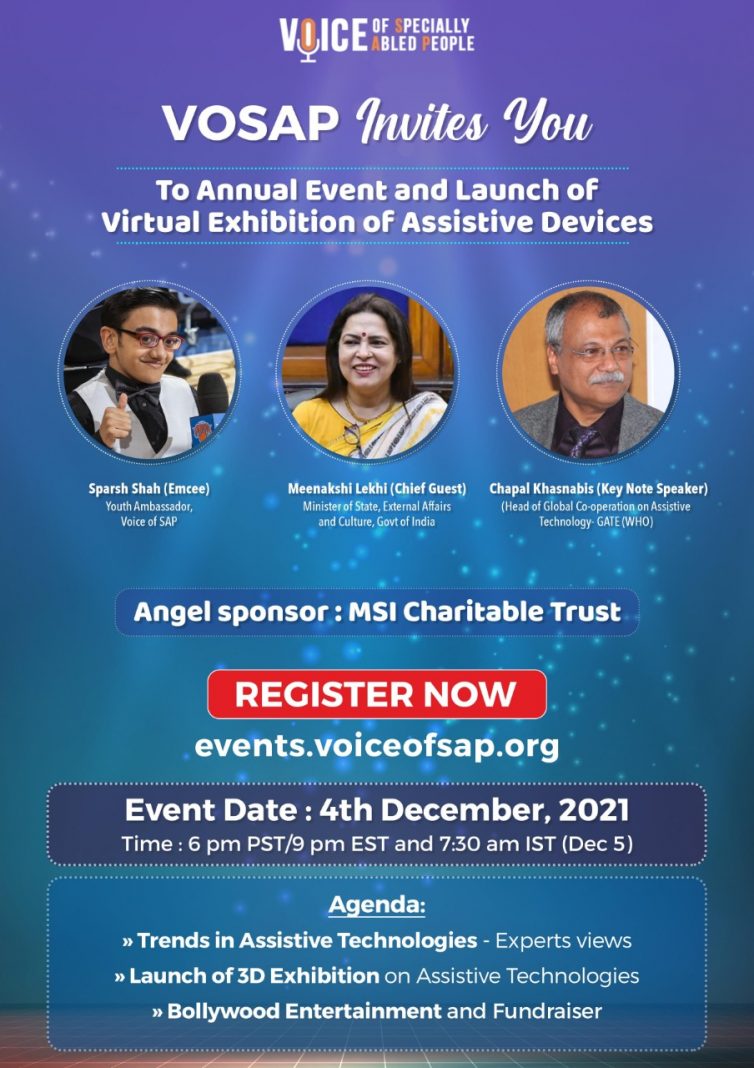 This year VOSAP will celebrate "International Day of Persons with Disabilities" by historic Launch of 'World's 1st Virtual Exhibition of Assistive Technology' on Dec 4 2021.
More than 1 BN+ people (including senior citizens) in this world are considered Persons with Disabilities and by 2030, it is estimated to be 2 BN+ per WHO. Only 1 out of 10 people have access to Assistive Tech. There exists a huge 21st century socio-economic expansion opportunity by focusing on the "Ability" of 1 BN+ disabled people, providing Assistive Technology solutions.
The event is dated Dec 4, 2021 6 PM PST (USA) / Dec 5, 2021 7:30am IST (India)
VOSAP is humbled by the presence of Mrs.Meenakshi Lekhi, (Minister of State, External Affairs, Govt of India) as Chief Guest for the Event and her support to this initiative.
Mr.Chapal Khasnabis, Head (a.i) of the Access to Assistive Technology and Medical Devices Unit, GATE (WHO) is the Keynote Speaker to address the event on 'Trends in Assistive Technology'.
VOSAP Youth Ambassador and Motivational Speaker Sparsh Shah will be hosting the event as Emcee.
The event will witness Soulful Musical Performance 'Ek Yaad Rafi ke Baad' by President Award Winner Bankim Pathak and Stage Queen Daksha Gohil.
Let us all come together, register on events.voiceofsap.org and explore opportunities to create an accessible and inclusive world for Specially Abled People and give them a chance to an independent life.