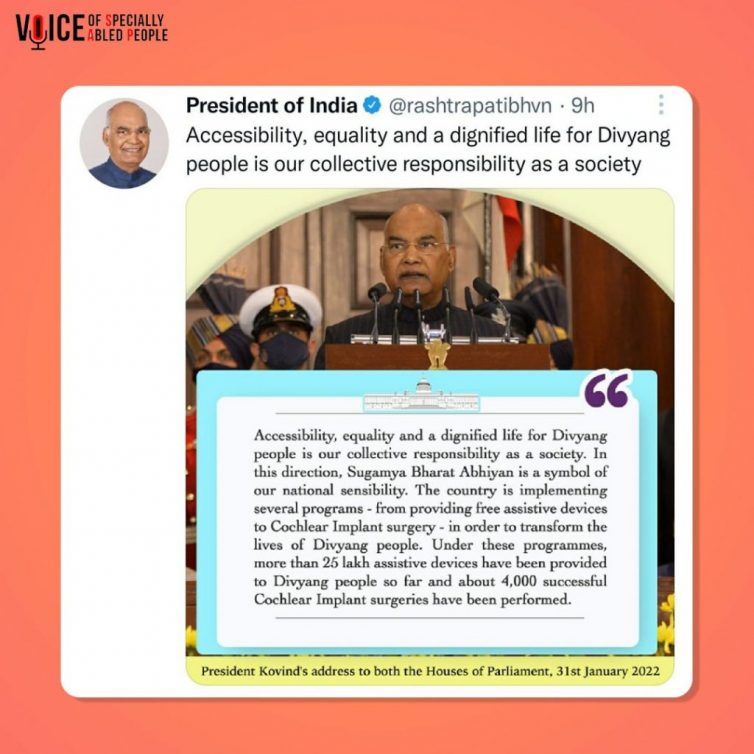 'Accessibility, equality and a dignified life for Divyang people is our collective responsibility as a society'
Said The President of India, Shri Ramnath Kovindji, addressing to the Joint Sitting of Houses of Parliament on 31st Jan 2022 and informing about new steps by Government in this direction.
In this direction, Sugamya Bharat Abhiyan is a symbol of our national sensibility. The country is implementing several programs – from providing free assistive devices to Cochlear Implant surgery – in order to transform the lives of Divyang people.
Under these programmes, more than 25 lakh assistive devices have been provided to Divyang people so far and about 4,000 successful Cochlear Implant surgeries have been performed.
Taking these efforts forward, the government has also established the National Institute of Mental Health Rehabilitation in Madhya Pradesh.
A 10,000-word Indian Sign Language Dictionary has also been developed for the future of Divyang youth.