VOSAP continues to engage and expand its youth volunteering with several inspiring initiatives on policy research, innovation with assistive devices, youth engagement with VOSAP mobile app for championing cause of making every community accessible etc.
Pokemon Go to VOSAP Go! Youth at Nirma University loves to go places, log accessibility information to help Divyangjan!
VOSAP-Go, a mobile app is taking students of the Institute of Science, Nirma University to go to public places in the community to rate accessibility! The compassionate students, inspired with the VOSAP mission to create accessible communities and mass movement of volunteers, volunteered during COVID19, this year since Jan 2021. 89 students participated in this volunteering program and rated around 1,500 public places for accessibility! They also inspired 1,400 friends and family members who took pledge to volunteer with VOSAP!
VOSAP and Nirma University (Institute of Science) started working together since 2018. In last 4 years, hundreds of Young Volunteers have taken pledge to volunteer, help specially abled people, and do the rating of public places for accessibility.
Dr Sonal Bakshi of Nirma University organized sessions for VOSAP Founder Shri Pranav Desai, executive team member Manisha Pathak and other VOSAP Volunteers to address the master degree students of Institute of Science, Nirma University during the Orientation program every year.
Volunteer students are given certificates of volunteering based on their social contribution using the VOSAP app.
These students have made an amazing impact amid Covid by going out and rating buildings/places for accessibility to help Divyangjan. So Far 17,000+ buildings are rated on the VOSAP app.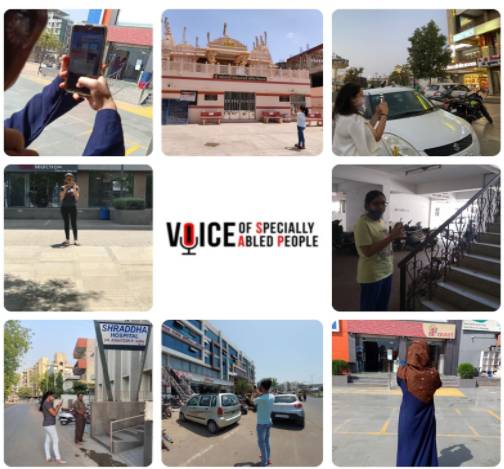 The students were so excited as VOSAPian, changemaker and In conversation, when asked 'How this mission has inspired them' here is what they said:
Aastha Doshi (MSC Biotechnology): "Vosap has inspired me to look after the physically challenged people who are fighting with their everyday struggles for living. By this vosap app I can do my part by rating the buildings, taking pledge and many more things.. and also by sharing this app with my friends who can also do their small part to do the same. By helping each other we all grow together."
Anshu Shrivastav(MSC Microbiology): "VOSAP has inspired me with its incredible work on how I can help SAPs .I am very happy to be the part of 'VOSAP GO' Mission that is so inspiring and motivating and seeing my efforts can help in changing lives of SAP brings me immense joy and satisfaction."
Baraiya Maulik(MSC Microbiology): "Disabled people are one of the most neglected part of our society. There's a need to be more sensitive towards them and provide them the atmosphere and respect they really deserve. I was very inspired with this activity and wish that by this mission me and my friends will motivate other people to do such activities "
Charmi Amin (MSC Biotechnology): "VOSAP GO Mission made me realise about the difficulties of accessibility faced by physically challenged and differently abled people. It inspired me to think about different ways in which we can help those individuals by making their day to day life easier and normal. It also motivated me to spread words about this mission among my friends so that they get motivation to take similar initiatives."
Sakshi Raval (MSC Microbiology): "At the initial stage when I was assigned for the task by my institute I was unaware about the mission and not very much interested in it. But when I started sending pledges, rate buildings and explaining people about what VOSAP is and how it works, it also inspired me about its ultimate goal. And now wherever I visit any place the first thing comes into my mind is 'Is it accessible for SAP'.
It gives us great pleasure at VOSAP to see these budding, young volunteers take the steps of becoming change makers in their community and inspire us to keep enhancing efforts for the betterment of specially abled people with such active and lively Young Leaders, who are self motivated and influencing.