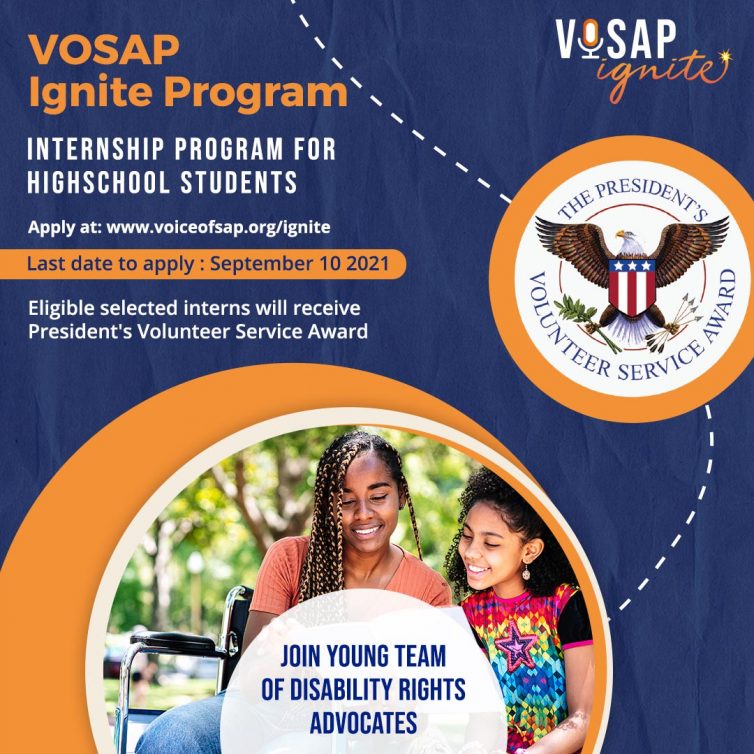 VOSAP is excited to launch VOSAP Ignite program for highschool students of Grade 9 to 12th to encourage students to learn about disability, network and volunteer and to promote empathy and sensitivity in students towards Persons with disabilities and to nurture virtue of 'Individual Social Responsibility'.
Building on the success of the collegiate VOSAP Research Internship (VRI) program, we are excited to launch a new internship program specifically for high school students: VOSAP Ignite!
Ignite is designed to encourage students to volunteer and strengthen the VOSAP mission of helping and promoting the empowerment of Specially Abled People. We are looking for motivated and compassionate students who are in 9th, 10th, 11th, or 12th grade for the 2021-22 school year. Through the program, we want to promote empathy, having an inclusive perspective, and nurture the "Individual Social Responsibility" mindset.
Interested? Please submit your application latest by 11:59 pm PST on September 10, 2021. If you have any questions about the VOSAP Ignite program, email ignite@voiceofsap.org. Upon review of all of your application content, we will invite selected applicants for video interviews by the VOSAP Ignite team. Successful candidates will join the VOSAP Ignite 2021 program!
If selected students are US citizens or Permanent residents, they are eligible for receiving the President's Volunteer Service Award (PVSA). If you would like to learn more about the President's Volunteer Service Award (PVSA), visit the website at https://www.voiceofsap.org/pvsa/
To learn more about the rules of the Ignite program, read this document