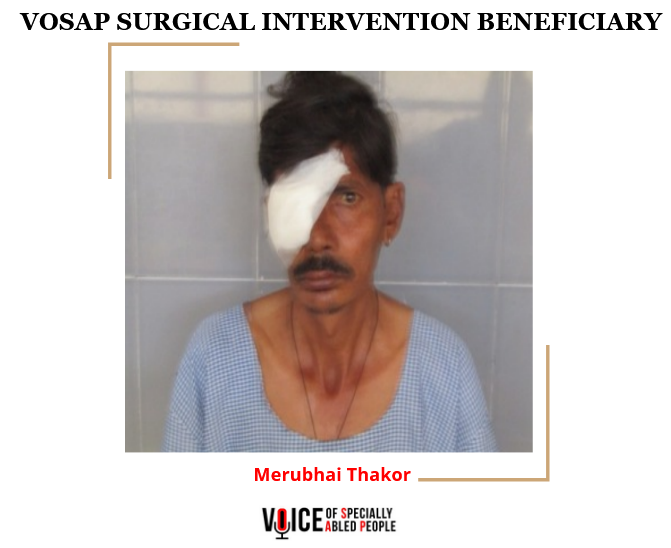 VOSAP is tirelessly working towards making life better for SAP and those who need the help. Enablement with Surgical Intervention is one of our mission that is changing the lives of many people at a time.
Today we are sharing the transforming story of Mr. Merubhai Chamanji Thakor and his family whose life changed for the better due to our surgical intervention aid.
Merubhai is an auto-rickshaw driver in the Kankariya region of Gujarat. He is the sole bread owner of his family of six. Things were comparatively smooth for the family unless Merubhai started feeling issues with his vision. Being a driver good eyesight was very much important for him. But, cataracts started to blur his vision around a year back. This weakening of eyesight did not only hinder his daily activities but also restricted his earning capabilities. 45 years was neither the age of retirement nor could his family afford to lose the only source of income.
Merubhai came to know about VOSAP's surgical intervention program through one of his friends. The team of one of our associate NGOs got in contact with Mr. Merubhai Chamanji Thakor and provided all the required help. The surgical intervention helped him gain back his vision and go back to his work of driving an auto-rickshaw. This one small surgery saved an entire family from drowning in destitution.
VOSAP is proud to be the primary enabler of this noble task. You too can join hands with VOSAP, change a life for such a noble cause by making a donation or becoming a volunteer to make this world a better place to live.