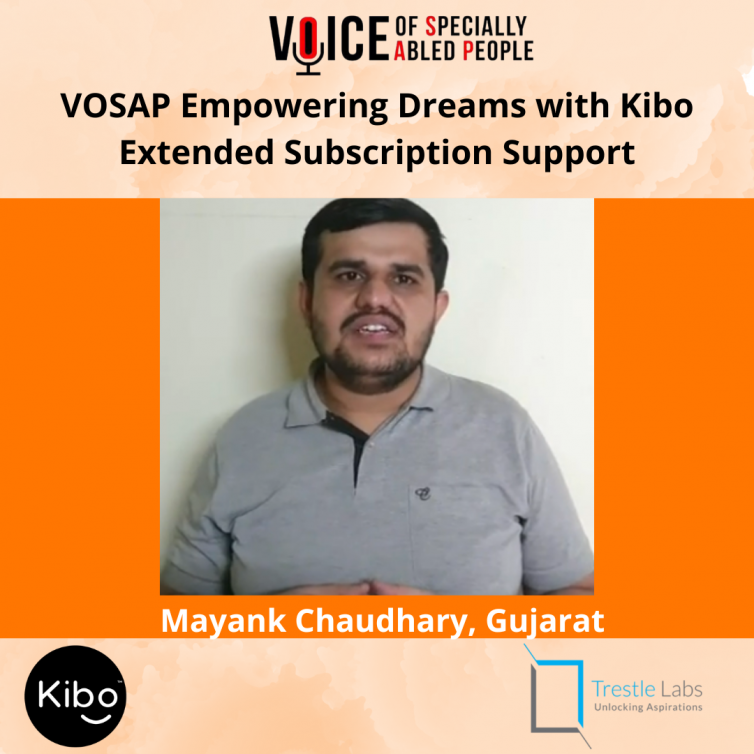 "Kibo is not just an application but eyes for people like me," says Mayank Chaudhary from Gujarat.
Mayank is a young lad from Sabarkantha district, Gujarat. He is surviving a genetic disease called retinitis pigmentosa. This is one of the rare eye diseases that affect a person's retina. It is this disease due to which Mayank could not read printed papers and handwritten notes. His life took a positive turn with the launch of the Kibo application which is meant to help people with visual impairment read.
Talking to one of the representatives of VOSAP, Mayank said that he has been using Kibo since it was launched. This application helps him read every readable material from printed books to pdf to handwritten notes. He exclaims that every feature of Kibo is practically helpful for its users. Though he loves the pdf recognizing OCR feature the most. He explains that this feature can easily and correctly read tables too.
While explaining the features of the Kibo application Mayank got a little emotional. He really meant it when he said that "Kibo is not just an application but eyes for people like me." In the same breath, he thanked not only the developers of Kibo but also VOSAP which gave him a free extended subscription to the application for three years.
Due to VOSAP's initiative of giving three years of free subscription to the Kibo application, Mayank and many people like him are able to read and take their careers to the next level. While thanking VOSAP and the developers of Kibo, Mayank requested that support like this should continue in the future to help people with visual impairment live a better life.
As an organization, VOSAP is continually working towards enabling and empowering Specially Abled People (SAP) like Mayank Chaudhary. And, we hope that Mayank and other beneficiaries of Kibo's extended subscription support utilize this golden opportunity to the fullest and supercharge their career growth prospects.