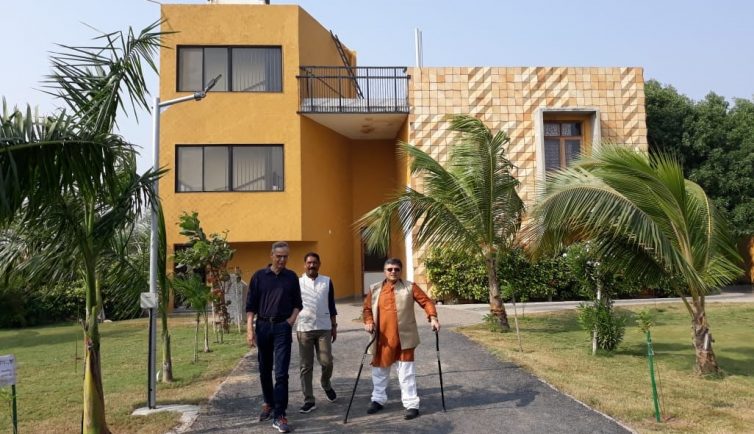 During my trip to India in Dec 2019, I had an opportunity to visit Anaddham, a resort style place, 30 KM from city of Ahmedabad where it was an excellent experience of deep love, smile and happiness of residents with Intellectual Disabilities. Founder of Ananddham Shri Rajubhai who is also a successful business man with thousands of employees around the globe including plant in China was sharing so much love, caring with these residents and vice versa – you can "feel" the innocence, divinity and most importantly happiness among all including amazing staff.
Ananddham has acres of land with large facility that provides accommodation to adults with Intellectual Disabilities, trains them, rehabilitates them for independent living and lot more…including sports, entertainment etc. with large theater too!
Kitchen, every room and bathroom with Jaguar fittings (yes, fully accessible!) and overall landscape, playroom, dining room – everything as if you are in a 5-star resort. Rajubhai and his donors believe that the facilities should be no different than what it is for their children and that is a huge commitment.
We met family from San Diego, who was visiting their sister who lives at Ananddham and we celebrated her birthday! Many adults come there for temporary basis when their parents want some time off or travel somewhere, they can drop them to Ananddham but after staying few days, these Divyangjan simply do not want to go home!!!
I saw these residents doing so many tasks also for making it as much as possible, self sustainable. They were so loving to me, after some time of quiet observance which touched my heart deeply.
INDIA needs many such Ananddham to help parents, families of such Divynagjan to enjoy their life also while their adult children are taken care of and also learn as how to live independently and live with hundreds of such people with Intellectual Disabilities.
KUDOS to Shri Rajubhai and his team!!!!  For more details, you can visit them at http://ananddham.co.in/aastha 
VOSAP is exploring opportunities to work with Anaddham to help many such people, live their life with dignity. Here are some memorable pictures.