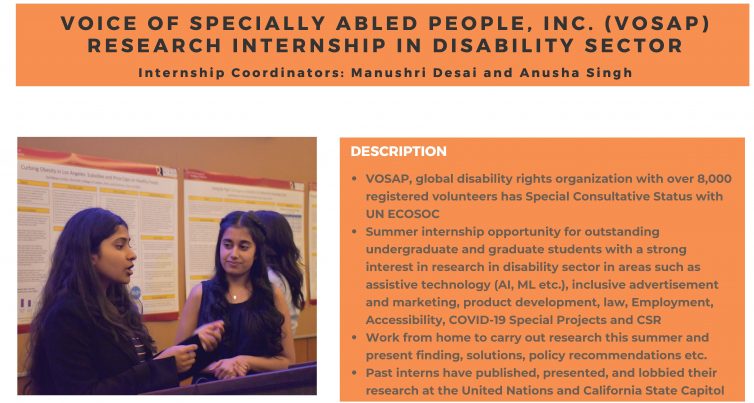 On June 1st, 2020, the research internship program of VOSAP started in the USA, wherein 26 outstanding undergraduate and graduate students joined 10 weeks of research internship program. These students were selected after a rigorous process of interviews to assess their knowledge,  passion for the cause of disability and research related skills.
During this unprecedented situations of COVID19 pandemic, while the whole world is experiencing a lockdown and slowdown, our youth volunteers (Manushri and Anusha) stepped up their commitment and decided to engage more like minded youth by starting 'VOSAP Collegiate' program.
The VOSAP Collegiate program offers Research Internship with VOSAP to conduct a 10 weeks long research in disability as relates to Accessibility, Prevention of Disabilities, Economic Model for Nations to Invest into Disability sector, DII (Disability Inclusion Index) score of Corporations, Educational Institutions, Milestone Judgments to achieve inclusion rights of SAP globally, Socio Economic Impact of COVID19  etc.
We are encouraged with the early success of the program as we received many applications from students of reputed universities all across USA including USC, UCLA, UNC Chapel Hill, NCSU, UT Austin, Skidmore, Northwestern, Boston University etc. 26 outstanding undergraduate and graduate students were selected to work on 16 research projects to generate data driven findings that will help form the strong foundation for Advocacy for Empowerment of Specially Abled People.
VOSAP is invested in their learning and success with hope that they will become inspirations for many like-minded youth worldwide.
Voice Of Specially Abled People (VOSAP) is an NGO in a Special Consultative Status with UN ECOSOC with a large community of actively working volunteers of all professions and age groups globally. These volunteers include Technocrats, Law Makers, Business People, Social Workers as well as Young students working for the rights of Specially Abled People such as Accessibility, Education and Employment to create more inclusive society, accelerating achieving goals of UN SDGs by 2030.