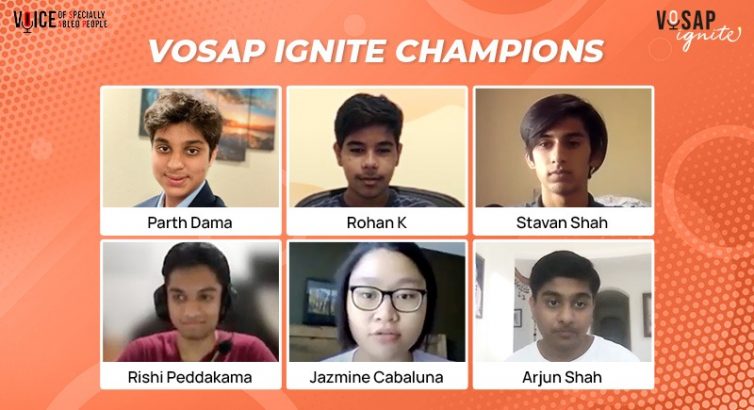 The VOSAP Ignite program has successfully completed 6 months and our students have shared some amazing projects they are working on.
On April 14, Parth Dama, a 9th Grade volunteer Student from Cupertino, California presented the Project on Relevance of NFT to VOSAP Artwork. He explained How NFTs work and how they are traded. He also expressed his interest in creating NFTs for VOSAP Art From Heart Paintings to raise awareness and promote Artist Community.
On April 28, Arjun and Stavan, Highschool Ignite Volunteers of Grade 9 from California launched the Debate session on the Topic "Affirmative Action is not beneficial for Specially Abled People"
Rishi Peddakama, 11th Grade Volunteer shares his interest in Artificial Intelligence and the idea of creating a Hybrid App using Flutter for Voice of SAP. He also won the 3rd Position at Scavenger Hunt Contest of VOSAP Assitive Technology exhibition.
Rohan Kaushikan is a 9th Grade student from California who desires to help SAPs. He shares that he would like to use artificial intelligence to recognise if a specially abled person is trying to cross the street so that the time to cross the street automatically increases. He has also so far rated 176 buildings for accessibility on VOSAP Mobile App.
Jazmine Cabaluna is a highschooler from Canada. She also participated in the VOSAP Art from Heart Contest. She has rated various buildings for accessibility and also published VOSAP Ignite Newsletter focusing on the activities carried out by young volunteers during the Program.
It gives us immense pleasure to see these young compassionate students taking leadership, making efforts to promote VOSAP Goals.