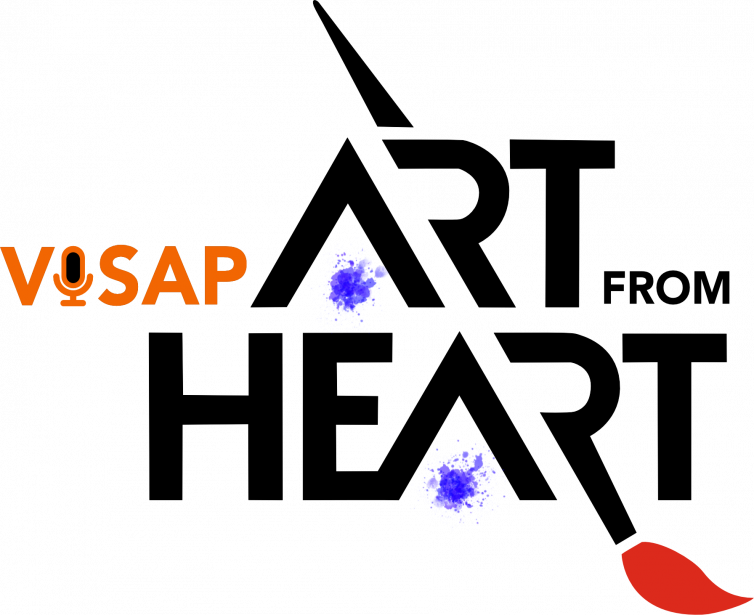 On Feb 27 2021, VOSAP organized a call with winners and finalists of VOSAP Art from Heart 2020. Artists from Various countries (Germany, US, Canada, Uganda, Brazil, Russia, Belarus) and states of India (Manipur, Uttarakhand, MP, UP, J&K, W Bengal, Gujarat, Orissa, Karnataka, Assam, Maharashtra, Telangana, Delhi, etc.) joined this interactive video call on zoom to network with other artists, get inspired by their personal story, understand VOSAP opportunity to be a "changemaker" etc.
It was an empathetic and Articulate conversation where Artists shared their stories, thoughts and how VOSAP Art from Heart Platform have helped them to explore and learn more about the theme.
Artists from Various age groups, Specially abled artists, professional Artists, child artists joined this session and shared the changes that this platform brought into their lives.
Ms Divya Pai, who has been in touch with every winner and finalist of AFH 2020, welcome them to this 1st ever video call. Shri Pranav Desai, founder VOSAP, addressed the Artists, inspired and motivated them to be the Change Makers in the Society and share the world's 1st virtual Art Gallery on Disability with everyone they know. In an online poll it was noted that 95% of the artists had Shared and Viewed the 3D Art Gallery, 86% of the Artists had taken pledge to volunteer on VOSAP mobile application and all the Artists were excited, motivated to inspire people to be the changemakers.
It is wonderful to note that out of the 4,200+ Participants, 3,600+ artists were not specially abled people and it takes immense thought, courage and inspiration to paint an Art on theme like 'Disability' where they had to put themselves in a place they weren't actually there and see the world from their perspective.
In the words of the Artists…
Neha Dua, a professional Artist from Kanpur, shared "
The participation in this contest, and painting on the theme of 'Disability' was a beautiful and empathetic Journey, It inspired me to write a poem and express my emotions
." She recited her beautiful poem!
"अपंग", "विकलांग" और "दिव्यांग" शब्द तो बहुत छोटे हैं पर इनकी लड़ाई बहुत बड़ी है,
लड़ाई अपनी अपंगता से तो हर अपंग लड़ लेता है, पर समाज की विकलांगता का होता कहा इलाज है ?
अपनी अपंगता से लड़ना तो बहुत आसान है,
हर शख्स दूसरे शख्स की उपमा में विकलांग है पर वो अपनी विकलांगता से अंजान है।
तुलना करना छोड़ दें तो हर इंसान महान है, प्रत्यक्ष या अप्रत्यक्ष, दिव्यांग शारीरिक हो या मानसिक,
उसका हक़ दुनिया में बराबर का सम्मान है।
Kseniia from Russia said: "
I want to thank you so much for such a great contest and for seeing how many wonderful people from different countries who are struggling but bring such beauty in our world, you are a real inspiration. For the first time I felt belonging and I'm really grateful for that, even though I don't have physical traumas except my brain during complex post traumatic stress disorder which also leads to the lifestyle of a disabled person.
It's so good that VOSAP helps to make all the problems public and gives opportunity to change everything to better"
Debashruti Sarma: "I have nonverbable autism.I am from Assam.I like painting. I really felt happy and proud to get a chance to participate in the event. Thanks a lot to team VOSAP."
Freyal Kothari from Gujarat said "I don't want this session to ever end. It's really very great to meet all of you. I am surely looking forward to connecting with all of you.
Sayan Deb from Calcutta said:
I am deeply honoured to get a chance to Participate in VOSAP. Through my artwork, I want to convey that Disability is just a word. Every person in the world has some or other problems. Disability is a mode of expression, emotion, feeling of a person conveyed through Artwork and Writing. We should give equal chance to everyone to express themselves, befriend them, communicate and unite with them to define a beautiful Humanity.
Jyotsna Rani from Puri, India: "Through my painting I wanted to convey that like Jagannath Bhagwan, who does not have hands and ears but still listens to us, If a person who is disabled is helping and feeding an animal, why do we normal people cannot. We should not call them 'Disabled', they can do more than what we see and are capable of doing more if given opportunities"
SriNidhi,Atlanta USA: 12 years, painted a beautiful artwork on Disability theme despite that She has no members in family or distant with any Disability.
Deepa Prabhu, Atlanta USA: Computer Science Engineer by profession shared how the thought of Organ Donation inspired her and how a single eye donation is capable of changing lives of 4-5 people.
All the artists were so deeply involved, engaged and delighted to join and be a part of this event. It was delightful yet difficult for VOSAP to wave Goodbye to Artists. But, here is a step forward to this call.
VOSAP will connect all the Artists in a Group and provide an engaging platform for them to share their perspectives, learn from each other and inspire through their stories and ideas.

VOSAP will start a series of "Featured Artists" on its website to motivate and inspire other Artists as well.

Several new VOSAP chapters may start per request of the artists