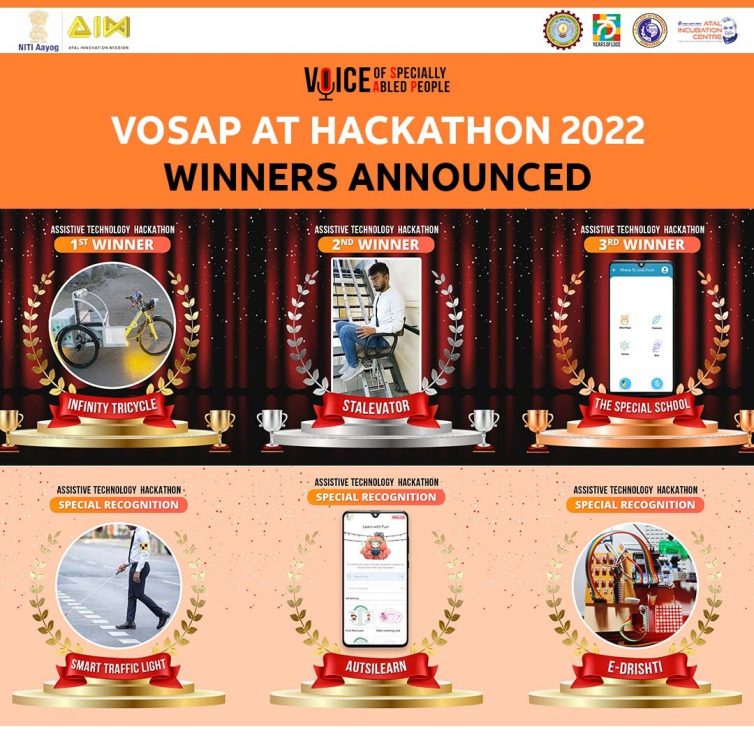 Voice of SAP, an organization in 'Special Consultative Status' With United Nations ECOSOC has been working towards empowerment of Specially Abled People. VOSAP has been promoting innovations in the Assistive Technology Sector through various initiatives..
To accelerate innovation in Assistive Technology, VOSAP organized the International Hackathon on Assistive Technology in 2022 with LD College of Engineering which then expanded largely with AKTU (India's #1 technology University with 763 colleges) and we received participation of 114 entries from 11 states in India and CA, USA. Our expert grand jury from AT Industry, Academia and Incubation, identified top 3 winners after months of continuous evaluation of entries.



The evaluation is done based on 5 factors:
Commercial Viability
Prototype Readiness
Team Dynamics/Capability
Competitive Advantage (IP, innovation, Patent)
Business Plan
All the Entries received were very unique and had a lot of potential. We heartily Congratulate all the Participants of the International Assistive Technology Hackathon. All the Participants would also receive Certificate of Participation from Voice of SAP.
All the Winners that were chosen had to go through multiple rounds of presentation and were assessed by an Expert Jury of the industry on various grounds. We are proud to say that our winners not only developed their prototypes but actually formed their companies, have done user testing and implemented user feedback, filed for patents and even got their beta consumers.
First Winner : Prize of $ 1,000 (80,000 INR):
INFINITY ELECTRIC TRICYCLE
The team has designed and developed a rear-wheel drive e-tricycle as per the Indian road conditions with LED lights in front and back Handbrake for safety.
Team has  sold 40+ units already and it is designed in such a way that the E-tricycle could be suitable for the load to carry and there is enough capacity to carry 50 kilograms load with indigenous designed battery that provides 45 km range per charge, and wheel system is  designed to manage through potholes etc.
A battery with 0.8kwh capacity is installed that only takes 3 hours to charge The team has collected multiple user feedback after users have  used it for a total of approximately 15000 Kms
.
Second Winner Prize of $500 (40,000 INR):
STALEVATOR 
The team has developed a patented stair lift design that takes support from the stairs unlike traditional stairlifts. The design currently uses a gear system, motors and two rods as a track for the chair to go up and down.
It also has a mobile app to manage stairlift movements, a structure that is hinged on the floor and not the wall
Functional prototype is currently installed at AITH Kanpur, tested by users 50 times with an average 70 kgs load.
Seat belts and footrests have been installed for safety
Third Winner Prize of $200 (16,000 INR):
THE SPECIAL SCHOOL
The project consists of two parts – 1.) A multi-lingual mobile app that contains NCERT based lessons in the form of games, mind maps and podcasts for better understanding. 2.)  A web app designed for parents to track their children's progress, score and recommendation.
The team has launched their MVP application on the playstore in December 2022 and currently has 150 downloads.
The team has also done the pilot program of the app with 250 specially-abled students and collected positive feedback
We would also like to award 3 special recognitions that our jury really liked and scored well and Each of them will receive $100 from VOSAP as a token of appreciation, these three projects are :
E-Drishti:
The project consists of two parts:
1) A mobile app where anyone can draw, select any shape
2) A tactile output where a visually impaired person can touch and feel the same in REAL TIME. This project can be very useful for blind students to learn to draw various concepts of geometry, graphs, geography and science that need shape recognition.
AutsiLearn :
Idea is of a web app and mobile app that provides visual learning for children who have autism. It has more than 10 games and learning activities that support autism therapy methods used in real life.
Here, the system will be supported on the web, so there will be no need to download space-consuming apps. Another thing that makes the system different than others is multi-language support.
The team has developed a functional prototype with 2 games currently.
AI Based Smart Traffic Light :
The idea is of smart AI based camera systems installed at traffic signals that can increase timing of the signals if a person with cane or wheelchair is crossing the road. The idea proposed is that the model being linked to a traffic control center, where it will receive a constant flow of images, process them, and determine a crosswalk time depending on if pedestrians are using assistive devices. This innovation is very helpful and can be integral to any smart city initiatives. It has been an amazing experience to engage with young innovators from various colleges and universities. We also look forward to having more students participate in next year.  To all those Participants who are not winners at this time but committed to working on their project, we would like you to continue doing the amazing work and share details with us from time to time and we would welcome you next year again as a participant.
We Once Again Congratulate all the Winners and Participants and look forward to engaging with them to help 1B+ Specially Abled People Globally.