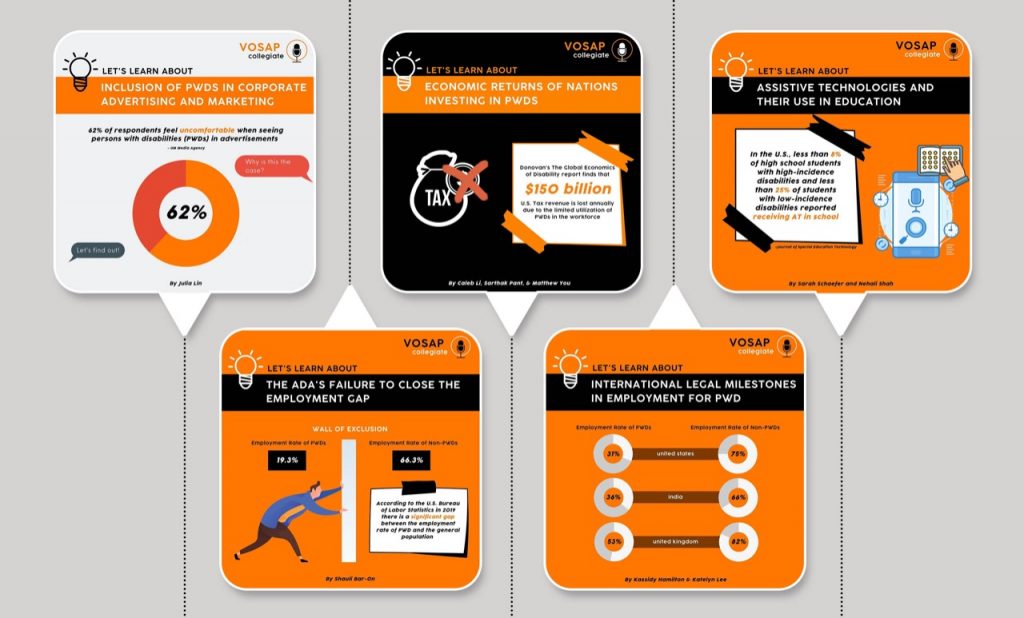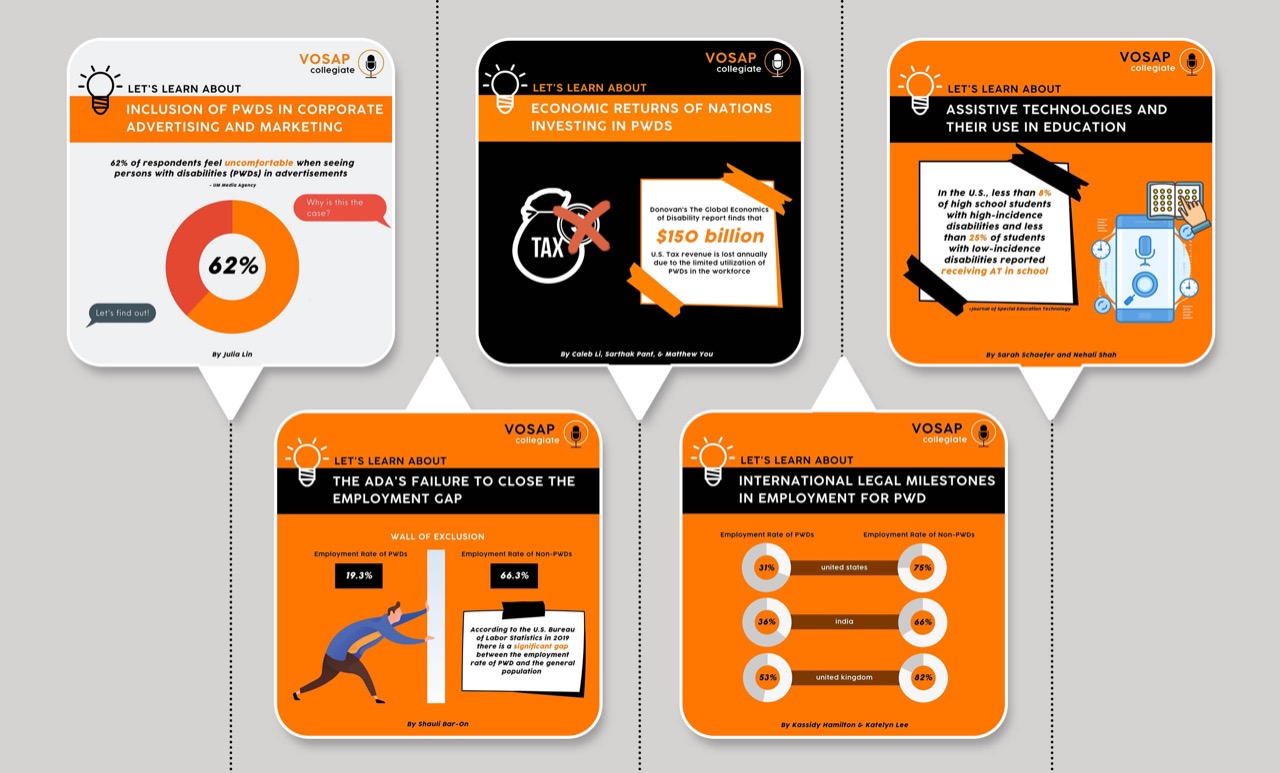 Dear friends,
Trust you are keeping well, staying safe from COVID19 as we have learnt a lot past year as what works! Vaccinations will obviously help but social distancing and mask etc. may be "new normal" for a year or so!
In today's special edition of VOSAP newsletter, we have highlighted youth related initiatives and some of very interesting research projects carried out by undergraduate and graduate students from 12 reputed US universities to strengthen "DATA DRIVEN ADVOCACY" with policy makers.
VOSAP is focused on creating leaders of tomorrow who are sensitive, compassionate and inclusive as relates to Specially Abled People. With 30%+ of 9,700+ VOSAP volunteer pledges are from youth below age of 25, we wanted to devote this edition of newsletter highlighting youth contributions!
 A. Highlights of VOSAP Youth activities
VOSAP youth is contributing to crowdsourced data (now 17,000+) for building accessibility information of public places. Institute of Science at Nirma University, India has taken leadership in this along with several other colleges

VOSAP Collegiate that started by 2 USC undergraduate students (Manushri Desai and Anusha Singh) in 2019 has now expanded to several US universities, in the process of establishing VOSAP chapters in these colleges to drive youth engagement in the US universities

VOSAP Research Internship 2020 gave opportunities to 28 students of 12 Universities to carry out 14 projects in disability during 12 weeks of summer 2020

VOSAP Research Internship 2021 has now attracted large number of undergraduate and some high school students also to commit this summer their time, efforts to conduct research on 5 projects in disability sector

VOSAP and Data Sciences department of UC Berkeley has joined hands to support passion of these highly talented students in the field of disability. 6 students carried out project in Fall semester and now other 6 students are carrying out this Spring semester 2021.
Upcoming youth related initiatives:
There are more research projects in final stage of launch (incl for PhD students) in Rehabilitation, CBR areas in association with leading US University

Innovation in Assistive Technology solutions in association with leading engineering institutions

Launch of VOSAP Scholarship program for talented Specially Abled Students

Establishing VOSAP club in High Schools and offer "The President's Volunteer Service Award" in the US
–> You can also encourage youth to join VOSAP mission, network with compassionate youth of VOSAP and find career niche too as 15% world population is looking for these future leaders to change their life!
 B. List of selected Research Projects in past: All reports are on VOSAP website for more details
Economic Returns of Nations Investing in the Disability Sector:

The team of interns from Northwestern university and Skidmore University developed a model. One of the key finding that they came us is that India can have $2.1 T Economic Impact in next 10 years. instead looking at welfare only, opportunity to look as investment and huge ROI to realize.
Legal Milestones in the Disability Sector:

An International Study on Employment:

Students from Cornell and USC carried out this research and found that gap between Employment rate for PwD and non-PwD is huge, world over but UK seems to have done better where it is 53% v/s 82%.
Growing Trends of Inclusive Advertisements for PWD:

Companies like Mattel, Target and few others have started efforts but by and large representation of PwD is missing in advertisements. Huge growing branding opportunity for consumer companies as research by Julia, USC student who interviewed advt professionals also in the US.
Wall of Exclusion: The American with Disability Act's Failure to Close the Employment Gap:

For 30 years that ADA exists, employment of PwD is very poor and gap remains same. Study conducted by Shauli, USC student found that Civil court system is practically not able to bridge the gap of employment rate between PwD (19.2%) and non-PwD (66.3%). Financial incentives, quota system have worked in couple states in the US but key is cultural shift is needed by more awareness on abilities of Specially Abled People. VRI 2021, VOSAP will have deeper focus, larger team for this topic to get larger dataset to analyze for conclusive findings.
Interactive Dashboard of 400+ MN records on PwD in the U.S. with Trend Analysis:

Graduate student of USC, Jiawei used tableau software to analyze and present 400+ MN records of "ACS – American Community Survey" so that it helps other research students to even carry out further research on specific areas. Example, why only 15% PwD has college or higher degree in 2018? How can we improve this matrix. Only  1 out of 3 college or higher degree Person with Disability was employed in 2018 – why they are unemployed despite college degree? Since 2008 to 2018, average income (between age 21 to 64) has remained almost same 23K – why?
All 14 projects' executive summary are provided on VOSAP website for those who want to learn more.
 C. Projects with UC Berkeley, Data Sciences Department
Fall Semester of 2020:

Business case for nations to invest in Rubella vaccination to minimize birth of child with disability. 6 students conducted research of UNICEF and WHO data, analyzed it worldwide in terms of vaccination levels, cost of vaccine, projected cost on Supplemental Immunization to ensure every woman below child bearing age (<49 years) is vaccinated so world is free of Rubella virus driven birth of child with disabilities. Per GAVI, 110,000 children were born with disabilities, mostly in South East Asia because of Rubella virus. Vaccines are out in the market since 1971 but unfortunately estimated 500 M+ women under age of 49 are yet to be vaccinated.

Spring Semester of 2021:

Projected cost of non-compliance to ADA. Team of 5 students and 1 Project Manager (Priscilla, graduate student at NorthWestern) are carrying out research of PACER data on lawsuits related ADA (digital accessibility, physical accessibility, employment discrimination) along with interviews with lawyers and NGOs to analyze trends and model it for forecasting the cost for non-compliance.
 D. VOSAP Research internship 2021
Last date to apply is Apr 15. This year, 5 projects will be taken up among selected 25 students out of large number of applicants from around the US. These projects are in Public policy, assistive technology, business functions such as inclusive advertisement, CSR initiatives etc. 
 E. Other Key Updates
Noida Har Ek Ke Liye:

VOSAP app expanding its impact with initiative launched by Yi and Varija Fashions – "Noida Har Ek Ke Liye" i.e. Noida for everyone, making it accessible for all using VOSAP app

International Art Contest:

VOSAP platform for art contest now extended to International Art Contest to continue expanding VOSAP impact with larger population. All artists of VOSAP Art from Heart 2020 are encouraged to apply, participate in this contest!
–> If you are inspired to help Specially Abled People, please join as volunteer, learn, follow us on Instagram (vosap.official), facebook (voiceofsap) and Linkedin (voiceofsap). 
Donate generously to VOSAP and change life of SAP!
Visit our website www.voiceofsap.org or contact our volunteers for more details.
Please take care, stay safe and keep embracing Inclusion of SAP, more so now than ever before!
Please Download VOSAP mobile app (iOS, Android) and start volunteering!