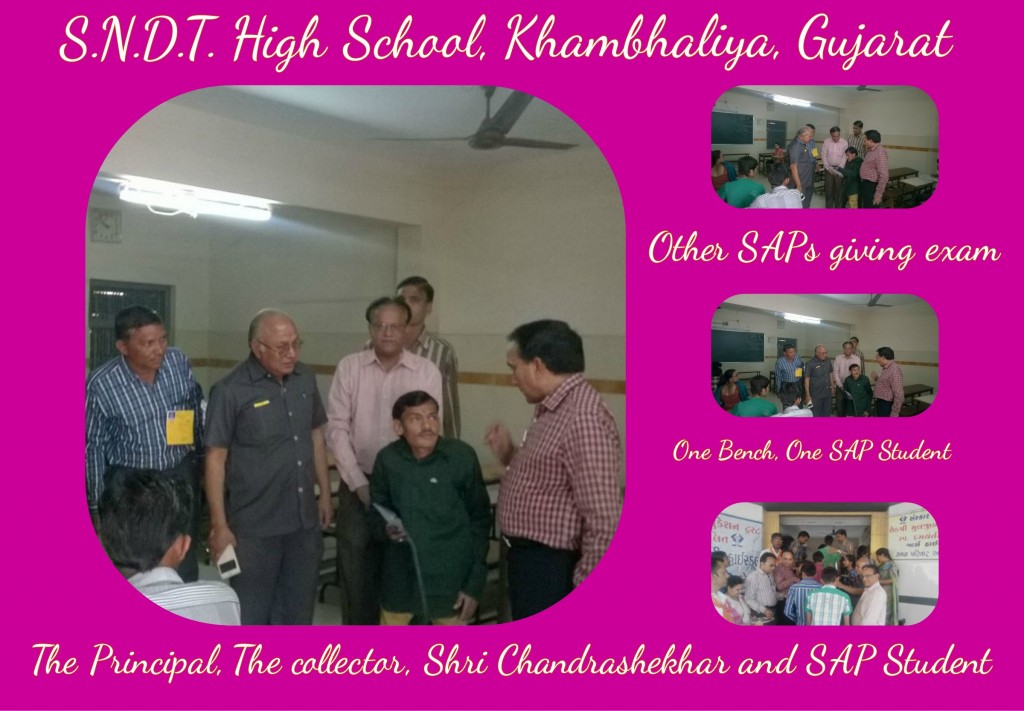 Our voiceofsap.org volunteer Shri Chandrashekhar Buddhbhatti took the initiative to make a school specially abled friendly. On 12th March, 2015 at the District Headquarter, Jam-Khambhaliya, Dist. Dev Bhoomi Dwarka, Std. 10th and 12th examination started. Being the district headquarter, specially abled students come to Khambhaliya to appear for the exams.
So far, the specially abled people had to struggle for giving their exams, as all the schools in the district are not specially abled friendly. But our volunteer Shri Chandrashekhar took the initiative. First of all he met the specially abled student(s), and understood their problem, then he conveyed the problem of sitting arrangements, to the District Collector Shri R.J. Makadiya, in response to the representation made by Shri Chandrashekhar, the collector had a communication with the District Education Officer Shri Dave Saheb. With cooperation from S.N.D.T. High School, run by Shri Sanskar Education Charitable Trust, Jam-Khambhaliya, a special room is now dedicated for the Specially Abled Students. The height of the benches are lower than the normal benches. The room is at almost the ground level so the problem of accessibility is solved, and the students could give their exams with a comfortable sitting arrangements.
Thus the efforts of our volunteer and the same amount of cooperation by the District Collector, District Education Officer and the school management could bring quicker and positive results for the specially abled students' community. Now every year all the students will enjoy this inclusive environment and can study, give exams along with the "Normal" students…
I wish all the schools in the District, and all over India become Specially Abled friendly, follow the example of Dev Bhoomi Dwarka District, Gujarat.