Meet Kavita Krishnaswamy, who is pursuing her PhD in assistive robotics from University of Maryland, Baltimore County. She is also dealing with severe disability from young age due to which she is not able to move out of her bed. So how is she pursuing her PhD and visiting people and places all around the world? Through the power of innovative device called beam developed right at the heart of Silicon Valley at Suitable Technologies and thanks to changes mandated to infrastructure around America due to Americans with Disability Act. She even defended her entire Phd thesis via beam. You can watch it here You can here her story and see her appeal to the Indian PM in the video below which has received over 8500 views in facebook account of pmmodiinca.
https://www.facebook.com/pmmodiinca/videos/vb.918689261506421/942802865761727/?type=2&theater
She also met the Indian Ambassadors Ashok Venkateshan and Dr. K.J. Srinivas at the Indian Embassy in San Franciso and demonstrated to them live how beam has given her a lot of Independence.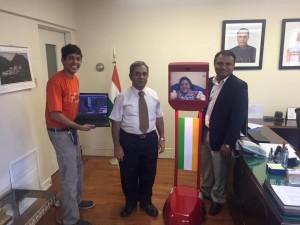 (In the picture from left, Harsha Kikkeri from Suitable Tech, Ambassador Ashok Venkateshan , Kavita Krishnaswamy in beam, Dr. K.J. Srinivasa She is close to getting her wish as she has been given a VIP pass to attend PM Modi's speech, thanks to the Indian Embassy as San Francisco. Hoping she will get security clearance for her accessibility device and at least 5 mins to speak with the PM related to empowering people with disabilities in India. To learn more about how her  see
http://blog.suitabletech.com/2015/08/14/telework-the-accommodation-that-opens-new-doors-to-people-with-disabilities/