Nothing can stop you from achieving what you want if you are determined to get it. We all have heard such quotes but honestly very few among us dare to do what it takes to achieve our dreams. Voice of SAP has a strong team of dedicated volunteers and partner organizations who are working towards creating a better world for SAPs by empowering and enabling them with Assistive Devices, promoting accessibility and inclusion, employment opportunities to give them an independent life.
One such organization is APH in partnership with whom VOSAP provided ration kits on ground to SAPs during Covid, started a shared service module for wheelchair, has rated various public places in Belgaum for Accessibility, and is enabling SAPs with assistive devices.
As an organization, VOSAP is lucky to have several such individuals on the team who are a pure personification of grit and determination. Allow us to introduce you to one such gem in our organization who can fill you with unceasing inspiration – Mr. Girish Svvasheri!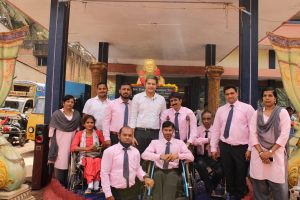 Girish Svvasheri is a part of the VOSAP team as a dedicated volunteer. He has been a member and an active volunteer for the Association of Physically Handicapped (APH, (Partner Organization of Voice of SAP) ) for over 25 years. Currently serving as the secretary of APH, Girish is determined to bring positive changes in the life of persons with disabilities.
It becomes really important to tell here that he himself is a person with a disability with lots of challenges in his life. He is not only overcoming challenges of life himself but also inspiring others with his action and helping many as a volunteer. Being born to a specially-abled mother he knew from the very beginning that life is all about overcoming challenges and not letting his disability define him.
After finishing his basic education, Girish started working at a rubber stamp manufacturing company at the age of 19. By taking this job at such a young age he was fulfilling his financial responsibility towards his family but it did not bog down his willingness to work for society. He became an active volunteer for APH and started helping other PwDs to live a life of independence and dignity.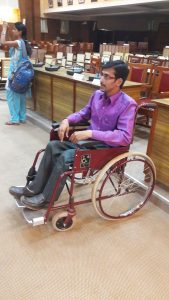 Girish affirms that mobility, independence and access is very crucial. Like most other young boys Girish too had a love for fast zooming bikes. But, unlike them, he could not get a bike so easily because he needed a modified one due to his disability. He tried but could not get someone to modify a bike for him. He could have left his dream to ride a bike unfulfilled, but he did not! Girish learned the techniques and modified a bike for himself. His dream was fulfilled but he did not stop here. He helped many other persons with disabilities to be independent for their mobility by modifying bikes and cars for them.
Taking care of a job, volunteering for an organization, and volunteering on a personal level may seem overwhelming to most people as we keep whining about the scarcity of time. But, Girish is surely not like the majority of us. He carved out time for his other interests and became a sportsperson. Yes, you read it right, our volunteer Girish Svvasheri is a sportsperson as well. He has participated in various regional and state-level sporting events including marathons, swimming, table tennis, bodybuilding, etc. He has been a part of a few national-level sports competitions as well.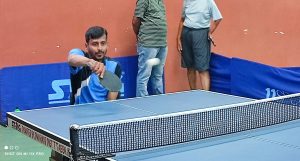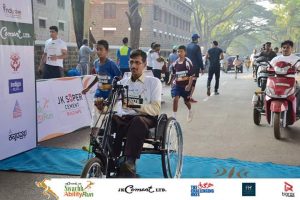 In 2012, he attempted to set a world record in swimming for Rotary International's project for eradicating Polio. Rotary International honored him with Rotary Vocational Award for his services in 2013-14.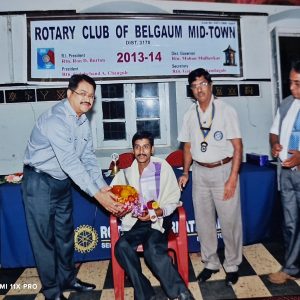 Girish has not only been an inspiration but also a ray of hope for many. He has strongly stood by humanity in the testing times of the global Covid-19 pandemic. Our organization VOSAP, in association with APH, has helped specially-abled people with ration and PPE kits. And, Girish was one of the dedicatedly active volunteers who went outside to help fellow citizens in need. We cannot thank him and other volunteers enough with our words.
Currently living in Belgaum with his parents, wife, and two children, Girish manages a Gas Agency. His family, especially his wife, has been a constant support in everything he does. We know that his story alone is capable of inspiring and motivating us to live our life to the fullest and help others in any capacity we can do. But, we asked Mr. Girish Svvasheri if he had any message for our readers.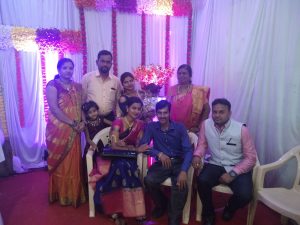 "I would like to request all the specially-abled people to step outside and chase their dreams and not let their disability define them. The world is big and there are opportunities everywhere. The only thing stopping you is yourself" were the words of Mr. Girish Svvasheri, our dedicated and inspiring volunteer.
VOSAP is proud to have such a gem as a volunteer.