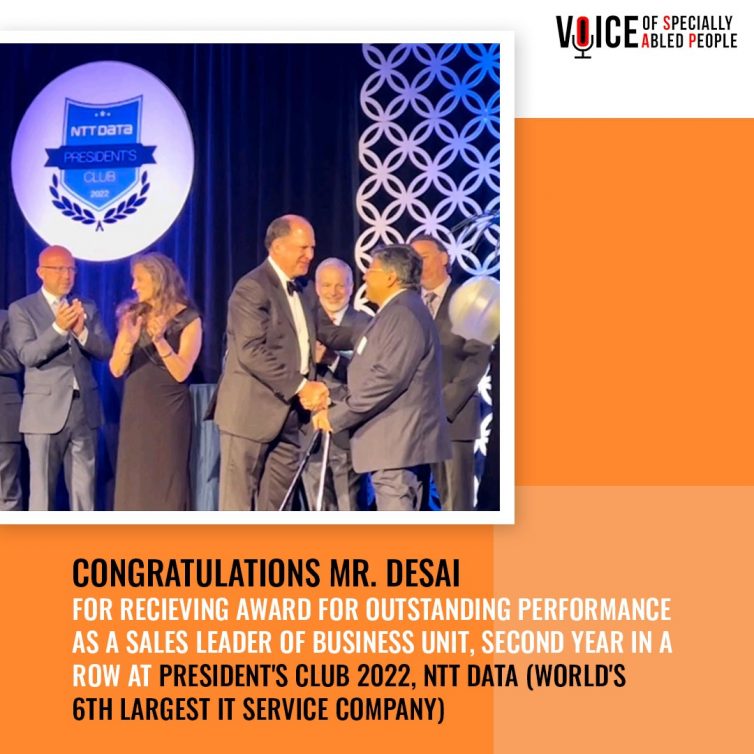 Congratulations Mr. Desai for receiving the honor award at President's Club for outstanding performance as  Sales Leader of the Business Unit, North America Region at NTT Data (World's 6th Largest IT Services Company) for the second consecutive year.
The Journey of Mr. Pranav Desai is an inspiration to many people with or without disabilities. Being a Polio Survivor himself, life was not always easy for him but he never let his Disability define him. Today, He is a Business leader with overall 25 years of experience in IT Services and Business Management. He is currently working as Head of Sales for Mid market focused Business Unit for North American region, in NTT Data, which is World's 6th Largest IT Services Company.
Mr. Desai hails from Ahmedabad, Gujarat, India and is currently based at Los Angeles, California. He was diagnosed with polio at the age of 4 and both the lower limbs were affected.
In 1991, he graduated as an Engineer from Gujarat University and in 1993, graduated with MBA in Sales and Marketing and started his career as Manager and later as Independent SAP Consulting and Associate Director, PMO (SAP).
Before 15 years, In 2007, he left his office job at AIG and moved to venture into Sales Career with NTT Data.
Being a Specially Abled Person himself, he understands the struggles that an individual goes through in Life, be it the access to education, getting a job, living independently or chasing a dream.
To support more such people and create a better world for them, In 2017, he and his wife founded Voice of SAP (VOSAP) and is driving the mission of creating an inclusive and accessible world for empowering Specially Abled People by promoting Accessibility, Employment, Assistive Technology and Research. Under his Leadership, VOSAP has achieved recognition from Hon PM of India in his monthly address to nation and globally at UN. Currently VOSAP 11K+ Volunteers from 10+ Countries.
He has received 4 prestigious awards in 5 years at NTT Data including 2 in Headquarter of NTT at Tokyo.
Over the years, along with a full time job at NTT Data, he is actively volunteering, dedicating time to change the lives of thousands of people.
Mr. Desai received appointment as Honorary Adviser to Department of Empowerment of Persons with Disabilities, Ministry of Social Justice, Government of India in 2015
Received Community award in Los Angeles from Consulate General of India,San Francisco in Feb 2019.
Proposed "Accessible India Campaign" to Government of India, which was accepted and launched by Honorable Prime Minister of India on Dec 3 2015.
Mr.Desai was instrumental, working directly with PMO (Prime Minister Office) in implementing one of the 7 manifesto goals of 2014 general elections i.e. new law for Rights of Persons with Disabilities (RPwD 2016), brought in India in Dec 2016.