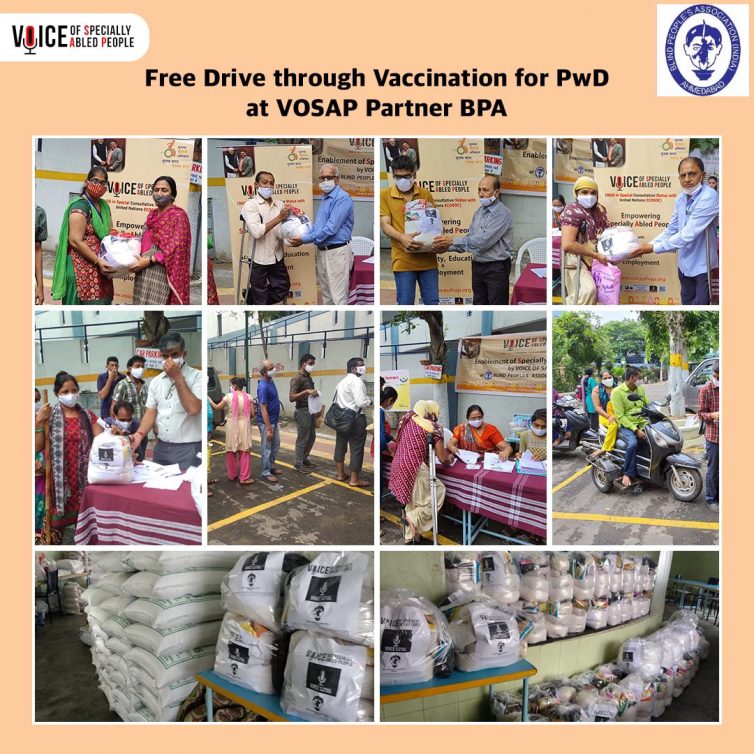 Covid19 relief Efforts of Voice of SAP has expanded. VOSAP has been providing underprivileged SAPs with grocery and ration kits across various locations in India. VOSAP and its partner organization also worked together for vaccination camp alongwith kit distribution in Nagda(MP). Hundreds of people were provided ration kits, 3 layered mask, and sanitizers every weekend in different cities of India: Ahmedabad (Gujarat), Dahod (Gujarat), Varanasi (U.P.), Belgaum (Karnataka), Nagda (Madhya Pradesh), Haridwar (Uttarakhand) and Hyderabad (Telangana).
On September 11 and 12, VOSAP's Partner Blind People Association hosted a Drive-Thru Vaccination camp at Ahmedabad. The vaccination program was held for SAPs above 18 years of age. The one of its kind drive thru vaccination camp in India where people arrived at location in their vehicles and the team vaccinated them.
VOSAP distributed around 400 Ration kits, masks and sanitizers to under-priviledge SAPs out of 1,000 who got vaccinated. We are grateful to our Volunteers who joined the vaccination camp and served the SAPs.
Self less service of VOSAPians in Dahod district by visiting villages, in Ahmedabad with 2 days long efforts, serving in rains in Hyderabad, going places like Leprosy center in Varanasi!!!
Join now to become VOSAPian, help SAP and get satisfaction of selfless service!