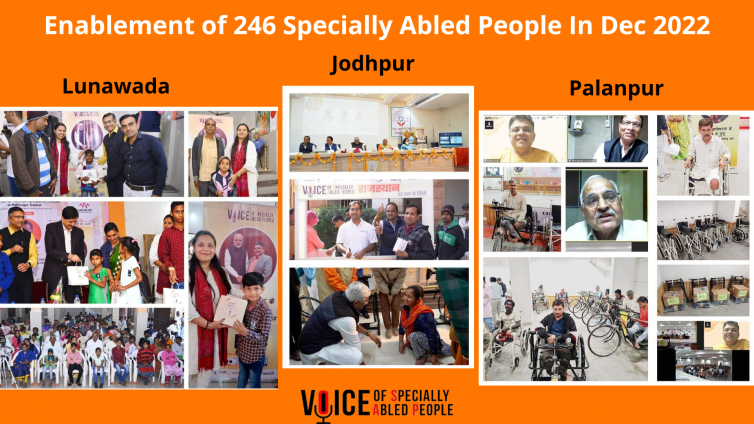 VOSAP has changed lives of 15,00 Specially Abled People and we aim to empower, help more and more in 2023. In December 2022, VOSAP enabled 246 Specially Abled People, put smiles on their faces and gave them chance to move forward, live a better life.
Lunawada :

On Dec 17, 2022, VOSAP enabled 106 Specially Abled Children at Lunawada, Mahisagar District with Hearing Aids and witnessed around 500+ happy faces of parents, special educators, beneficiaries, volunteers and invited guests.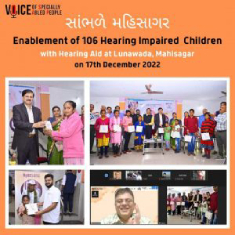 The Collector of Mahisagar District, Shri Bhavin Pandya joined the event as Chief Guest. He appreciated the initiative undertaken by VOSAP and congratulated VOSAP Founder for taking this mission to the Mahisagar District. He also assured to work closely for Specially Abled People in next couple years in response to appeal from VOSAP founder.

The hearing device of VOSAP's Partner and AT Exhibitor, WeHear is helping hearing impaired children to listen and then speak with training provided to them as how to use device. This early intervention with hearing device will help these 106 children get their hearing ability as per early audio gram test results done by government officers and WeHear team together. This eliminates need for costly surgical interventions.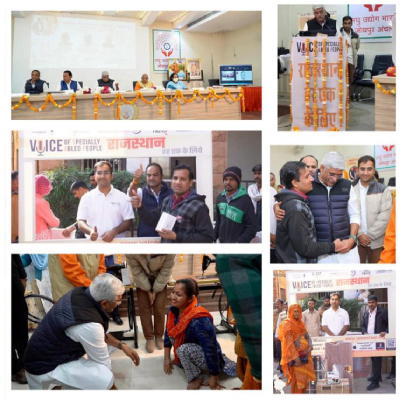 Jodhpur:

On December 24 2022, VOSAP enabled 70 Specially Abled People at Jodhpur, during its inaugural event in Rajasthan.

Hon.Union Minister of Jal Shakti Shri Gajendra Singh Shekhawatji joined the event as the Chief Guest along with other invited guests.

VOSAP Founder Pranav Desai and Volunteers, Team joined the event virtually. Rajasthan Har Ek ke Liye, an initiative under VOSAP Jodhpur Chapter focuses on making Jodhpur completely accessible and inclusive for all, UDID cards for all the SAP in Jodhpur and further in Rajasthan helping them receive benefits of various government schemes and programmes for their betterment.

VOSAP is thankful to its Volunteers of Jodhpur Chapter, Shri Laxman Singh and Suryaveer Singh to make this event a success.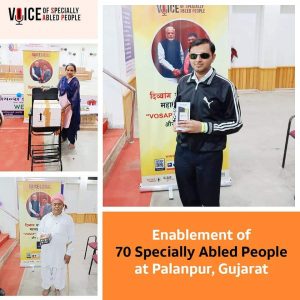 Palanpur:

On December 31, VOSAP enabled 70 Specially Abled People with Sewing Machine, Tricycle, Smartphone, Smartcane,etc.

VOSAP Founder and team joined the event Virtually. Various Volunteers and team members of Partner organization Blind People's Association, also joined the event virtually and in person.

VOSAP Founder shared how VOSAP is enabling and empowering SAP with Assistive Devices, making them self dependent, live with dignity and contribute to economic expansion by becoming tax payers. He also motivated the beneficiaries to become economically stable, help other SAPs in future.