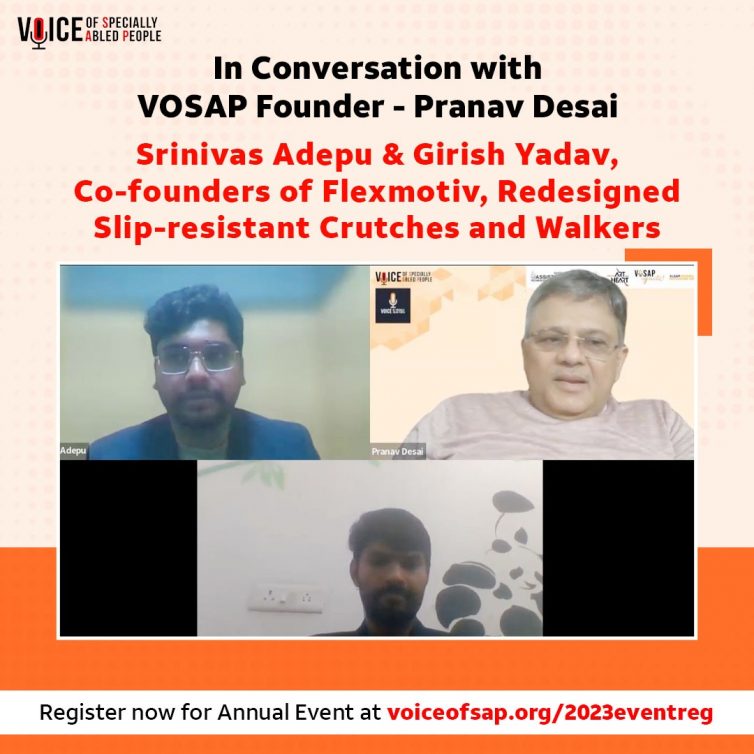 In a recent interview, Pranav Desai, VOSAP Founder and a passionate advocate for empowering people with disabilities, interviewed the dynamic co-founders of Flexmotive Technology, Srinivas Adepu and Girish Yadav, FlexMotiv Technologies is a promising startup originating from IIT Delhi that's making waves in the field of mobility aids. In this interview, we dive deep into their backgrounds, motivations, and the incredible journey that led to the creation of patented mobility products that are now helping countless people.
The Founders Srinivas and Girish started Flexmotive Technologies with a mission to provide affordable, user-friendly mobility solutions for people across India when their paths crossed at IIT Delhi, and they began working together to refine a mobility product that could truly transform the lives of people with disabilities
On being Asked how Srinivas and Girish were inspired to do something in this sector, we learnt that they were inspired to start their company by a combination of personal experiences, a passion for mechanical design, and a strong desire to make a meaningful impact in the field of assistive technology.
Srinivas shared his passion for mechanical design, stemming from his upbringing in a small town in Telangana.During his time at IIT Delhi, he developed several innovative products, including a prosthetic knee joint and a stroke rehabilitation device. His fascination with assistive devices for individuals with disabilities began when he observed people using a single crutch for mobility, a practice unsupported by research. Srinivas saw the gap in the Indian market for accessible and effective mobility solutions and was determined to make a change. He also dropped the opportunity at Mercedes to pursue this.
Girish Yadav, comes from a background deeply rooted in the Indian Army. He himself lives with polio and understands the problems faced by people with locomotor disability. His journey took a significant turn when he started working on medical devices for conditions like scoliosis and flat feet. Girish's experience designing these devices opened his eyes to the possibilities of helping individuals regain their mobility and confidence.
On being Asked by Mr.Pranav how much impact they have made so far and what are their goals in the future they shared that currently they are impacting lives by partnering with organizations and through amazon.They have also partnered with several state governments In future they are planning to collaborate with international partners and expand their reach to help even more people worldwide.
Voice of Specially Abled People (VOSAP), provides support by subsidizing their products to enable individuals with locomotor disability. On being asked what they think about their Partnership with Voice of SAP, Srinivas shared the experience.
Srinivas: "I was telling in the beginning that's a fantastic model.So this particular scheme from the Voice of SAP, is a fantastic one and we can reach thousands of people with this product. Speaking from the beneficiary point of view, these kind of products actually won't be able to afford it. VOSAP, what are the schemes that are taken up is like a private ADIP. You can you can frame it as private ADIP
The kind of impact that you're doing is far better because others just give it away and people sell it. Here, it's not happening like that. We process the entire exact process what are the documents and the best part is we also take feedback."
VOSAP Founder offered his wholehearted support to Flexmotive Technologies and shared his long term commitment to collaborate and support, emphasizing the power of partnership in driving this impactful initiative forward.