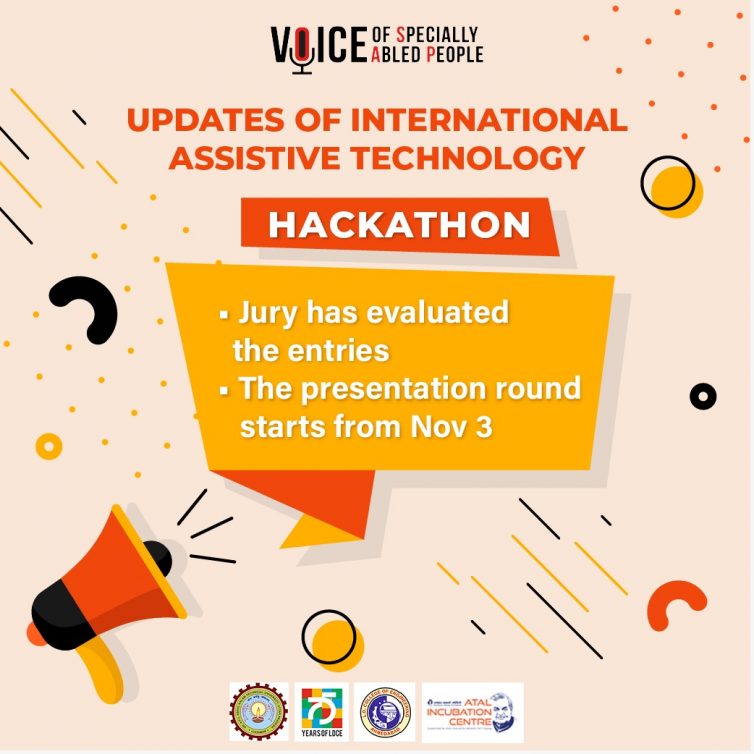 Voice of SAP (VOSAP) has a mission to leverage technology to achieve inclusion, change the lives of Persons with Disabilities. So far VOSAP has changed over 14,000+lives with its innovative, digital tools,  distribution of Assistive Devices, Surgical Interventions, Scholarships and other programs. We strive to scale adoption and usage of Assistive Technology.
VOSAP advocacy initiative aims to provide a platform, encourage youth and entrepreneurs for opportunities in the AT sector. Just in 1 year in 2017, more than 11,000 patents have been filed globally in the AT sector. India with its thriving startup, innovation ecosystem and having a large domestic market of 100+ M Persons with Disabilities provide a large business opportunity.
With the launch of International AT Hackathon which is a collaborative effort with VOSAP partners – LD College of Engineering and AKTU (Abdul Kalam Tech University) to reach out to the young minds, inviting them to apply their collective talent and potential by proposing abstracts, prototypes to  participate in AT hackathon to solve problems of Specially Abled People. Subsequently Atal Innovation Center (RMP) and ATF (Assistech Foundation), Torch-It, Neomotion also joined as jury or providing mentorship to these innovators.
With over 114 entries from 10 states in India and CA, USA, we identified the top 20 projects with help of esteemed jury members from AT industry, academia and incubators. These top 20 projects have solutions for hearing impaired (3), visually impaired (6), locomotive disbaled (6), Persons with Learning Disabilities (1) people and general purpose for SAP (4).
On Dec 3rd top 10 winners of this AT HAckathon will be announced during the global, virtual VOSAP Annual event 2022 wherein Chief Guest is Dr Chintan Vaishnav, Head of Atal Innovation Mission, NITI Aayog, Govt. of India.
We expect winners will be ready to take forward their ideas to reality with help of  a business incubation, guided mentorship, access to network opportunities, funding, stipend, access to disability related resources and access to other resources important in their journey.
We aim that AT-Hackathon generates new, feasible, affordable and real world solutions for a global population of 1 BN, having some sort of disability.