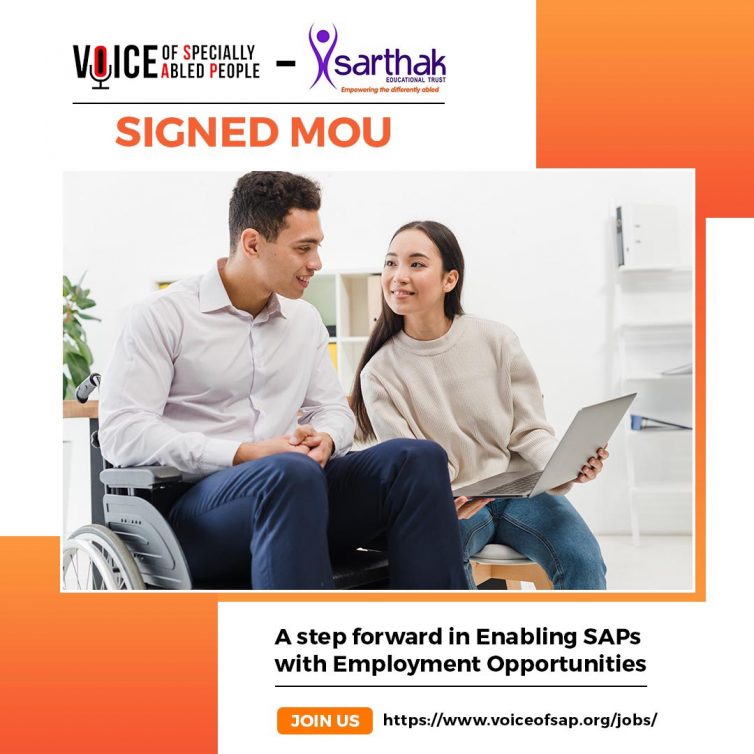 VOSAP mission is to empower Specially Abled People, mainstream them with accessibility, education and employment. Employment of SAP is extremely important, huge opportunity post COVID19 pandemic wherein the world has accepted remote working!!! No need for SAP to go to work place in many cases and VOSAP wants to accelerate its efforts to increase employment of PwD/SAP.
VOSAP launched job portal dedicated for employment of SAP wherein employers can provide job postings and SAP can apply to these 200+ jobs available as of now.
In order to strengthen the efforts, Voice of SAP has signed an MoU with Sarthak Educational Trust, India for training and placement of Specially Abled People across India. Sarthak Educational Trust is a Non-Government Organization that is working towards the empowerment of people with disabilities. It is founded by Dr. Jitender Aggarwal. Inclusion, Empowerment, and Mainstreaming of Persons with Disabilities is the guiding principle of Sarthak Educational Trust.
They strongly believe in Early Intervention, Inclusive Education, and Sustainable Employment, Through Advocacy and programs like Sarthak JEET Program and Abilympics. Through its dedicated efforts like India Disability Empowerment Alliance, Sarthak is present in 23 locations. Sarthak has trained and placed more than 22,000 SAP.
Their efforts were also featured in the Karamveer series of "Kaun Banega Crorepati" in the month of November 2020.
More the merrier!!
VOSAP is looking forward to broaden the horizon and increase the scope of work and we hope this collaboration helps both the organizations to create larger impact.