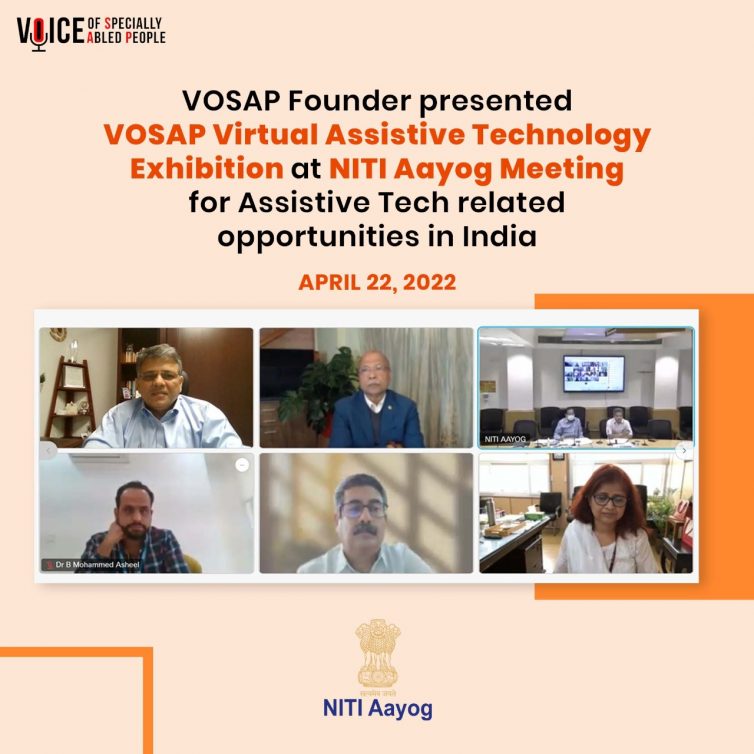 On April 22, 2022, Meeting to discuss Innovation, Investments and Industry in Assistive Technologies for the benefit of Persons with Disabilities and Senior Citizens etc. was held by Niti Aayog.
Alongwith VOSAP founder Pranav Desai, various dignitaries from different organizations were present at the event including Head, GATE program at WHO, The Secretary of Dept. of Social Justice & Empowerment, Dept. of Health & Family Welfare, Dept. of Empowerment of PwDs, The Director General of CII, The Chairman and MD of ALIMCO, The Secretary General of ASSOCHAM, Dept. for International Development (DFID) British High Commission, Senior Representative of Japan International Cooperation Agency, Sr. Manager – Strategic Initiatives & Operations CELA, Microsoft India, The MD & CEO of Invest India, TTK Centre for Rehabilitation Research and Device Development (R2D2), Baghwan Mahaveer Vikland Sahayata Smiti, Head Department of Design, IIT Delhi.
VOSAP is working with policy makers at NITI Aayog, Academia, NGO, UN and innovators to accelerate adoption of technologies, making them affordable and potentially putting India on a path to emerging as an export hub for improving lives of 1 BN+ global population of Persons with Disabilities in next 2-3 decades.
Mr. Pranav Desai, shared VOSAP's 360 degree vision to leverage technology solutions for large scale impact, empowerment and mainstreaming of millions of Specially Abled People to achieve economic expansion.
He further shared how VOSAP Assistive Technology Exhibition (world's 1st such 24×7 3D exhibition at no cost to visitors) is providing global market access to Indian innovators, 24×7 basis to connect with business partners, consumers and NGO to help with suitable solutions and products.
Currently there are 19 Exhibitors at VOSAP Virtual Assistive Technology Exhibition which are providing various solutions for Visually Impaired, Physically challenged and solutions for early intervention for Autism, etc. Visit today to learn more.
Want to change a life with Assistive Technology Aid? Donate to the mission today.