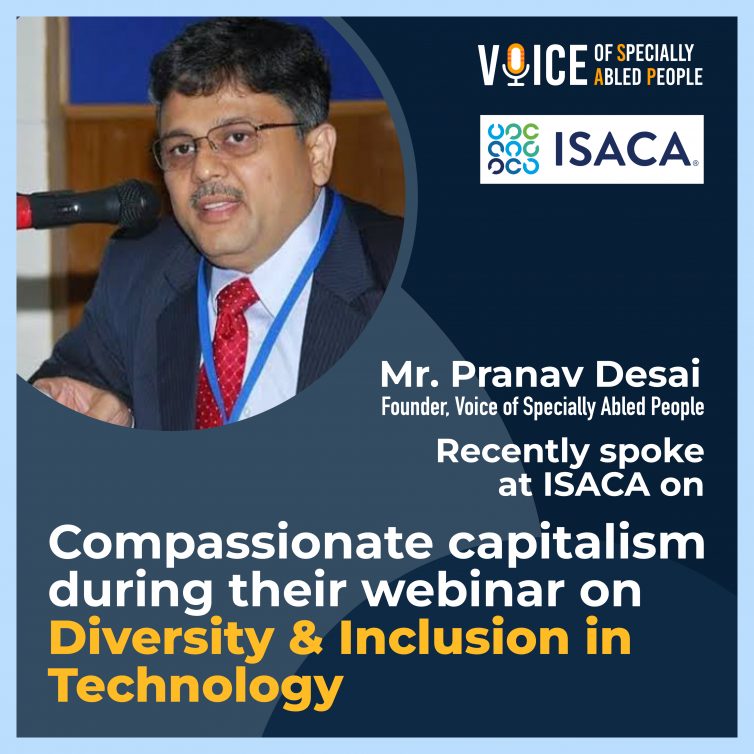 On Feb 4th, VOSAP founder, Pranav Desai was invited as a panelist to present "Compassionate Capitalism" from VOSAP to members of ISACA, Greater Washington DC Chapter (GWDC), which has 4,000+ members, IT professionals, established in 1974.
ISACA is a worldwide organization (International Systems Audit and Control Association) of over 140,000 IT professionals as members.
The online panel discussion was titled as  "Diversity and Inclusion Panel 2021". IT professionals have responsibility to spread equality, digital accessibility for Persons with Disabilities also to access the content, participate and thrive in digital economy.
VOSAP Art Gallery and VOSAP mobile app as innovative tools for achieving inclusion, D&I goals were presented and how ISACA GWDC members can be the changemakers in their respective corporations. A poll was conducted and 93% participants were inspired and said YES to be the changemakers for achieving inclusion of PwD. Also were presented several examples as how companies like Microsoft, SAP, Designmate etc. have successfully employed large number of Specially Abled People (PwD).
VOSAP advocacy with its DII Framework is enabling corporations to improve on their understanding of disability related business opportunities and adopt policy, programs to continuously improve on Disability Inclusion Index (DII) and harness business benefits, increase stakeholder values.