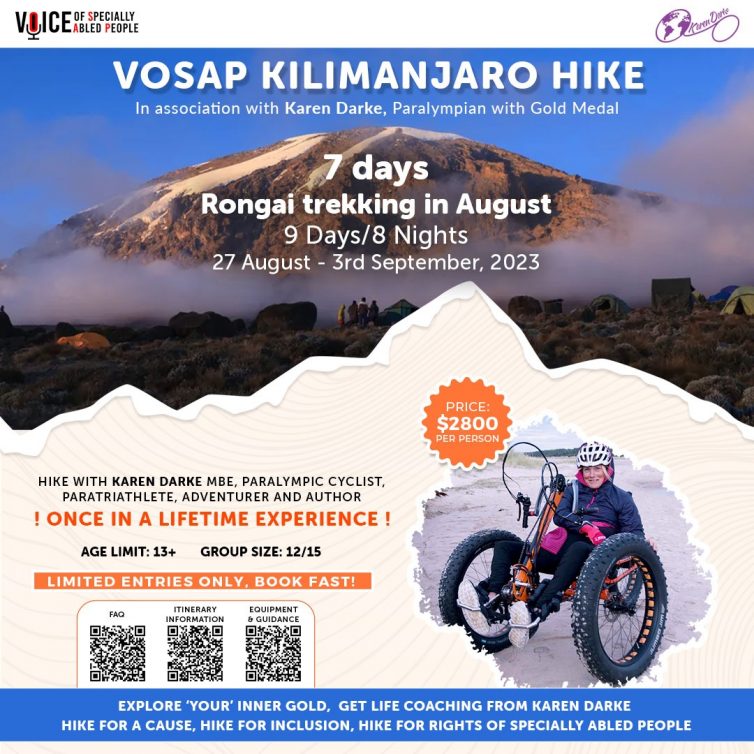 The legendary Karen Darke MBE, a Paralympic cyclist, paratriathlete, adventurer, and author took a pledge and joined the VOSAP Mission.. To promote VOSAP Mission, Karen is taking on two remarkable challenges that offer participants the chance to make a difference while immersing themselves in the beauty of nature. Join her on the breathtaking Kilimanjaro Hike or the exhilarating Kenya Safari Bike Ride, and experience the thrill of adventure while supporting important causes.
Trip 1: VOSAP Kilimanjaro Hike
Dates: 27 August – 3rd September, 2023
Are you ready to push your limits and embark on a life-changing adventure? The VOSAP Kilimanjaro Hike is a once-in-a-lifetime experience that will test your physical and mental strength while offering the opportunity to hike alongside Karen Darke herself. This 7-day Rongai trekking journey in August promises to be a transformative experience, empowering you to explore your inner gold and receive life coaching from a true champion.
But it's not just about personal growth – this hike also serves a greater purpose. By participating, you will be supporting the cause of inclusion and advocating for the rights of specially-abled individuals. Each step you take will make a meaningful impact, helping to create a more inclusive world for all.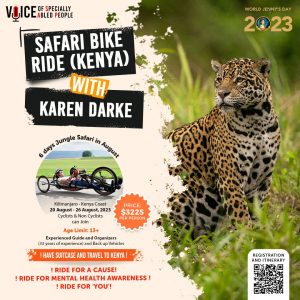 Trip 2: Kenya Safari Bike Ride
Dates: 20 August – 26 August, 2023
Calling all cycling enthusiasts and nature lovers! The Kenya Safari Bike Ride is a unique opportunity to embark on a thrilling adventure across the picturesque landscapes of Kilimanjaro and the enchanting Kenya Coast. Whether you're an experienced cyclist or simply eager to explore the stunning surroundings, this 6-day jungle safari in August offers an unforgettable experience.
Accompanied by Karen Darke, an inspiration in her own right, you will ride for an important cause – raising awareness for mental health and celebrate World Jenny's Day. As you pedal through Kenya's breathtaking scenery, you will contribute to normalizing conversations around depression and suicide. This ride is not just about physical exertion; it's about creating a positive impact and spreading a message of hope.
The Kenya Safari Bike Ride will be headed by experienced guides and organizers boasting 33 years of expertise. Back-up vehicles will accompany the participants, offering support whenever needed, making these adventures accessible to individuals of various age groups and abilities.These trips are meticulously organized to ensure your comfort and safety throughout the journey
By joining Karen Darke on these extraordinary adventures, you will not only create lasting memories but also contribute to meaningful causes.
VOSAP Mission, known for its dedication to inclusion and advocacy for the rights of specially-abled individuals, has collaborated on these trips with the aim of making a difference. Together with Karen Darke, they would engage participants in transformative experiences while supporting important social causes.
Don't miss this incredible opportunity to join Karen Darke on the Kilimanjaro Hike and Kenya Safari Bike Ride. Both experiences promise adventure, personal growth, and the chance to make a positive impact on the world. Whether you choose to hike Africa's highest peak or explore Kenya's stunning landscapes on a bike, you will be part of a journey that goes beyond physical achievements. Be inspired by Karen Darke's resilience and join her in supporting the causes of inclusion, rights for specially-abled individuals, and mental health awareness. It's time to seize this extraordinary adventure and make a difference in the world.
To register and learn more about these trips, visit the VOSAP website or contact Karen and team directly as they are the organizers of these 2 wonderful trips while VOSAP is promoting as the mission goals are aligned. Get ready for an experience that will change your life and leave a lasting impact on the world.