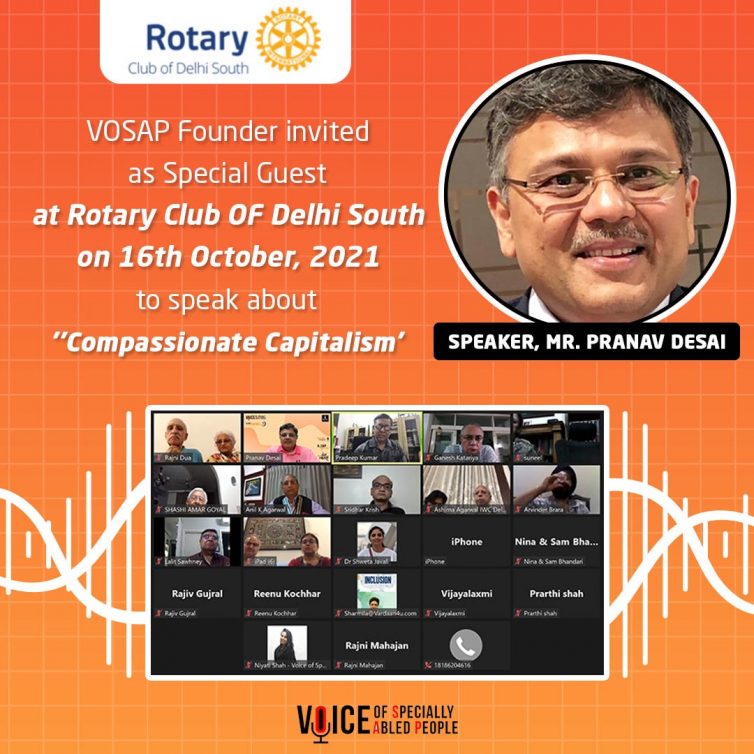 Founder Mr. Pranav Desai was invited to speak about his journey of Voice of SAP, the challenges, and how he made it successful in helping society. Mr. Pranav spoke on the topic of 'Compassionate Capitalism' and how it is beneficial for all. He pointed out that everyone has special needs and if they are provided what they need, they are mainstreamed.
In his presentation, he explained VOSAP's advocacy and enablement initiatives. He touched upon some of the key aspects such as the importance of accessibility and changing the perception towards looking at Specially abled people. Keeping the focus on their ability, and encouraging their participation.
He emphasized the huge market opportunities with assistive technology and how VOSAP is going to make a revolutionary step by launching the world's 1st Virtual exhibition on Assistive Technology solutions in the coming days. He appealed to all the rotary club members to join him in this huge mission.
The event was an outcome of advocacy efforts by VOSAPian Shri Vijay Rai ji with Shri Anil Agarwal ji, President of the club who took time to understand, spoke with VOSAP founder and ensured that Rotarians can learn more with this 1 hour virtual meeting.
Q&A:
In response to Mr.Pranav's presentation, Rotary members were keen on learning about various enablement programs and they are looking forward to the opportunity to collaborate with VOSAP especially for skilling programs. in response to this, Mr.Pranav also mentioned that even there are not enough accessibility auditors available Currently so skilling is very important at this time.
some of the other key takeaways were the commitment to institutionalized efforts from both the organizations to come forward for this great cause and for global impact, global compact is needed.
Shri Lalit Sawhney ji, club member, took initiative and committed to be active interface for the club and VOSAP to drive collaboration between the two organizations.
VOSAP is thanking all for their time and deep commitment and looking forward to collaborating with Rotary club of Delhi South for our future programs soon.