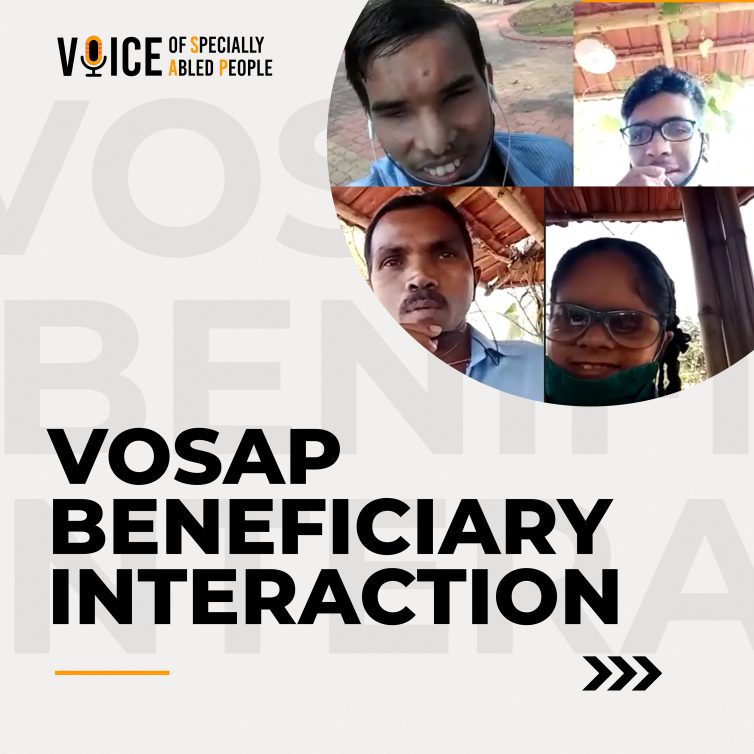 February 15 2021, VOSAP hosted a meeting with students of Andhajan Shala, Shivalimal, in Dang district. 37 Visually Impaired students of this School received Daisy Player (Angel Device) and Samsung Galaxy A10 Smartphones from VOSAP in January 2020. This call was hosted to know the progress of the students and how the use of Smartphones and Angel Device has helped them to do better in their lives.
The program began with the General Introduction of the School by Principal, Sureshji and its efforts to provide a good education and better life to 173 resident students with disabilities. Key to learn was that even though remote in the tribal area of Dang district, school has bold goals to digitize and offer courses, hire computer experts as teachers etc. Parents of these beneficiaries are workers in farms and these students live in the hostel. Pranav Desaiji addressed beneficiaries of VOSAP (students of grade 8 to 12) and asked them about their aspirations and dreams.
Here are some inspiring stories of students' conversations: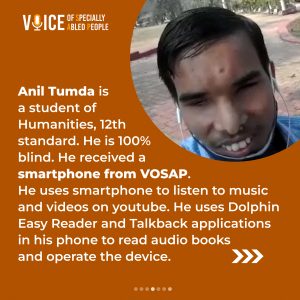 Anil Tumda  is a student of Humanities,12th standard. He is 100% blind. He received a smartphone from VOSAP. He uses smartphone to listen to music and videos on youtube. He uses Dolphin Easy Reader and Talkback applications in his phone to read audio books and operate the device.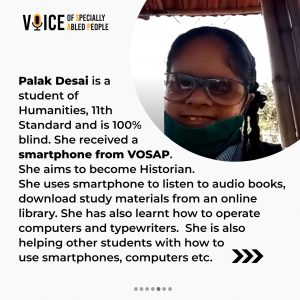 Palak Desai is a student of Humanities,11th standard and is 100% blind. She received a smartphone from VOSAP. She aims to become Historian. She uses smartphone to listen to audio books, download study materials from an online library. She has also learnt how to operate computers and typewriters.  She is also helping other students with how to use smartphones, computers etc.
Venilal  Maldharya received an Angel Device from VOSAP. He uses an Angel device to record lectures and listen to them later. He has installed audio books in SD Card and uses it for his studies.
Several volunteers of VOSAP from the US joined the zoom call and talked to students, inspiring them and learning more about opportunities to extend help to further improve their lives.
The conversation with these students was pleasant and inspiring.