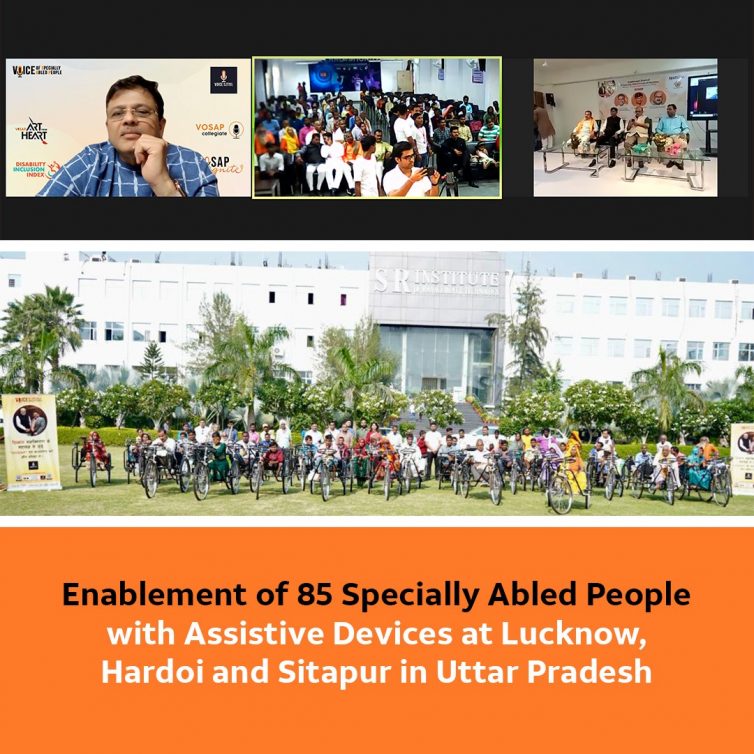 On October 19,2022 VOSAP Enabled 85 SAP of Lucknow, Sitapur and Hardoi with Tricycles,Sewing Machine,Daisy Player and Smartphones in an event held at SR Group of Institute, Lucknow.
Hon. Vice Chancellor Dr Pradeep Kumar Mishra, Hon. Pawan Singh Chauhan MLC Lucknow-Sitapur graced the event with their presence. Members of VOSAP Partner organization Care Educational Trust, Dr.Abdul Kalam Technical University and VOSAP Volunteers joined the event.
VOSAP Founder Mr. Pranav Desai, and VOSAP team also joined the event Virtually. Mr. Desai shared the life Changing impact VOSAP has been creating on ground by enabling SAPs with Assistive Devices. He also motivated beneficiaries to make the right use of the devices distributed to them and become independent, self sufficient, become taxpayers and help other such SAPs. He also motivated students to use the smartphone, Daisy player wisely for there studies and progress well in their career. He shared the importance and benefits of this devices which can help them to live a better life.
We are thankful to our partner organisations and volunteers who worked on ground to make sure this event was a success.
VOSAP has so far changed lives of 14000+ SAPs and is inspired to help many more.