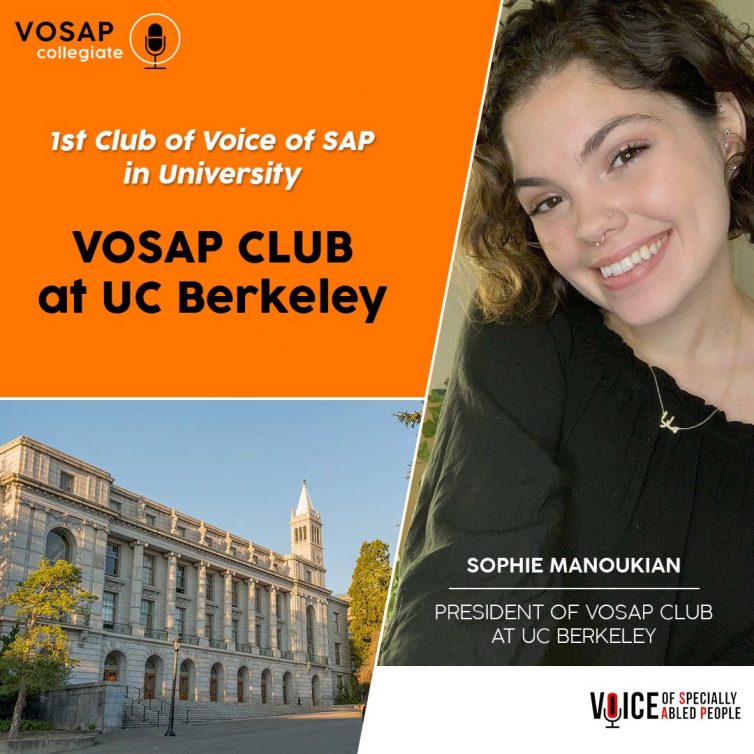 VOSAP Collegiate, an initiative of Voice of SAP, founded by Manushri Desai and Anusha Singh, is a global network of collegiate disability rights advocates.They are promoting the VOSAP vision and mission by advocating for inclusivity and accessibility for PWD on college campuses. 
As Part of the Collegiate Program, Voice of SAP started it's research projects on various topics related to DIsability. In 2020, VOSAP Research Internship started with 28 students from 12 universities who researched on 14 different topics. In 2021, a more detailed research was done on 5 topics with 28 students from various universities. 
Disability sector lacks evidence, data to help change perception of people, and policy makers to take actionable steps. To strengthen VOSAP advocacy efforts with data, VOSAP kicked off a research program for the 2020 fall semester, in association with University of California at Berkeley, Data Science  Department to do in depth research on  "Business Case for Nations to Invest into MMR vaccination". Find the interactive data dashboard here
 In 2021, Spring Semester, the research project on the topic of "Projected cost of ADA non-compliance" was undertaken and for the Fall semester of 2021, the research on project '
To strengthen and expand the youth program with budding talented students of UC Berkeley, the 1st club of Voice of SAP was launched. VOSAP Volunteers and students of UC Berkeley started the VOSAP Club with Sophie Manoukian (President, VOSAP CLUB) and the team. 
We are looking for UC Berkeley students who are passionate about the disability sector and helping others to join the UCB VOSAP Club. Fill out our google form if you are interested in learning more.
It brings us all immense pleasure and gratitude to see young and empathetic students, motivated and inspired to make this world an inclusive, accessible and better place for SAP's and be the 'change' the world needs.