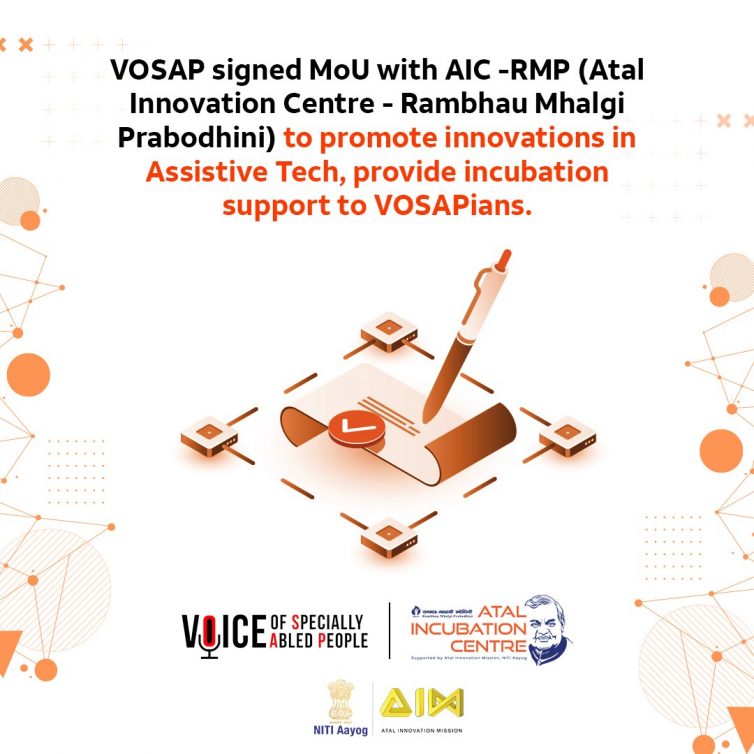 Voice of SAP has been promoting inclusion and accessibility to empower SAPs by leveraging technology and it's Digital tools. To promote innovations, adoption of Assistive Technology VOSAP also launched world's 1st Virtual Assistive Technology Exhibition and recently also launched International Assistive Technology Hackathon.
VOSAP has signed a MoU with AIC -RMP (Atal Incubation Center – Rambhau Mhalgi Prabodhini) an organization based at Mumbai. AIC – RMP screens the innovative start-up ideas and enable them to setup enterprises by providing structured mentoring support. AIC – RMP offers mentoring support and build strategies to create a strong start-up eco- system.
RMP has been set up in alignment with Atal Innovation Mission (AIM), NITI Aayog to nurture, handhold and support New Age Entrepreneurs for New Age India. The focus is on job creation through entrepreneurship in the domains of Agriculture, Education &; ICT. It also aims to create &; support sustainable business models at grassroot level including social enterprises. We motivate youngsters and entrepreneurs to innovate, to build and run successful working (business) models and to use information communication technology to support and strengthen self-help groups, cooperatives, agriculture sector, education sector and social sector.
AIC RMP will extend Incubation support to the eligible & right startups and extend AIC-RMP Seed Fund and support (upto INR 25 Lakhs) to deserving startup/s per AIM guidelines to finalist and selected International Hackathon Entries.
Below are the list of Mentors who will be guiding, helping students with the project:
Pradeep Malu; FOUNDER & DIRECTOR, INOVENT SOLUTIONS LTD. Pradeep Malu | LinkedIn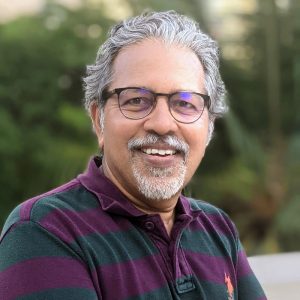 Pradeep is associated with Niti Aayog as a 'Mentor of Change' and with Start-up India as a Mentor of Start ups. He is also a Business Advisor and an Advisor to the Corporate Boards. He has over 35 years of professional experience as an entrepreneur, an innovator and an investor. His experience spans different sectors which include business consulting, manufacturing of pharmaceutical and specialty chemicals, a B2B online chemicals exchange, eCommerce, B2B retail and businesses with social impact. He has been part of future focused businesses, for example -performing highly complex chemistry to manufacture beta blockers and ACE Inhibiters in 1996, setting up an 'online chemical exchange' platform in 1998, setting up drop-off stores in 2007, introducing 'trading assistant' model for eBay Inc. in 2009, making internet retail available for rural and non-urban India in 2012, and green mobility (bike share)project in 2018.
He has been associated with social projects such as Smart Gaon Foundation, Teach India (a Times of India initiative), Tuberculosis Eradication pilot project and several more. He is associated with EUREKA 2020 and Eureka 2021of IIT-Mumbai and Boot-camp of IIT Madras, IIM-Kashipur, AIC-RMP, BVIC (for social entrepreneur) and several more in different capacity as Mentor, Start-up Judge.
The other Mentors are as below: