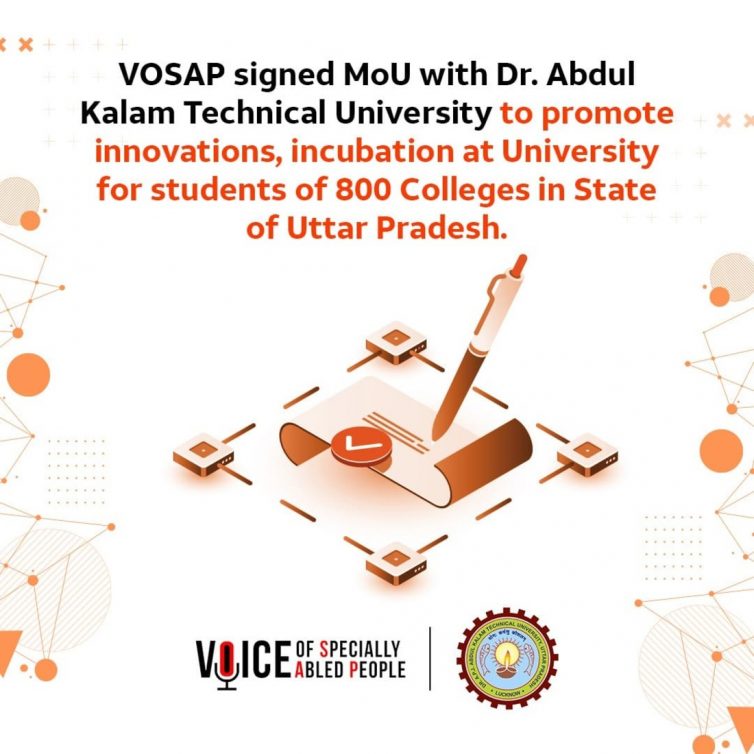 Voice of SAP has been promoting inclusion and accessibility to empower SAPs by leveraging technology and it's Digital tools. VOSAP understands how technology plays a vital role in changing the lives of people with disabilities. So far VOSAP has changed over 13,000+lives with its innovative, digital tools, distribution of Assistive Devices and other programs. We strive to scale adoption and usage of Assistive Technology.
On June 20 2022, Hon Chief Minister of Gujarat, Shri Bhupendrabhai Patel launched the International AT Hackathon in Ahmedabad, India.
Innovation Hub, AKTU, is a Startup and Innovation Hub, embodied by Government of Uttar Pradesh to make strategic interventions to develop a benchmark startup and incubation support system in Uttar Pradesh under the UP Startup Policy 2020. The main objective of Innovation Hub is to inculcate the entrepreneurial spirit in the youth and drive them to be the Changemakers of the Society. It is intended to be a Startup Center of Excellence for all the Startup Ecosystem Enablers to develop an end-to-end Innovation and Entrepreneurial Startup Ecosystem in Uttar Pradesh by creating a roadmap from "Ideation-to-Commercialization".
Top-3 Winners of Assistive Technology Hackathon will get an opportunity to get incubated at AKTU Incubation Centre and will be eligible for following funding and technical support:
Access to Fabrication Laboratory, Cyber Security Lab, Cyber Simulation Lab, Artificial Intelligence Lab for Prototype development
Co-working Space
Networking Support
UP Govt Seed fund assistance of INR 5 lakh and Sustenance Allowance 15000/- only
Following are the AKTU Funding Support to AKTU Incubated Startups:
Innovation Hub, AKTU Sustenance Allowance :

To support Pass-out select Student Entrepreneurs for Prototype Research, Development, Testing and Commercialization for a Sustenance Allowance Grant of Rs. 15,000/- per month. This Grant will be provided for a period of 12 months.
Grant Availability: Rs. 15,000 per month up to 12 months only.
Incubatee Eligibility: Parents Salary less than 6 Lacs per annum. Incubatee should be an Alumni of AKTU associated/affiliated/constituent Colleges. Not pursuing any Course or studies, and only pursuing Entrepreneurship.
Review Process: Quarterly Review of the objectives, failing to achieve objectives shall halt, Sustenance Allowance Grant, Submit an Annual Plan with clearly defined quarterly objectives to be achieved.
Innovation Hub, AKTU Prototype Development Fund (For Students) :
To foster innovation in young minds, students and the ideation-stage startups under the behest of AKTU, Innovation Hub a Prototype Development Fund is being launched for a period of five years. The ideas which are adjudged innovative by an Internal Evaluation Committee under the leadership of the Honorable Vice- Chancellor, AKTU shall be given this Prototype Development Fund. This Fund would be maximum Rs. 50,000. In special cases, based on the Internal Evaluation Committee recommendations could be relaxed.
Grant Availability: Rs. 40,000 (One-Time Grant)
Incubatee Eligibility: Ready with a Proof-of-Concept Design Framework Incubatee should be of AKTU associated/affiliated/constituent Colleges. Annual plan with quarterly objectives to be achieved. Should become a DPIIT Registered Startup after 6 months of availing the Grant.
Review Process: Quarterly Review of the objectives, and handholding support to achieve objectives Should become a DPIIT Registered Startup after 6 months of availing the Grant