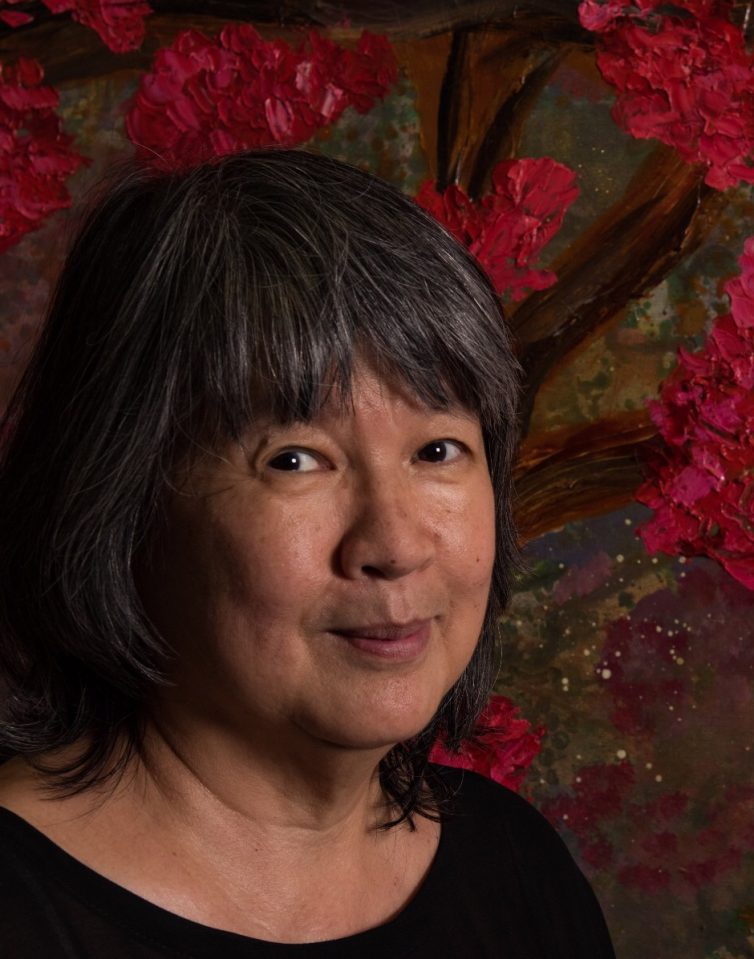 Featured Artist Post contributors: Bhamini Trivedi and Divya Pai
Inspirational, is the word that captures the spirit of Gloria Keh, one of the winners of the "VOSAP ART from Heart" contest 2020, initiated by VOSAP for expanding awareness about Disability, promoting inclusion by touching hearts of masses with beautiful artwork.
VOSAP is proud to feature Gloria Keh, from Singapore whose life is a journey of compassion and action for Specially Abled People. She was inspired by her personal friend who is wheelchair bound to create art for VAFH, "Wheel of Life" and won a prize in the Country Representative category. She graciously donated the prize money to benefit Specially Abled People and that has been the way of her commitment to upliftment of people with disabilities.
Gloria Keh is an abstract and contemporary artist, having created close thousands of artwork since her childhood! Here is her website to see many of hem – https://www.gloriakeh.com/.
Her dedication as an artist who has combined her passion for art with charity by selling countless number of artworks is commendable. She also has an NGO called " Circles of Love " where she has rendered support for many services for the disabled children with cerebral palsy through her paintings and charity event proceeds. Currently, she is very busy with fundraising for India and making sure that her proceeds can buy enough oxygen in India. She has contributed her paintings to bring life to a hospital in Greece, just to mention few of her global connections with art.
Keh was born in a humble family with a father who was passionate about art and a mother with a practical mindset. Father always insisted on art and mother always insisted on earning money which was needed to pay bills and raise the family. Gloria put both together and used her art to earn money. She used the money to buy a bottle of Coca Cola, which was a kid's dream then. In school, she used to get a "D" in art because abstract art or modern art was totally unknown. After graduating from college, she started as a journalist and also worked in an advertisement Agency. At 42, she retired from the corporate world and took up art full time. For past 20+ years, her art has been for the sake of charity and not to make money. Her dedication to the cause of helping physically and mentally challenged led her to teach, "Mandala", an adapted form of yoga for them, despite her own challenges so that they can avail of the therapeutic benefits.

Gloria at age 69, is very active on FaceBook, where she learnt about VOSAP Art from Heart contest and immediately decided to participate. When asked about how long did it take for her to come up with the idea on theme DISABILITY for VAFH 2020 contest, she shared that she follows her intuition and then conceptualized her art within a day!
Her message to budding artists is "They need to turn their practice to "Saadhana" i.e. Realization. She is a great believer of Picasso's "ART IS MORE POWERFUL THAN THE ARTIST ".
Gloria said, "When you have a spiritual intent and not a commercial one, then there is complete transformation and the process becomes effortless and there is only gratitude, then higher power takes over things and makes it happen."
Gloria is now a donor to VOSAP and also a volunteer, spreading VOSAP work on social media, promoting VOSAP Art Gallery on her website etc.
We have all heard of corporate mergers. But, here is a merger of an Artist, Heart and ART. You can see more of her artwork on https://www.gloriakeh.com/