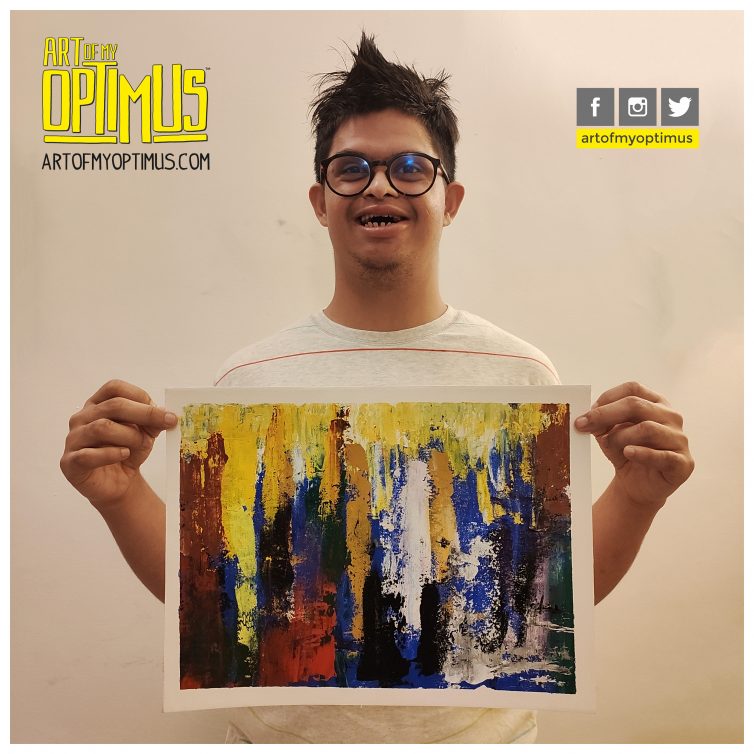 VOSAP is delighted to introduce you to #SuperheroJijo, a young and confident artist and illustrator with Down Syndrome. 
Jijo Das is probably familiar to many of you. The cover of VOSAP's Annual Report 2020 featured his beaming smile and glorious painting. And while his painting 'Raining Happiness" captured all of our hearts, Jijo's been captivating his family and everyone he meets all his life.
Born with an extra chromosome, Jijo Das is truly born extra special. The talented 23-year-old is a painter and percussionist who loves drama, photography, fitness and baking. From a young age, he had an affinity to represent things visually. "Even before he could articulate through words, he was playing around on the chalkboard through drawings", shares Aniket, Jijo's older brother, who he fondly calls "Dabhai"
"At school, Jijo loved his drawing lessons and wherever he got a chance, he would draw his name and doodle around", Aniket adds. "And if it wasn't that, he would be listening to music and trying to replicate those beats on pillows."
Jijo's love for art and percussion grew alongside his passion for animation and Disney. He's been nurturing a dream to work for Disney for many years now. A dream that was almost cut short by design schools in India that did not give him admissions for obvious reasons. It was a dream that was then backed by his dedicated family, who took it upon themselves to teach and train Jijo.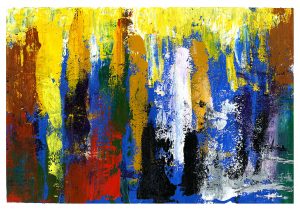 Using resources from his education at the National Design Institute in India, Jijo's 'Dabhai' put together a curriculum designed specifically for Jijo. Their parents, Moushimi and Anirban, implemented the lessons and put Jijo through the rigorous regimes of an art school. And with the support of an extended network of friends from the field, they experimented and improvised on various things. Soon, Jijo went from just sketching in his art books to also creating digital art on Photoshop. 
There's nothing Jijo can't do in art- from abstract to live sketching, custom art on bottles and pencil stands to graphic sketches and concept art.
Jijo believes that no situation is challenging and truly personifies his painting 'Raining Happiness'. As his mother shares, "For Jijo, all you need to do is smile and everything is better. We've always taken an approach where we don't assume he can't do anything. We believe that he needs to pursue the things he loves and not be limited by what people believe he can do".
Jijo's family created 'Art of My Optimus' to showcase his journey as an artist with Down Syndrome and build a platform for him to earn an income doing what he loves! It's just wonderful to see the incredible things Jijo does all in one place and how Jijo radiates confidence and enthusiasm in the YouTube series.
The website also explores the journey of Jijo's family as they learn to bring life to Jijo's dreams.
For Jijo, VOSAP's Art from Heart contest has been a colourful feather in his hat, helping him gain self-confidence and recognition as a global artist. We at VOSAP are super excited to continue our engagement with Jijo and his fantastic family. And look forward to sharing remarkable stories from Jijo's journey with VOSAP.